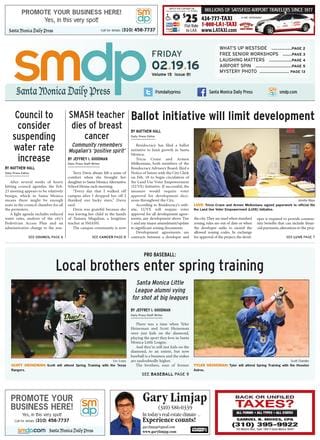 There has been a lot of discussion about a meme we posted last week as part of our editorial encouraging Santa Monica residents not to sign the petition to put the LUVE proposal on this fall's ballot. In the meme, a Donald Trump quote is altered to mock those that are pushing the LUVE initiative for the wrong reasons.
I green-lighted the use of the meme. I don't regret it. But what I do regret is that we didn't explain it better. My bad, sorry.
Jason took to explaining it on various social media threads, and he did an ok job:
The comparison to Trump isn't just a random cheap shot. By intentionally restricting the housing market, LUVE supporters are saying that they don't want any outsiders, as has been noted by the likes of Paul Krugman many times: "Building policies in our major cities, especially on the coasts, are almost surely too restrictive. And that restrictiveness brings major economic costs."
There is an ongoing discussion about whether or not there is enough housing growth in Santa Monica. There are three sides. One side says there isn't and pushes for housing growth across the board. Another says there is plenty of growth, that there's already too much and point to the density of housing and commercial growth in Santa Monica. A third, concedes that there isn't enough growth, but doesn't really have any solutions.
When we founded Santa Monica Next in 2013, we thought we were going to be writing about green bike lanes, the Expo Line and all of the great things that Santa Monica does very well.
However, I quickly learned that in some cases was Santa Monica wasn't as progressive a city as I thought. A city can't be truly progressive if it doesn't have a plan to house its children when they get older. As a result, we've moved our focus to not just covering the transportation planning for one of the country's most gridlocked small cities to discussing housing and the desperate need to create more of it.
LUVE is an attempt to stop that housing from being built, when the housing comes with a mix of high-end, market-rate and affordable housing that the city can negotiate through developer agreements. It does this by requiring that any development bigger than two or three stories goes to a public vote. There is an exemption for 100 percent affordable housing projects of less than 50 units, but only if they don't require a zoning change or General Plan amendment to make feasible.
Since nobody builds that kind of 100 percent affordable housing without some help from the government or as part of a lager market-rate housing development to offset costs, and because Santa Monica voters rejected a ballot initiative two years ago to fund affordable development and preservation, this part of the proposal seems designed just to confuse people into thinking the LUVE initiative takes the high road.
But let's be clear. The LUVE initiative intentionally restricts the housing market. Thus, there won't be enough housing for Santa Monica to house its children, now and future. Thus, LUVE is another attempt to pull Santa Monica away from its progressive ideals. I imagine some of the people pushing this proposal know all this and just don't care because they think that LUVE will somehow make traffic better (it won't) or they have a picture of a city that doesn't exist anymore, if it ever did.
They don't want new people. They want to go back to a Santa Monica that existed in the 1950's. If that's not a call to Make Santa Monica Great Again, I don't know what is.
From a policy perspective, LUVE is a terrible idea for a lot of reasons. If the initiative goes to the fall ballot and it passes, the most likely outcomes aren't good.
Possible outcome #1 is that one of the large developers realizes they have a a chance to spend less on a political campaign than they would lose by compromising on a plan through the development agreement process. Said developer pours a couple of million dollars into a campaign (that, for the record, probably includes an ad buy to all local publications including NEXT) to get their building plan passed with few or no benefits for the community included. If that campaign succeeds, it sets an unwelcome precedent for land use decisions in Santa Monica.
If it fails, developers will still see a chance to make a lot of money in Santa Monica, and it will be a disaster for affordable rental housing that still exists in Santa Monica's neighborhoods.
Single-family homes and smaller apartment buildings that are rent-controlled dwellings will be bought, leveled and redeveloped into larger rentals or homes for sale. Rent control is great, but locally passed rent control ordinances don't stand up to the State of California's Ellis Act that allows for this kind of redevelopment.
Millions of dollars will be made at a time instead of hundreds of millions. But for Santa Monica, the total housing stock will remain static while the affordable housing stock declines even more quickly than it is now.
Regardless of people's motives for supporting LUVE, and I'm sure there are many people who think they are doing the right thing, LUVE is a disaster. If any of those people pushing LUVE for some nobler cause are upset by our meme…sorry. I really am. Just supporting LUVE doesn't necessarily put you in the Trump crowd.
But there are plenty of people to whom it does apply. And a chance to point that out is reason enough to make a silly meme and put it on our website and Facebook.