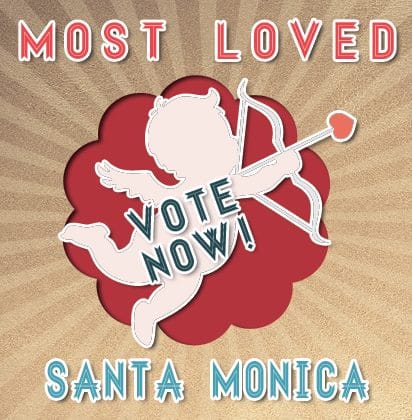 Do you have a favorite bike-centric business, or a particular farmer at the Farmers Market, or maybe there is a particular yoga studio that stands out enough that you want to let the world — or at least your friends and neighbors — know about?
Then make sure that you click here to vote in this year's "Most Loved Santa Monica" context to make sure your favorite businesses get the recognition they deserve for providing quality products and services to the community. Voting is ongoing through February.
"The winners will be announced in an upcoming 'Santa Monica's Most Loved…' issue of the SM Daily Press and at an awards ceremony at City Hall, and will be celebrated throughout the year by the Buy Local SM campaign and community business partners," according to an official press release put out by the city. "So tell us who you love and be entered to win some fabulous prizes including gift certificates from our local businesses, Buy Local SM T-shirts, Buy Local reusable bags + more!"
This is the competition's third year and is great way to help your favorite local business get the recognition it deserves. Voting is open-ended, so you can entire any local business you think matches the criteria for each category.
"The contest has grown by leaps and bounds," city officials said.
"Last year, nearly 3,000 people (Santa Monica residents, employees, students and visitors) voted for their Most Loved SM businesses, a two hundred percent increase from the first year. Results will be tabulated with the support of Santa Monica High School statistics students.  Everyone who votes and enters their email will be entered to win a raffle prize.  The winners will be notified in April along with the announcement of the Most Loved SM 2016 Business Winners and Runners-Up.  To view last year's results:  www.BuyLocalSM.com/most-loved," officials said.