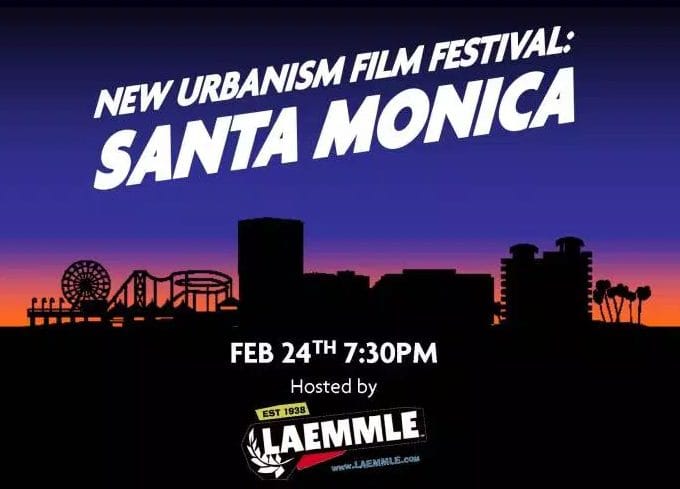 Across the globe, cities are undergoing a renaissance; urban centers are once again thriving as growing numbers of people choose to move away from the car-centric, suburban lifestyle that dominated the second half of the 20th century.
The New Urbanism Film Festival (NUFF), founded in 2013 as a cinematic celebration of the movement that is reshaping the world's urban centers, will bring its "Best of 2015" show to the newly-refurbished Laemmle Monica Film Center (formerly Laemmle's Monica Fourplex) in the heart of Downtown Santa Monica on February 24.
The screening will feature the 2015 NUFF winner, "I'd Rather Stay," a short film "which highlights how urban design affects an aging population," said Josh Paget, co-founder and festival director of NUFF. See the "I'd Rather Stay" trailer here.
In the film, he said, "[w]e see the benefits of walkable neighborhoods and mixed use developments apply across a range of ages, not just 'millennials.'"
Another film featured at the February screening, "Landfill," will tackle the sticky question of gentrification in Fort Point, Boston, a neighborhood built on top of a reclaimed landfill.
At the screening, attendees will get to see the winners of the urbanism filmmaking challenge.
"During the festival filmmakers were paired with urban thinkers involved with the festival, to make five minute mini documentaries about current urbanization projects in Los Angeles," Paget said. "It was a new dynamic to the festival this year, and I think the results were fantastic."
The new mezzanine space in the redesigned Monica Film Center will provide an opportunity for programming outside of the auditoriums, as well, according to Greg Laemmle, president of the family-owned art house chain, Laemmle Theaters.
He believe that Santa Monica is an ideal place for a screening of the Best of the New Urbanism Film Festival.
"Santa Monica, in many respects, really presents the tenets of new urbanism," said Laemmle. He highlighted the city's commitment to active and mass transportation as well as the recent growth of denser, urban housing in Santa Monica's downtown.
"We've been in Santa Monica for close to 50 years," said Laemmle of his family's theater on Second Street, which just reopened after a major renovation. "I remember working at the Monica [theater] as a teenager." He recalled watching the Third Street Mall transform from a largely neglected and empty space to becoming the thriving Third Street Promenade.
Laemmle is more than an observer of the new urbanism movement; he's an active participant in it.
"Through our activities at Laemmle Theaters, we've been involved in helping to create more pedestrian-oriented downtown neighborhoods," he said, citing Laemmle Theaters' more urban-oriented designs, with pedestrian-friendly frontages and shared parking, located in mixed-use districts near transit. In 2000, Laemmle Theaters also started the Laemmle Charitable Foundation, which "benefits non-profits agencies working to improve life in Los Angeles through addressing social and environmental issues critical to the region," according to the foundation's website. An avid bike-rider, Laemmle is also a former board member of the Los Angeles County Bicycle Coalition.
Laemmle sees the New Urbanism Film Festival as a fun way to help spread the ideas of new urbanism.
"I like to think that anything we can do to help grow the NUFF will help grow new urbanism," he said. "There are still fights despite positive trends; if we can inspire people who are already prone to support these planning concepts and educate those who are opposed, it can help this movement advance."
"People go on vacation and walk everywhere and take buses," he said. "We can do this here. It doesn't just have to be" while on vacation.
It's not just happening in Santa Monica, though, said Laemmle. He is encouraged by other cities and neighborhoods around the region adopting new urbanist principles, like Pasadena and North Hollywood.
For more information about the February 24 screening in Santa Monica or about the New Urbanism Film Festival in general, visit the New Urbanism Film Festival website here.