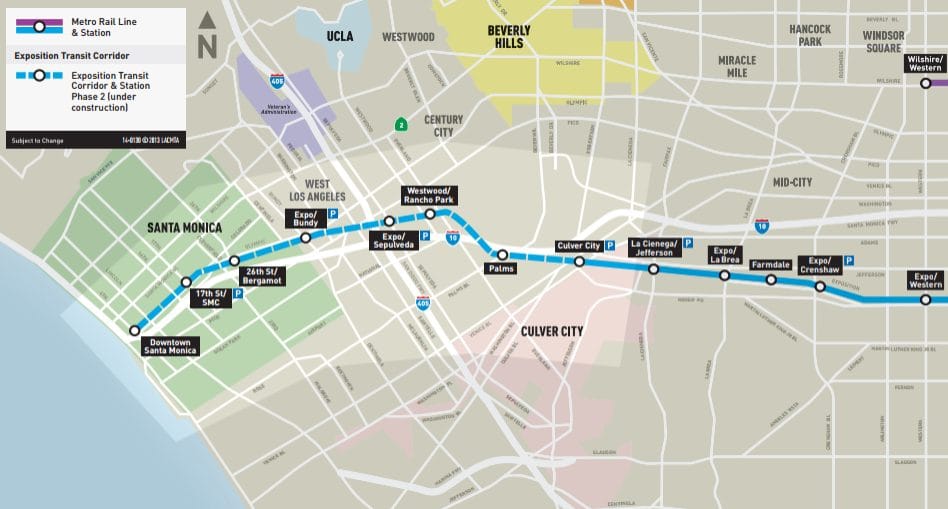 Expo Phase 2 has entered into one of the last stages of testing before it opens later this year, which means it is only a matter of months before it starts transporting passengers between Downtown L.A. and Downtown Santa Monica.
Now, there have been a lot of numbers thrown out when talking about just how many people Expo will bring to Santa Monica, more often by those anxious that masses of train riders disembarking in Downtown Santa Monica will create more problems. I've heard people say that the Expo Line will bring 65,000 a day into Santa Monica. I've heard others say the line will bring even greater numbers of people.
But let's not panic just yet. As part of Expo Phase 2's Environmental Impact Report, the Expo Authority created ridership projections for 2015 and 2030. We can look at those projections to get an idea of how many people will use the line to get to Santa Monica each day.
The projections consider existing and future land uses and transportation options to create an estimate of boardings for each station.  Each time a passenger boards a train is considered a boarding, so someone who took the Red Line to the Expo line, got off in Downtown Santa Monica, and then made the trip back on the Expo to the Red line would count towards four boardings, two on Expo and two on the Red line.
In 2030, the Expo Line is projected to have 63,998 boardings at all 19 stations along the route, which is probably the source of the 65,000 number. Of course, 63,998 daily boardings would mean only 31,999 daily passengers if every rider took a round trip. And these 32,000 will use the line to go many places other than Santa Monica. The Expo Line, after all, serves other destinations that draw many passengers like USC, Culver City, and L.A. Trade Tech College.
Furthermore, it takes time for people to shift to using a transit line and for nearby transit-oriented development to be completed. The projection for the first year of the line's operation is 48,544 daily boardings.
So how many people will use the train to come to Santa Monica? Well, there's evidence to suggest that the 2015 projections are low. So far, the Expo Line has beat ridership expectations. Phase 1 of the Expo Line had 30,371 boardings in December 2015, well above the 2009 forecast of 25,251 daily boardings in 2015. So, I'll look at the 2030 projections as an estimate of what might happen by 2018 or so. About 1,959 people will board daily at Santa Monica stations to take the Expo line Eastbound towards Los Angeles. And about 6,516 people will board their return trips at Santa Monica stations, having used the Expo line to go westbound into Santa Monica. Most of those passengers will use stations other than the 4th street station in Downtown Santa Monica, which might see about 2,906 people arrive by Expo on an average weekday. By comparison, that's about half the number of parking spaces in public structures downtown.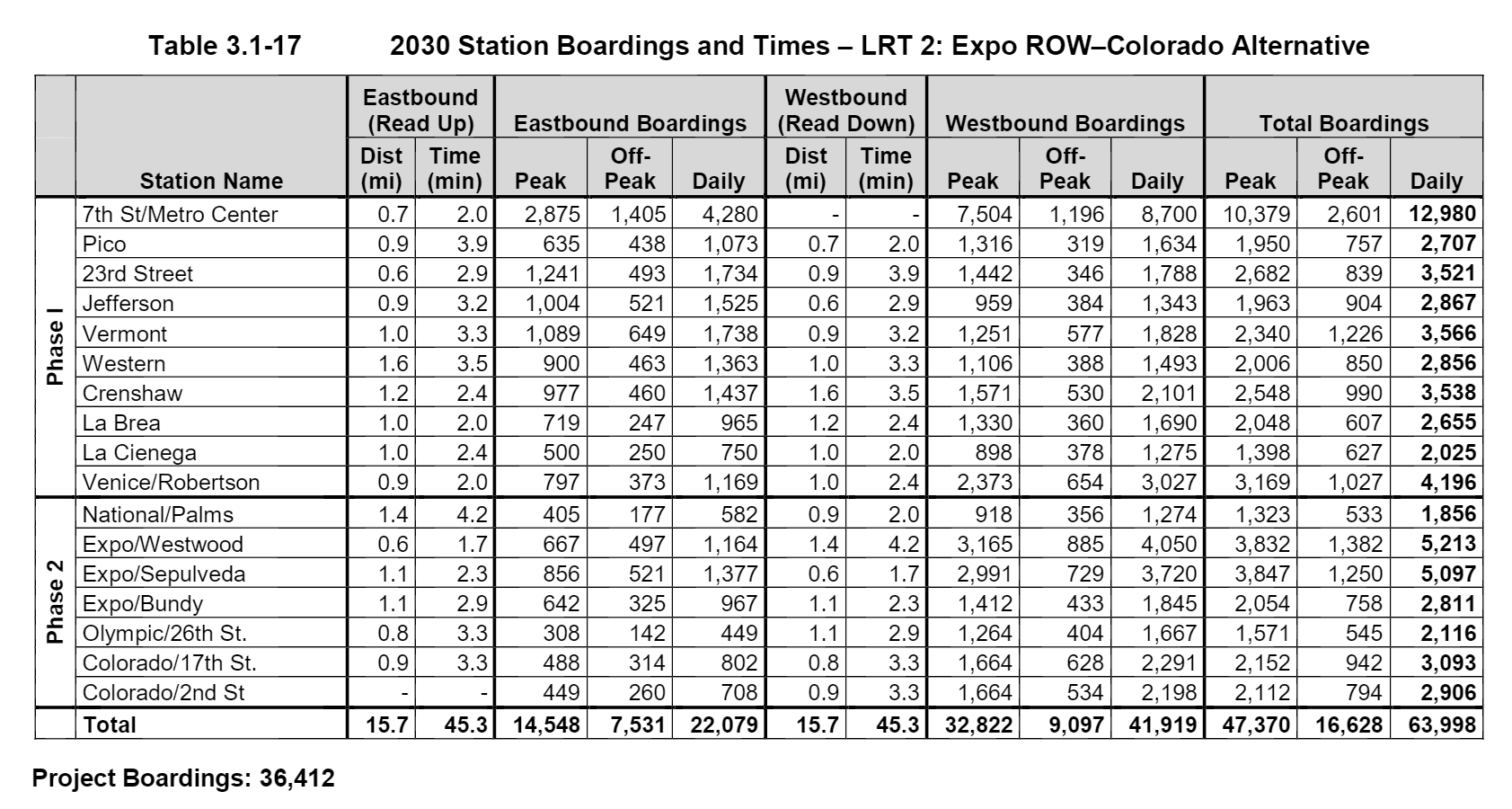 While it's not an insignificant amount of people who will be disembarking downtown once Expo is finished, it's nowhere near what some have suggested. As Expo becomes a more integrated part of our transportation network and new homes and jobs are created along its corridor, we will likely see that number rise. That's a good thing because many of those people who are coming to Santa Monica on the train could have chosen to drive, but didn't. When Expo opens, Santa Monica should strive to be ready for it, but to do so, we must be realistic about its impacts, most of which will be positive.