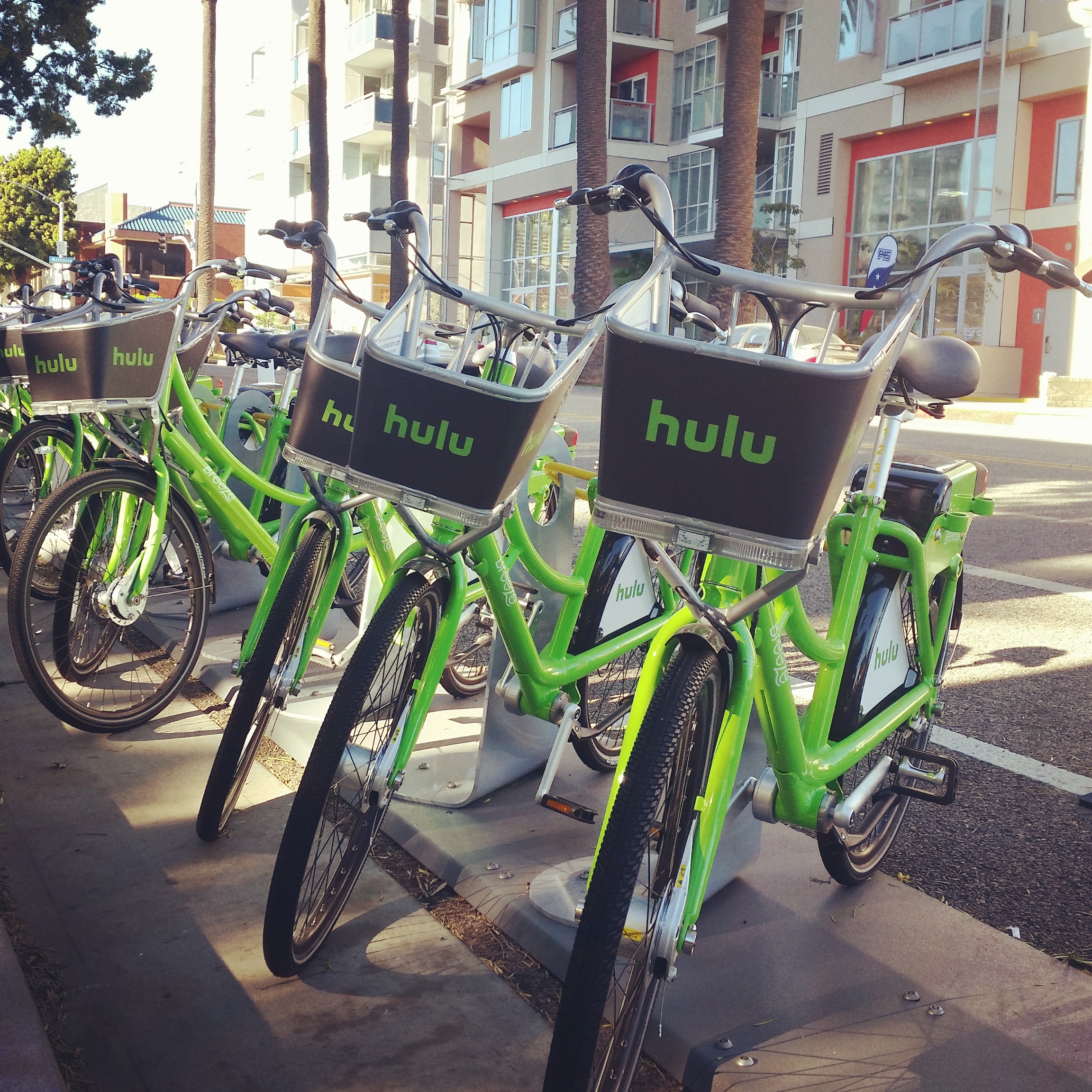 If you're like me, you rely pretty heavily on Internet and smart-phone based real-time transit arrival information when getting around. Santa Monica's newest public transportation option — Breeze Bike Share — has been incorporated into the real-time transportation arrival app, Transit App, giving commuters even more information about their travel options.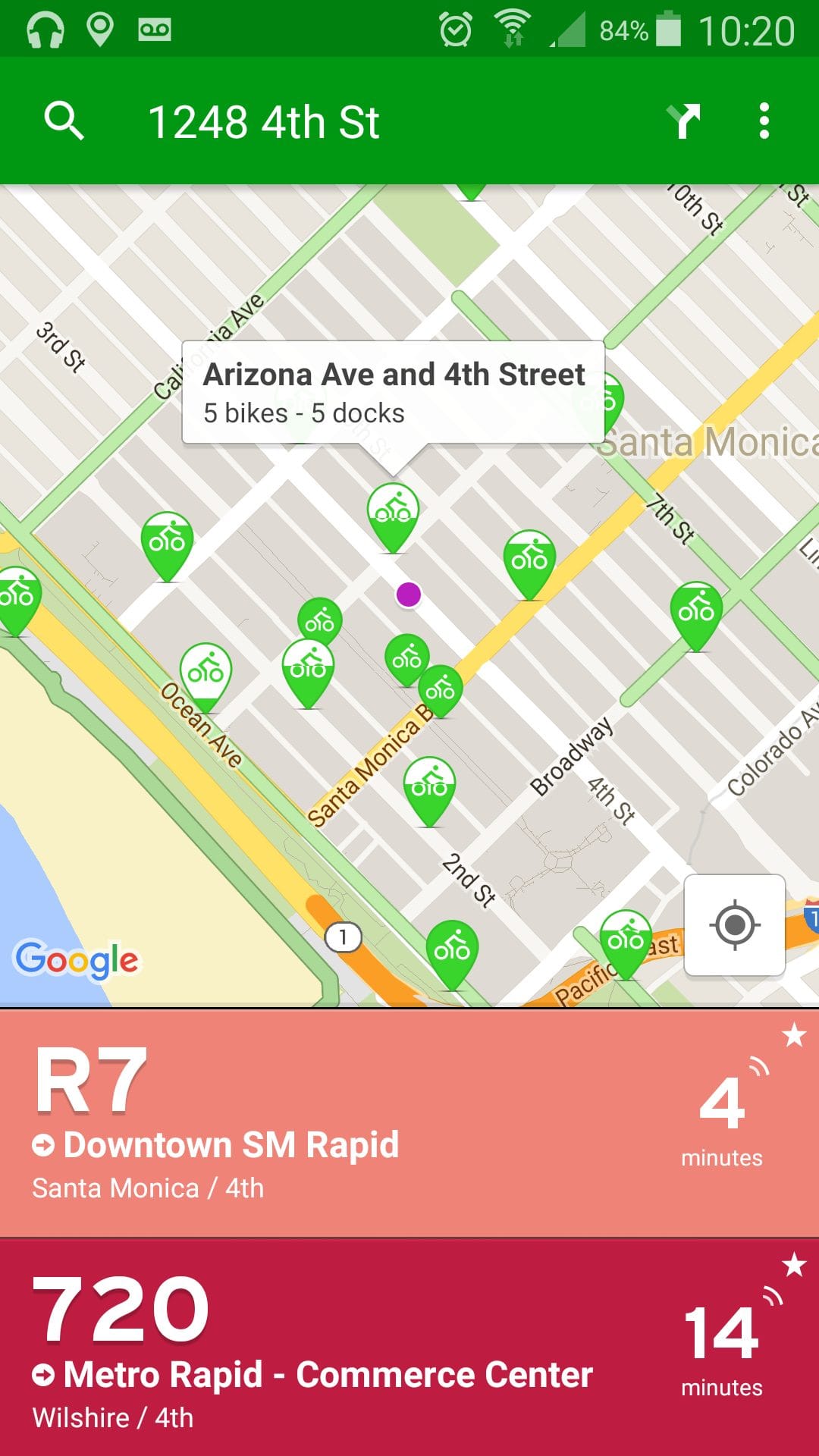 It also makes for a pretty great snapshot of the changing transportation landscape in Santa Monica. Look at all those bikes! Breeze, which is sponsored by Hulu, currently 500 bikes stationed at 75 hubs throughout the city with another four hubs will be opening in Venice soon. Last week, we published an infographic showing where the hubs were and estimated ride times between major destinations.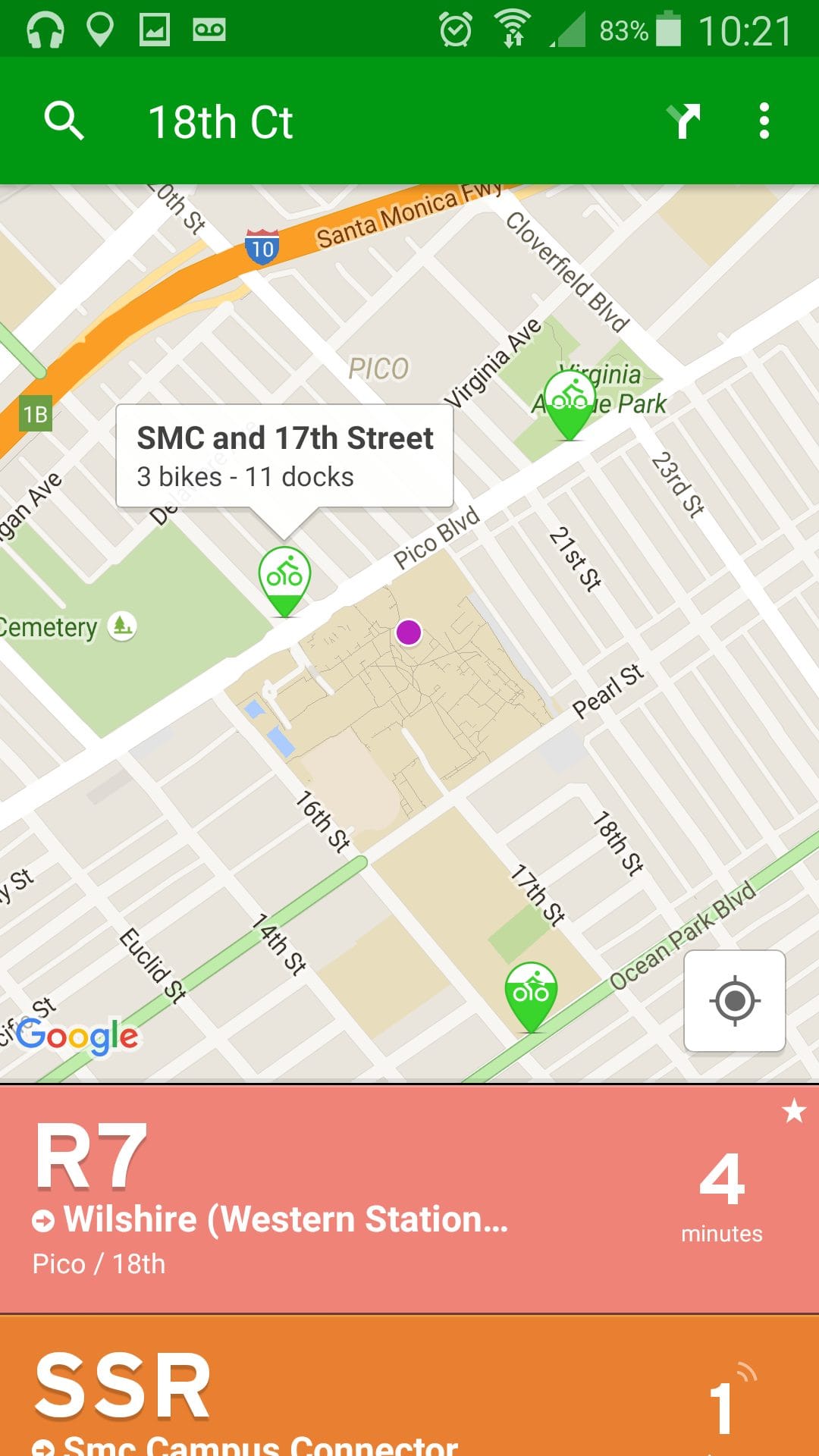 What's also apparent from a cursory glimpse of Breeze hubs on the app is that people are using the new bike-share system, which launched officially last week.
The above screen shots above were taken around 10:20 a.m. and there is plenty of variation in the number of bikes at different hubs, suggesting that the bikes are circulating. It's worth noting that the SMC hub, which has room for about 14 bikes, is clearly getting some heavy use.
Breeze Bike Share — L.A. County's first such program — comes with it's own smartphone app, which allows users to find and reserve bikes.
And though you can't reserve bikes through the Transit app, you can see which hubs have plenty of bikes, which hubs are running low, and how many open slots there are at any given hub.
Since Transit App also gives your real-time arrival information for trains and buses, it can help you plan where you to drop off your bike so you have enough time to catch your next bus. Transit App also shows where there are bike lanes and dedicated bike paths.
Santa Monica's Breeze Bike Share system uses a "smart bike" model, which means that each bike has an on board computer, complete with GPS. Members can go directly to a bike and tap their member card or enter their identification number to check out the bike. Other systems use a "smart dock" model, where the user checks out a bike through the dock.
The on board GPS means that the Transit App also shows you were individual bikes might be parked even if they are out of hub. Under Breeze's fee structure, users who return out of hub bikes to a hub can receive a $1 credit.
Planning your car-free trip around Santa Monica just got a whole lot easier.