Santa Monica has officially announced November 12 as the day for Breeze Bike Share's full roll out, which will make it the first public bike-share system in Los Angeles County.
The full roll out on November 12 will include music, food, and a bike parade down Main Street to celebrate it, according to city officials. The event will also signify that all 500 bikes and 79 hubs will be up and operational throughout Santa Monica and part of Venice. As part of the announcement, the city and CycleHop, the company that runs the Breeze Bike Share system, released a map of the bike hubs.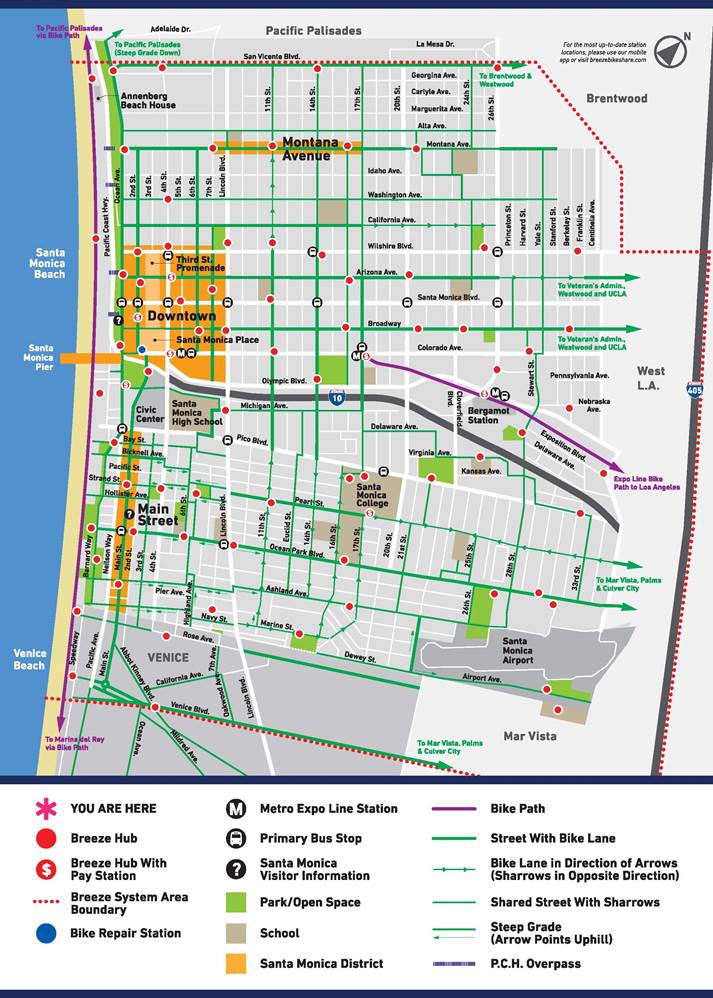 The November 12 celebration kicks off at 8:15 a.m. in front of City Hall and will include a ribbon cutting ceremony with local and regional officials.
Since the city approved the contract with CycleHop last November, the momentum has been (mostly) positive. One local coffee shop owner is concerned that replacing two metered car parking spots with a hub that will park more than twice that many bikes will be bad for business.
The system began a test run in August with seven stations and about 30 bikes. While the test run was expected to end at the end of September, the new bikes proved so popular with the test riders that CycleHop opted to extend the test period to the end of October.
As of August, about 80 "Founding Members" had signed up for the bike-share system and were participating in the test run. Founding Members get a special discounted membership — $99 a year — which allows them to ride up to 60 minutes a day for no additional cost.
Then, earlier this month, the City Council approved a contract with Hulu for the Santa Monica-based Internet media company to sponsor the system with an annual $675,000 donation.
When the City Council approved CycleHop's contract last November, the Council also directed staff to seek out a possible corporate sponsor for a minimum $250,000 annual sponsorship.
The sponsorship will help offset costs of running the program during the first year, when the deficit is expected to be larger than normal as membership ramps up. It could also help pay for helmet dispensing kiosks where bike-share users would be able to purchase helmets at a subsidized rate. California law does not require helmets for riders 18 years and older.
Breeze Bike Share, when it fully launches next month, will be the region's first public bike-share system. Metro has begun moving forward with its own bike-share system, which will use an incompatible "smart-hub" system. Metro is expected to launch a 1,000-bike pilot program in Downtown L.A. next year, but some are concerned that the incompatibility of the systems will create unnecessary problems in the future as Metro expands its program to areas where other systems like Breeze are already operating.