This week, Santa Monica released a draft of its Pedestrian Action Plan, a comprehensive, 100+ page policy document for creating better streets for people over the next 15 years.
At the top of the priorities in the draft Ped Action Plan is a Vision Zero approach to street planning, which would be the city's first official commitment to designing streets in order to eliminate traffic fatalities and serious injuries, if the document is adopted by the City Council.
Vision Zero is a road safety concept that holds that all traffic deaths are preventable. Vision Zero strategies aim to end all crash deaths, whether pedestrians, drivers, passengers, or others. Vision Zero began in Sweden and has spread to many United States cities in recent years. It became an integral part of Santa Monica's Ped Action Plan as a result of Council direction to staff at a March 17 Council meeting.
"Vision Zero Santa Monica acts as an agreement between the community and City to coordinate efforts and concentrate on the elimination of traffic injuries and fatalities," the draft Ped Action Plan explains.
"It obligates the City of Santa Monica to consistently prioritize road user safety, and calls for accountability from all users of the roadway," according to the Ped Action Plan.
The Ped Action Plan is modeled after the city's Bike Action Plan, which, four years after it was adopted, has dramatically increased bicycling in Santa Monica.
According to the draft Ped Action Plan, Vision Zero Santa Monica calls for the following strategies:
Project Design. Define and construct projects to improve the safety for people using the street.

Operations. Implement operational changes to reduce vehicle speeds that threaten pedestrian and bike safety.

Programs. Support programs that educate people walking, biking, and driving.

Behavior and Enforcement. Encourage safe behaviors for all road users and engage community leaders in promoting safety, including enforcement of distracted and unsafe vehicle operation.

Walkability. Promote walkable environments – on Downtown streets, in neighborhood commercial areas, along boulevards, and within neighborhoods – to promote health and economic strength.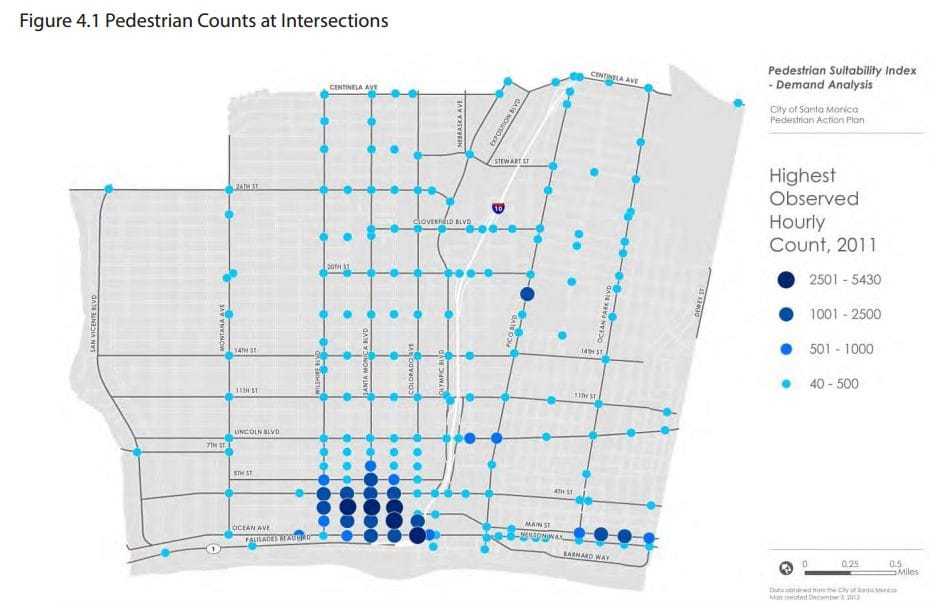 Vision Zero is just the first of eight policy goals outlined in the draft document, including making walking the first choice for Santa Monicans, creating a "barrier-free" walking network, focusing on equity in access, promoting walkability coordination between city departments, and educating the community about safety and benefits of walking.
As the list suggests, this plan is about more than just widening sidewalks, though that is one of the many tools suggested in the Plan, which contains a citywide rating of sidewalk quality. The plan details where people were walking the most. Not surprisingly, the Downtown, with its housing and jobs density, has a lot of people walking.
In contrast, Lincoln Boulevard has some of the city's lowest foot traffic counts. That street's generally car-oriented design has recently become a target of local city officials who hope to remake it into a more people-friendly thoroughfare through the the Lincoln Neighborhood Corridor (LiNC) plan.
Vehicle speed, it turns out, is one of the major factors that deter people from walking, according to the Plan. It turns out that simply posting speed limit signs does not necessarily reduce speeding.
"Throughout the city, the posted vehicle speed is generally 25-35 mph. But 2013 surveys of speeds on major streets revealed that the prevailing speed is higher than the posted speed in many locations including parts of San Vicente Boulevard, Montana Avenue, Wilshire Boulevard, Santa Monica Boulevard, Ocean Park Boulevard, Ocean Avenue, Nielson Way, 4th Street, Lincoln Boulevard, 17th Street, and 20th Street. Community members often ask for strategies that reduce motor vehicle speeds, as they contribute to unpleasant walking conditions," according to the plan.
"In addition to regular enforcement of the speed limit, design strategies that reduce speeds may make streets more efficient for all roadway users and decrease both the probability and severity of collisions as higher speeds have been documented to result in greater likelihood of pedestrian fatalities and severe injuries," the plan states.
View the whole plan here and submit comments to transportation.planning@smgov.net.