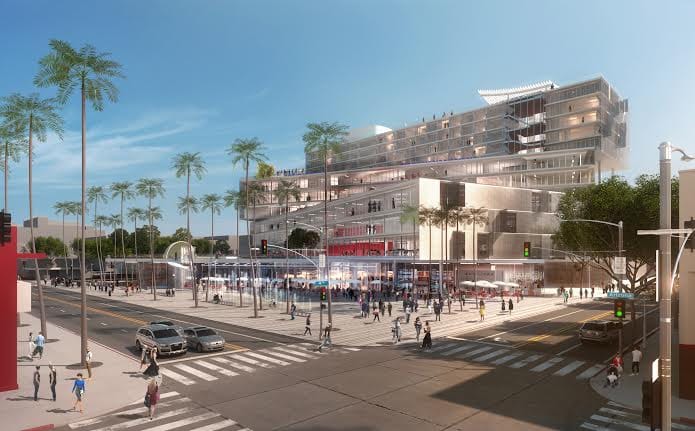 Help plan the future of Downtown Santa Monica over food and drinks; the City Council takes up the proposed Plaza at Santa Monica project by renowned architect Rem Koolhaas' design firm; Making Strides will hold a fund raising walk against breast cancer; and Santa Monica welcomes its new heroes.
Designing the Downtown We All Deserve
Join Santa Monica Next, Santa Monica Spoke, Santa Monica Jaycees, and Travis Page, senior planner with the city, as we discuss Downtown's future over food and drinks on Thursday, Oct. 22 from 6:30 to 8:30 p.m.
Travis is leading the city's effort to create a visionary Downtown Specific Plan that will guide the future of the area for the next 20 years or so.
Downtown Santa Monica is many things to many people. It is a tech hub, the gateway to the beach and the historic Santa Monica Pier, a place where people come to play and to work, and a place thousands call home. It has some of the city's best restaurants, bars, and fun hot spots. It's a place where people come together to innovate and to recreate, to meet new friends and hang out with old ones.
It could also be one of the few places in Santa Monica where any new homes will get built in the coming years.
Be a part of this once-in-a-lifetime chance to re-imagine one of Santa Monica's most thriving neighborhoods and help make sure that it continues to thrive well into the 21st century and beyond.
When: Thursday, Oct. 22 from 6:30 to 8:30 p.m.
Where: The Comma Building at 1640 5th Street in Downtown Santa Monica
Council Looks at Plaza at Santa Monica Project
The Plaza at Santa Monica project, designed by world-renowned architect Rem Koolhaas' firm OMA, is back before the City Council this week.
It could to be one of the most striking new buildings built in the bayside city — or possibly even in all of L.A. County — in decades.
But first, it has to survive a lengthy public process, including Tuesday night's Council meeting.
The project would add a boutique hotel (complete with a rooftop bar), about 50 affordable housing units operated by the city's premiere affordable housing nonprofit, Community Corporation of Santa Monica, a bike center, creative offices, a children's museum, and multiple levels of public open space to the city-owned lot about three blocks from the future Expo light rail station.
Because the project is on city-owned land, the whole process is driven by the benefits the project would bring, including revenue for city services.
Currently, the 2.5 acre plot of land is home to a couple banks, a major parking crater, and some other single-story retail.
You can email your elected officials to let them know what you think at council@smgov.net.
When: Tuesday, October 20 at 5:30 p.m.
Where: City Hall, 1685 Main St.
Making Strides Against Breast Cancer at Santa Monica Pier
On Saturday, October 24 at 9 a.m., Santa Monica Pier will host a "Making Strides" walk to fight breast cancer.
"Making Strides Against Breast Cancer walks are the largest network of breast cancer awareness events in the nation, uniting nearly 300 communities with a shared determination to finish the fight. By signing up, fundraising, and participating in one of our noncompetitive, three- to five-mile walks, you will help us be there for everyone in every community touched by breast cancer," according to the Making Strides website.
To find out more, to participate, or to donate, click here.
When: Saturday, October 24 at 9 a.m.
Where: Santa Monica Pier
Santa Monica New Heroes Celebration
Join the Santa Monica Chamber of Commerce on Monday, October 26 for its 21st annual New Heroes celebration, welcoming our city's newest public servants: educators, police officers, and firefighters.
"Each year, inspirational heroes are honored with an award acknowledging their contributions to the community and serving as [an] inspiration for those newest heroes to follow," according to the event's Facebook page.
For more information, including a look at who will receive awards this year and how to buy tickets, visit smchmaber.com.
When: Monday, October 26 from 4:30 p.m. to 6:30 p.m.
Where: Saint Monica's Grand Pavilion, 725 California Ave.