Downtown Santa Monica is one of the few places in the city where any new housing gets built, including affordable housing. The Kaufmann Apartments at Step Up on Colorado is the latest project to open in the city's thriving Downtown.
The new building, located less than a block from the Expo light rail stop in Downtown Santa Monica, provides 32 new homes for people who are experiencing homelessness and mental illness.
The project is a collaboration between the nonprofit Step Up, which started in Santa Monica in 1984 specifically to help people who are experiencing homelessness, and Hollywood Community Housing Corporation. All photos were provided by Killefer Flammang Architects (KFA), the firm that designed the building.
Lise Bornstein, a principal with KFA, said that the design was driven by desire to incorporate the building into the community fabric.
"We wanted people to feel like they have roots in their community," she said. What happens beyond the unit is equally important to what happens in the unit.
A question that helped drive the design was, "How can we organize the building to promote integration into the community?"
To that end, Bornstein said, the design has semi-private balconies, common space within the building, and a front porch feel at the ground level.
"The tenants can sometimes feel isolated, so we wanted [the design] to give them an opportunity for community spaces and gathering spaces that look out into the city," Bornstein said.
The building is designed to meet at least a LEED Gold — and possibly a LEED Platinum — designation from the U.S. Green Building Council for its sustainability features, including a solar-heated water system and the use of recycled water from the city's urban runoff treatment facility (SMURF) for irrigation.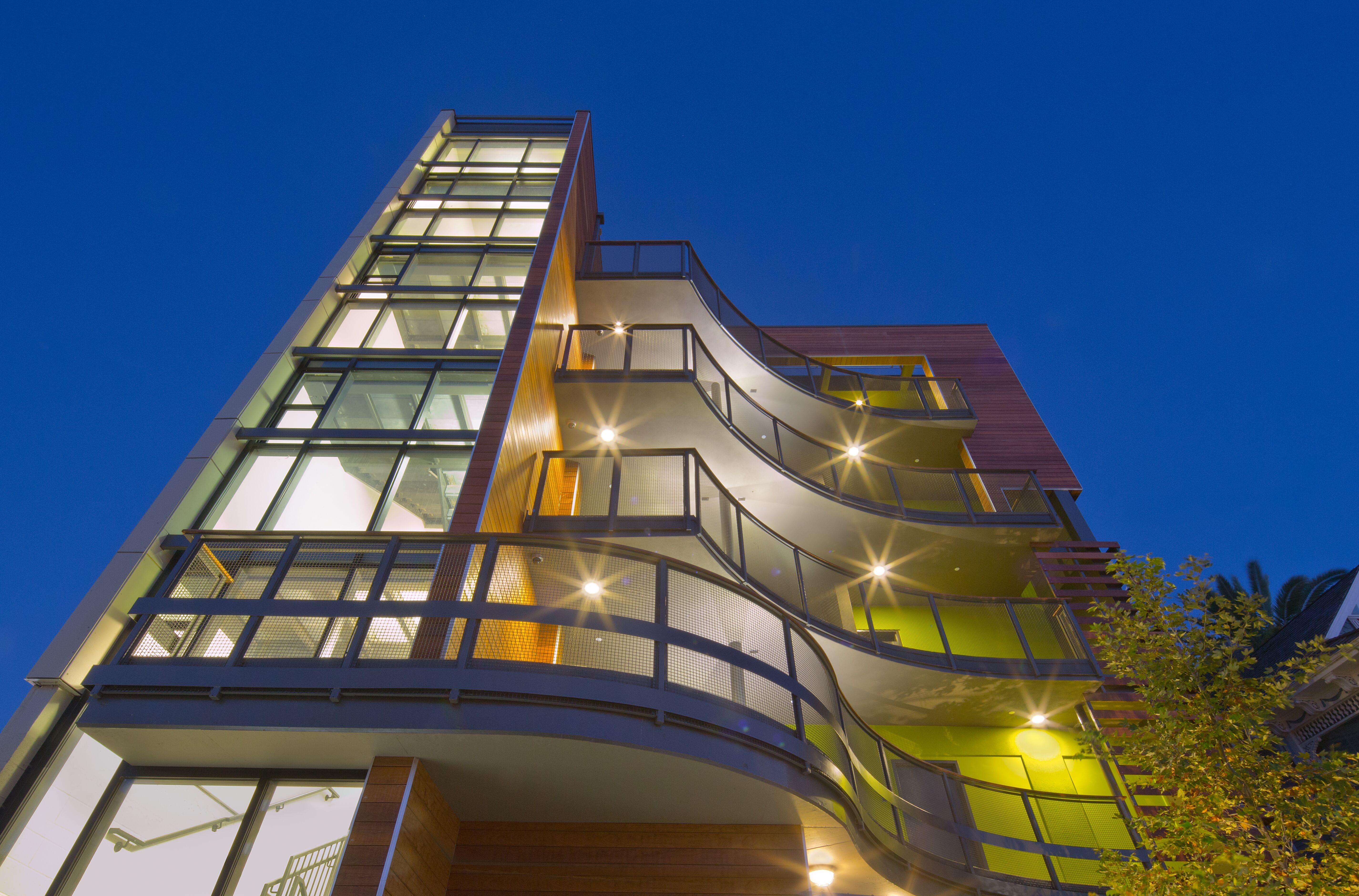 Providing well-designed housing for people experiencing chronic homelessness is just one facet of Step Up's mission, however. It's also about providing people who live in these buildings with community, said Carolyn Baker, vice president of community development for the nonprofit.
"Housing is healthcare," she said. Making sure that people experiencing homelessness, many of whom struggle with mental health issues, have a safe place to live is a medical issue, she said.
Step Up buildings provide not only shelter for the most vulnerable members of our community, they also provide "a rich array of support services," in which tenants can — but are not required to — participate, Baker said.
Those services include medical and mental health care, assistance in accessing whatever benefits tenants may be entitled to, job opportunities, vocational programs, and about 60 different types of tenant-driven groups, like art, creative writing, yoga, support circles.
Step Up also provides meals at hub locations, like Step Up on Vine (in Hollywood) — whose opening in 2013 was attended by former president Bill Clinton — and Step Up on Second, just a few blocks away from the new Kauffman Apartments.
The new building marks a milestone for the Santa Monica-based nonprofit. In 2010, when Step Up and Hollywood Community Housing Corporation opened its Step Up on Vine Street location to much fanfare — the ribbon cutting was attended by former president Bill Clinton — the nonprofit announced its commitment to build 200 units to house people experiencing homelessness.
The Kaufmann Apartments at Step Up on Colorado marks the achievement of that goal, said Baker. And, to celebrate the achievement, Step Up will hold an official opening ceremony for the new building on September 24.
But Step Up is not content to stop there, she said. Next, the nonprofit will be targeting homeless vets in Los Angeles and will set a new benchmark: 400 new permanent supportive homes for these vulnerable community members.
Step Up is one of the nonprofits working with the West L.A. Veterans Affairs (VA) campus as it undergoes a master plan design process in order to create new supportive housing for veterans who are experiencing homelessness.
Step Up was an early adopter of the "housing first" model of helping people who are experiencing homelessness. The idea behind the model is to get people into permanent supportive housing first in order to address the root causes that led to those people living on the streets.
Baker recalled one resident who, before moving into a Step Up building, was living in a cardboard box. When she moved into her new apartment, this woman brought the cardboard box with her because it was what she had become used to.
"We moved the box in with her and within a few months, she asked us to get rid of the box," said Baker.
Step Up, which has about 140 housing units in Santa Monica alone, boasts about a 90 percent retention rate, which means that once they get people into safe homes, those people are likely to stay there, said Baker.
That's good news, not only if you believe combating homelessness is a moral issue, but also it costs tax payers about 40 percent less to find homes for people than if those people remained without homes, Baker said.
Still, L.A. County has one of the largest population of people who are without homes in the country. While the majority of people experience homelessness for a short period of time, Baker said, there is a core group of about 6,000 people who experience chronic homelessness.
That core group is who Step Up tries to reach, going so far as to putting together "street outreach" teams that consist of medical professionals and people who formerly experienced homelessness. Those teams go out and speak to people living on the streets in order to try to connect them to the services they need.
Baker said, often times people think that those people experiencing homelessness are resistant to getting help. But, in reality, they aren't "service resistant," Baker said. They are "system resistant because the system isn't really designed to meet them where they are."
Housing first works, but only if there is enough housing. "It's really a math problem. There aren't enough units available," Baker said. But Step Up — and other nonprofits — are chipping away at the problem little by little.
For more information on Step Up, visit www.stepuponsecond.org.
Santa Monica Next is published thanks to the support of our advertisers: Bike Center, Pocrass and De Los Reyes LLC Personal Injury Attorneys and Los Angeles Bicycle Attorney.