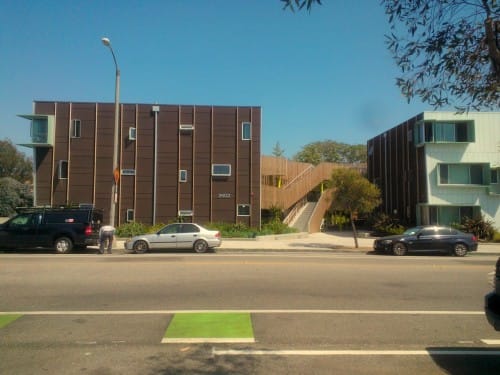 Santa Monica's City Council met Tuesday night to discuss the complicated topic of affordable housing funding. Since the city's funding for affordable housing subsidies from about $15 million a year plummeted to about $2 million a year in 2012 when California shut down the state's redevelopment agencies, the situation is dire.
One major takeaway from Tuesday's meeting was that Santa Monica must build much more affordable housing each year if it hopes to maintain its current level of affordable housing. Right now, rent-controlled homes are the single largest pool of affordable housing units, but every year, between 400 and 550 of those units are vacated, according Santa Monica's Rent Control Board.
Because the state legislature passed the Costa-Hawkins Rental Housing Act, beginning in 1999, owners of rent-controlled units have been able to rent them at market rate once a tenant vacated, which means each of those 400 to 550 vacated units ceases to be affordable.
No "Magic Bullet"
"I think the most significant, achievable, but very ambitious, goal is… simply maintaining the share of affordability that we have today, which means actively replacing the units we lose," Santa Monica City Manager Rick Cole told the Council Tuesday.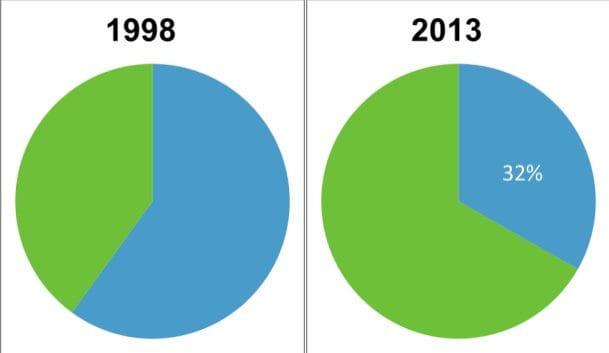 Cole did point out that there is no "magic bullet" solution and that the city would need to consider a wide range of strategies to retain and produce more affordable units.
Among the strategies laid out before the Council Tuesday were include several possible tax measures designed to raise money for subsidies to nonprofit affordable housing producers, like Community Corporation of Santa Monica (CCSM). CCSM also buys and rehabs existing buildings, preserving them as affordable housing for current and future tenants.
While nonprofits like CCSM get funding from a wide variety of sources, a stable local funding source allows them to be more competitive for federal and state money.
Another strategy, Cole said, would be to look at extending agreements the city has with private developers to continue subsidizing affordable apartments built as part of market-rate developments. In 1990, voters approved Prop R, which requires that 30 percent of all new homes built in Santa Monica be deed-restricted (meaning the rents don't go up when tenants move) to be affordable to at least moderate-income households.
Cole also said it is important to be aggressive when it comes to requiring new market-rate development to include subsidized units going forward and he underscored the need for a regional approach to addressing the housing crisis, which is particularly acute in desirable coastal cities.
"We're not going to solve this by some magic bullet where there's a giant pot of money over here. We're going to find a little bit here, a little bit there, a little bit more here, some creative ideas there," said Cole.
Tuesday's meeting was a study session, which means that no final decisions were made. But it seemed clear that the Council reached a consensus on the importance of maintaining the current level of affordable housing in Santa Monica.
"Of all of the [metrics] we've talked about, that's the simplest and goes to the heart of maintaining our diversity. So, it's a stretch goal, but it's not out of the question," Cole said, adding that the "bigger picture" issue was the need for community outreach to make achieving this goal possible.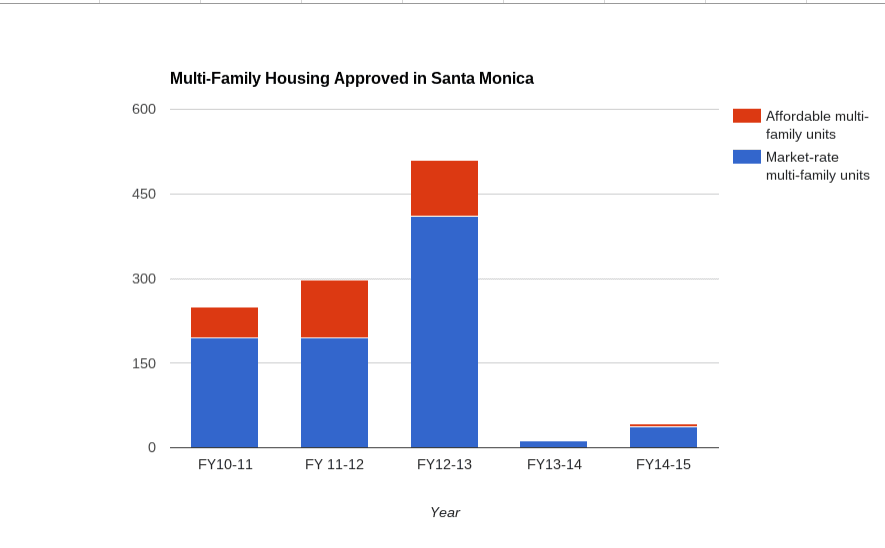 "Not Even Housing Our Own Kids"
"Over the 40 years I've lived here, the population of Santa Monica has grown less than one half of one percent per year and that is below the birth rate, so we're not even housing our own kids," Mayor Kevin McKeown said in response to comments by a speaker opposing new housing growth.
Mayor Pro Tempore Tony Vazquez agreed.
"Are you aware that over the past 40 years, our population hasn't grown?" he asked of the speaker, who had claimed that Santa Monicans were more concerned with overdevelopment than funding affordable housing. "To say that overdevelopment has increased the population is a misnomer," Vazquez said.
Councilmember Pam O'Connor warned against demonizing development.
"Something we do have to grapple with is… production of new affordable housing is development. If you're going to build a building, it's going to house people. We're talking about [building] in appropriate locations for the needs of our community at those affordability levels that will continue to help us have a diverse and inclusive Santa Monica," O'Connor said. "So, we just need to be careful not to demonize development."
Councilmember Terry O'Day pointed out that there was a lot of consensus among the council members Tuesday and reaffirmed the need for a multi-pronged approach to providing affordable housing. But, he also brought up the importance of keeping the community affordable.
"Housing is just one of the costs of living here," O'Day said. "Transportation is another one. Keeping our Big Blue Bus rates low is key for addressing the needs of this community. Providing other lower costs of transportation, like bikes, and making those safe. And, not requiring renters to pay for the cost of storing a car that they don't own by making them pay for parking as part of their rent is really a key way to drive down the cost of housing."
According to the 2013 American Communities Survey, about 17 percent of renters in Santa Monica don't own cars, yet code requirements often mandate two parking spaces for every new apartment built.
Defining Affordable Housing
So, what does affordable housing mean? Santa Monica uses a very specific formula, based on L.A. County's median income, to determine what affordability means.
People must income qualify to live in deed-restricted units, unlike with rent-controlled units. Whether a household income qualifies as "extremely low," "very low," "low," or "moderate" depends on the number of people in it. All maximum incomes are calculated as a percentage of L.A. County area median income.

Perhaps the only certain thing that emerged from Tuesday's meeting was that Santa Monica, if it wants to maintain its current level of economic diversity, is facing a complicated issue. With the city hemorrhaging hundreds of affordable homes each month, Santa Monica has got to significantly increase housing production numbers if it hopes to keep pace. The question is, will it be able to find the political consensus necessary to follow through with its aspirations for maintaining an inclusive, diverse community?