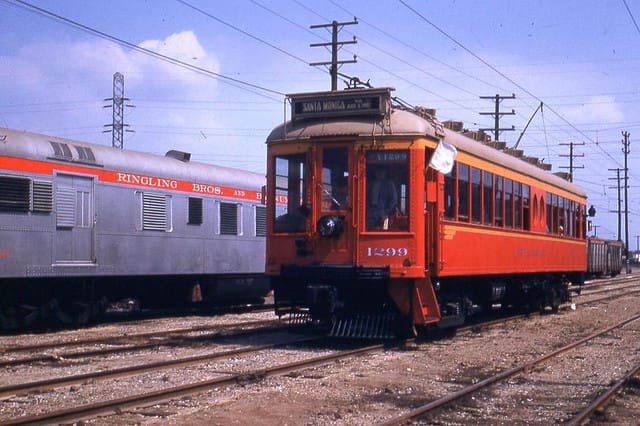 The train's a-comin'! Expo testing is scheduled to extend all the way to 4th Street today, marking the first time a passenger train has been west of Lincoln Boulevard in decades.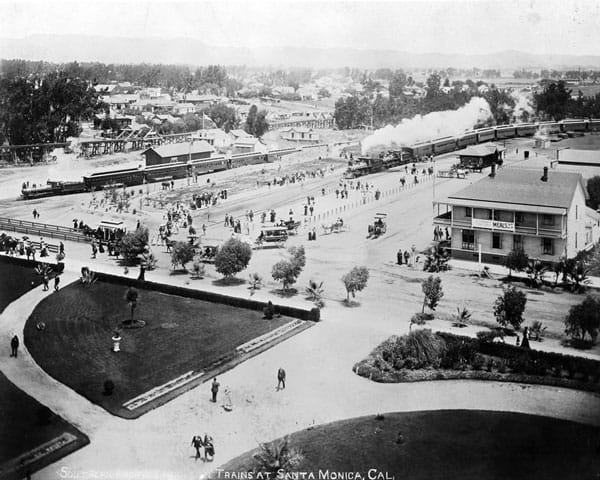 It won't be long before getting from Downtown Santa Monica to Downtown Los Angeles is as easy as hopping a train. While many have come to know Los Angeles as a car-dominated town, that's quickly changing with the growing rail network and extensive bus service. But before this city got its car-centric reputation, it was first a rail town.
Starting in 1875, freight and passengers could travel between Downtown Los Angeles and Santa Monica — before it really had anything that could be considered a downtown — by train.
By the turn of last century, Santa Monica was flourishing as a beach destination.
By 1912, Santa Monica had full-fledged daily passenger service as part of vast and sprawling rail network. In a brochure from 1910, Pacific Electric advertised a "Balloon Route Excursion" for only a dollar. The route ran from Downtown L.A. to Santa Monica, then south to Venice and Playa del Rey before returning eastward.
The "Balloon Route" promised passengers glimpses of exciting sites:
Largest Oil District in Southern California
The Beautiful Driveways of Sunset Boulevard and Prospect Boulevard
The Modern 'Garden of Eden' — Beautiful Hollywood
Largest Beanfields in Southern California
Then, the train would stop north of Santa Monica Canyon, offering passengers a chance to see the long wharf at Port Los Angeles. Now lost to history, the long wharf was Santa Monica founder and Nevada Senator John P. Jones' attempt to make Santa Monica the primary shipping port for Los Angeles. Eventually, Jones lost out to San Pedro.
Passengers were then treated to a stop at "Santa Monica by the Sea, Southern California's Oldest Beach, with Panoramic View at the Great Camera Obscura," followed by a jaunt at "Pretty Ocean Park with a Delightful Ride on the Roller Coaster over the Sea."
The Balloon Route, which was "endorsed by thousands," continued south before returning eastward by a different route. Its promoters also boasted that it passed "through orange, lemon, olive, walnut and fig groves."
Passenger service continued to the beach city along the Santa Monica Air Line into the middle of last century. The line was used for freight trains until 1988, when the track was officially abandoned.
Earlier this month, for the first time since 1953, an electric passenger train crossed into Santa Monica as Metro began testing on Expo Phase II. If all goes as planned, Expo II will open in early 2016, ushering in a new era of passenger train travel in West Los Angeles. The future is almost here and it looks vaguely like the past, only better.