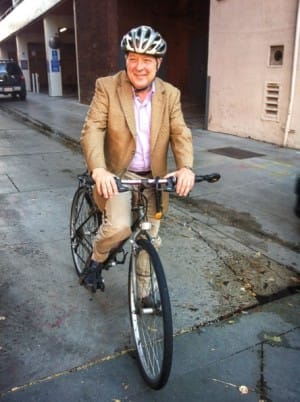 "If the slow-growth movement … has been explicitly a protest against the urbanization of suburbia, it is implicitly—in the long tradition of Los Angeles homeowner politics—a reassertion of social privilege." —Mike Davis, City of Quartz: Excavating the Future in Los Angeles (1990).
In an attempt to remind myself of the historical context behind the anti-development politics I've been writing about, I went back and reread the famous 60-page chapter, called "Homegrown Revolution," that Mike Davis wrote in City of Quartz 25 years ago about the homeowner movements of the '70s and '80s. Davis, if you haven't read the book, takes no prisoners. He's equally rough on Anglo homeowners, enriched by the rapid increase in property values of the late '70s, who banded together to enact Prop. 13 and keep apartments (and not incidentally minorities) out of their neighborhoods, and the Growth Machine developers and their kept politicians whom the would-be "sunbelt Bolsheviks" so feared.
[pullquote align=left]
The development that the anti-development crowd should actually be complaining about took place in the era they have the most nostalgia for. But if nearly 30,000 units (of 50,000 total today) hadn't been built in the '50s, '60s, and '70s, most Santa Monicans wouldn't have a place to live.
[/pullquote]At a certain point Davis refers to Karl Marx's essay "The Eighteenth Brumaire of Louis Bonaparte" to make the point that for all their fervor, and with the notable exception of the Prop. 13 campaign, the slow-growthers were usually disorganized, like the peasants whose potential for revolution Marx dismissed. Reading this reference 25 years later I found a retrospective irony. Notwithstanding what Marx said about the peasants the most famous line inEighteenth Brumaire is the one where he, in comparing the Emperor Napoleon and this nephew Napoleon III (Louis Bonaparte), says that history repeats itself, "the first as tragedy, then as farce." When you compare the issues that provoked anti-development activists in the '70s with those that fuel anti-development fires today, farce is what comes to mind.
So many people newly involved in anti-development politics in Santa Monica, and I'm thinking of many in Residocracy and the Santa Monica Coalition for a Livable City, act as if they've discovered things that no one else knew about. Did you know that traffic is congested and that developers want to make money? What a shock!
I hate to play the old baby boomer card, but we've been through this before. There's a reason that freeways don't cut up the Santa Monica Mountains, and that was because in the '60s Marvin Braude and others formed the Hillside Federation to stop them. There are reasons that downtown Santa Monica doesn't look like downtown Glendale, that there are only two apartment towers on the beach in Ocean Park, and that thousands of apartments have been saved from destruction, and that's because when Santa Monicans for Renters Rights (SMRR) took power in 1981, Santa Monica became, as described by William Fulton, another great chronicler of L.A. (in The Reluctant Metropolis), the first city to confront the Southern California Growth Machine.
SMRR arose because of a real crisis, not something ginned up. The reason analysts label today's regional housing crisis as the worst in decades is because the crisis of the late '70s was even more dramatic. L.A. housing prices, which early in the decade were slightly lower than the national average, increased 30 to 40 percent a year, and rents exploded, too. Oh, and by the way, people complained about traffic back then, too. Locally developers had big plans to turn industrial areas into office parks, as had happened on Ocean Park Boulevard with the Douglas Aircraft site, creating many more jobs per acre, which would mean more commuters. And let's not forget other serious problems, like homelessness and gang violence, and decaying infrastructure.
Not everything worked out—there was the matter of the approval in the '80s of twice the office square footage predicted in Santa Monica's 1984 land use plan—but the worst damage was averted and there were many positive achievements. I'm tempted to say that there were giants in those days, but in any case movements against genuine ills create big ideas and powerful language. The tragedy comes when those ideas and words are applied to more trivial circumstances. Then they become farcical.
That's not to say we don't have problems today, they're just not the ones complainers in Santa Monica complain about. They're still acting as if Santa Monica is a "Leave It to Beaver" suburb, when in fact it's part of the central core of a megalopolis. Longtime residents (the only ones who are supposed to have standing to complain) have a lot to be thankful for—high property values and low, Prop. 13 taxes if they are homeowners, rent-controlled rents if they are renters, convenient access to whatever services they need, shorter commutes than average. What drives them crazy is traffic, but traffic is bad all over, it's been bad for a long time, and it's not necessarily getting worse. The reality today is not about how to preserve a suburb, even an industrial suburb like Santa Monica once was, but about how to make a city work.
Here's a fact to chew on from the Housing Element of Santa Monica's General Plan: in 2013 82.8% of all housing in the city was more than 30 years old—built before 1983. The development that the anti-development crowd should actually be complaining about took place in the era they have the most nostalgia for. But if nearly 30,000 units (of 50,000 total today) hadn't been built in the '50s, '60s, and '70s, most Santa Monicans wouldn't have a place to live.
Thanks for reading.
Editor's note: This post was originally posted on The Healthy City Local, the blog of long-time political observer and former Planning Commissioner, Frank Gruber. It is reprinted here with the author's permission.