Mark your calendars, Santa Monica.
The Big Blue Bus wants your feedback on the agency's newly redesigned bus stop seats, which will be at different locations around the city over the next three weeks; there will also be some important changes to bus service this weekend; city officials want to hear your thoughts about how to save Santa Monica's historic Civic Auditorium; and watch a video showcasing Santa Monica's newest library, one of city's greenest buildings.
SavE the Santa Monica Civic
Over the weekend, the city held a two-day workshop to get feedback from the community about how best to save Santa Monica's historic Civic Auditorium, once a sought-after venue that hosted the Academy Awards and concerts that featured The Supremes, the Rolling Stones, and Bob Dylan.
The problem is, the 55-year-old building is in dire need of an overhaul, which officials estimate would cost about $50 million. Then there's also the question of how to continue paying to operate the venue and what to do with the 10-acre area around the building, currently mostly a surface parking lot.
So, to give the community a chance to discuss the landmarked venue's future in realistic terms, the city commissioned a customized software that allows people to make choices about the Civic's future and see the real cost of those choices. The custom software will be available online starting today.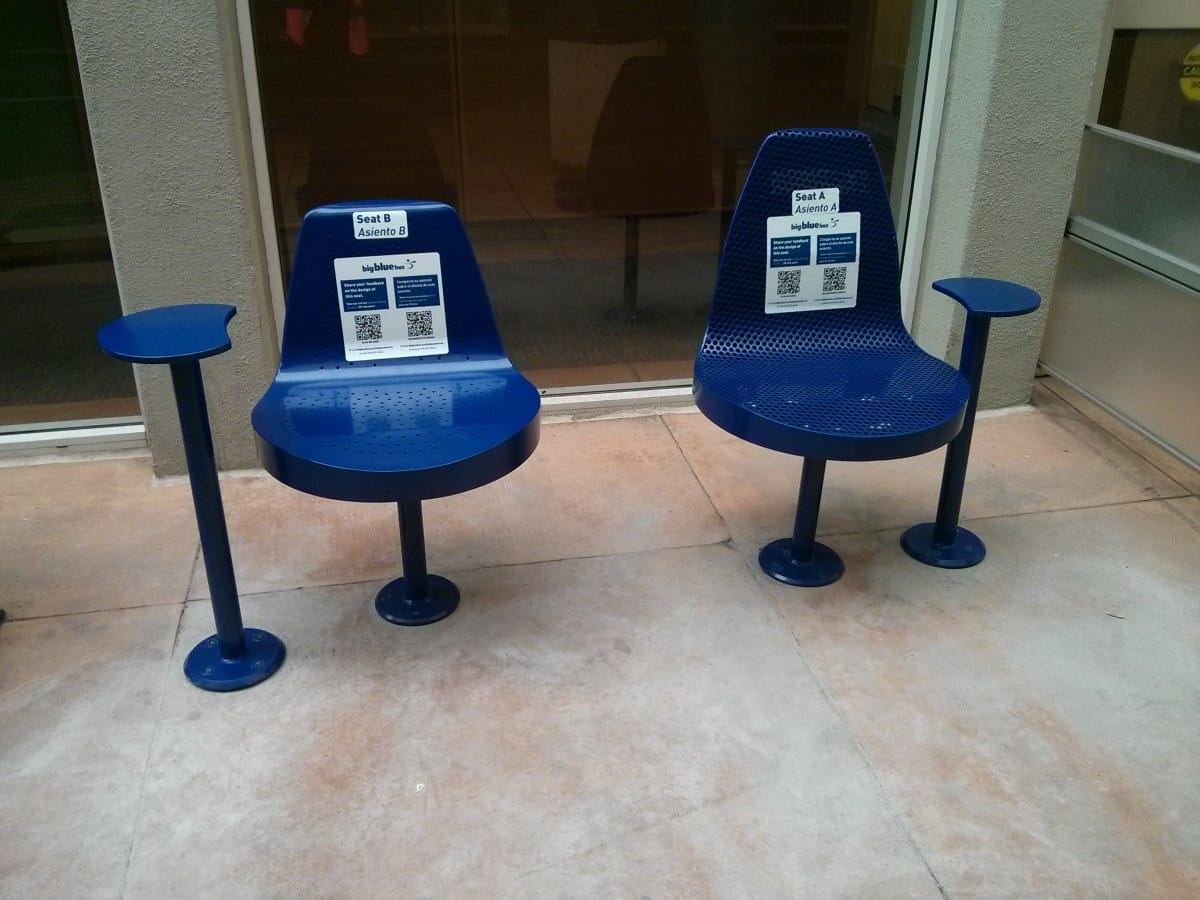 Bus Stop Seats, Redesigned
After getting much feedback about plans for a $7 million federally-funded overhaul of all the bus stops in Santa Monica, Big Blue Bus officials have tweaked the seating designs for the new stops and they want your feedback.
And, the proposed new seats will be touring town over the next three weeks for you to test out and weigh in on the new design.
"Throughout February, Big Blue Bus customers and community members will be able to view and sit on the two prototypes of BBB's proposed seat redesign at one of six locations around the City," according to the Big Blue Bus' website. "Customers are asked to provide their feedback on the functionality of the seat through a survey posted online."
Starting today, you can check out the proposed redesigned seats at 17th and Montana Avenue. Other locations and dates at which you can see the seats include:
Lincoln Blvd & Ashland Ave (northbound), from February 5 to February 8
Lincoln Blvd & Montana Ave (northbound), from February 9 to February 11
Wilshire & 16th Street/Santa Monica UCLA Hospital (eastbound), from February 12 to February 15

Santa Monica & 22

nd

 /St John's Hospital (westbound), from February 

16 to February 19
According to Big Blue Bus officials, after checking out the new seats, you can provide feedback through an online survey, by obtaining a paper survey from Ken Edwards Center (1527 4th Street, Santa Monica, CA 90401), or by calling 310-451-5444 during business hours. Participating customers will be eligible to win a free 30-day pass.
Big Blue Bus Service Changes
On Sunday February 8, the Big Blue Bus will make some changes to its routes, including extending some routes, removing some bus stops and adding others to facilitate transfers, and increasing frequency on some routes. Check out Big Blue Bus' website to see if any of the changes affect you. Below are some highlights.
There will also be minor changes to Route 1, Route 2, Route 3 (local) and Rapid 3, Route 4, Route 6 (SMC Commuter), Route 9, Route 13, Route 14, and Route 20.
Pico Branch Library is Santa Monica's Greenest Building
Check out this short video about Santa Monica's newest public library, the first new branch library in half a century and, with a LEED Platinum certification, Santa Monica's greenest building.