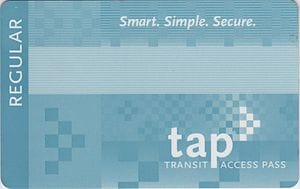 Santa Monica's Big Blue Bus will join the regional TAP system starting in March, officials announced Wednesday.
According to the local transit agency's website, "Starting March 2015, you can pay with Stored Value, an EZ transit pass on your TAP card or with your Access ID card. You no longer need to show your card to the bus operator. Instead, tap your card on the validator as you board the bus."
TAP cards, for the uninitiated, are reusable plastic fare cards that store money or passes and are currently used by about a dozen transit systems.
Currently TAP users can use the fare cards on trains and buses operated by Los Angeles Metro, Culver City Bus, Santa Calrita Transit, Antelope Valley Transit, Long Beach Transit, and many others.
Santa Monica users will have to wait before BBB-specific passes can be loaded on to TAP cards, though.
"BBB riders can look forward to loading BBB fare media on to TAP in the near future," officials said.
Perhaps most exciting is the possibility that Santa Monica's upcoming bike share system could be TAP compatible, furthering the goal of making switching transit modes more convenient for users.
If Santa Monica succeeds in integrating TAP into its bike share program, users would eventually be able to transfer from Expo or any Metro bus to the Big Blue Bus or a bike share bike without having to carry multiple passes or cash.
Currently, TAP cards can be purchased and reloaded with passes or value at TAP vending machines at all light rail or subway stops in the Metro system. Users can also get them at various retail outlets around town.
Santa Monicans will likely have to wait until the three Expo stops in town open up before being able to have access to TAP vending machines in town, but there are 18 locations in and around Santa Monica that sell passes.
Riders can enter their zip code here to find the nearest retail location selling TAP cards.
According to BBB officials, the new TAP reader system is being tested on about 20 buses, but are not ready for the public to use.