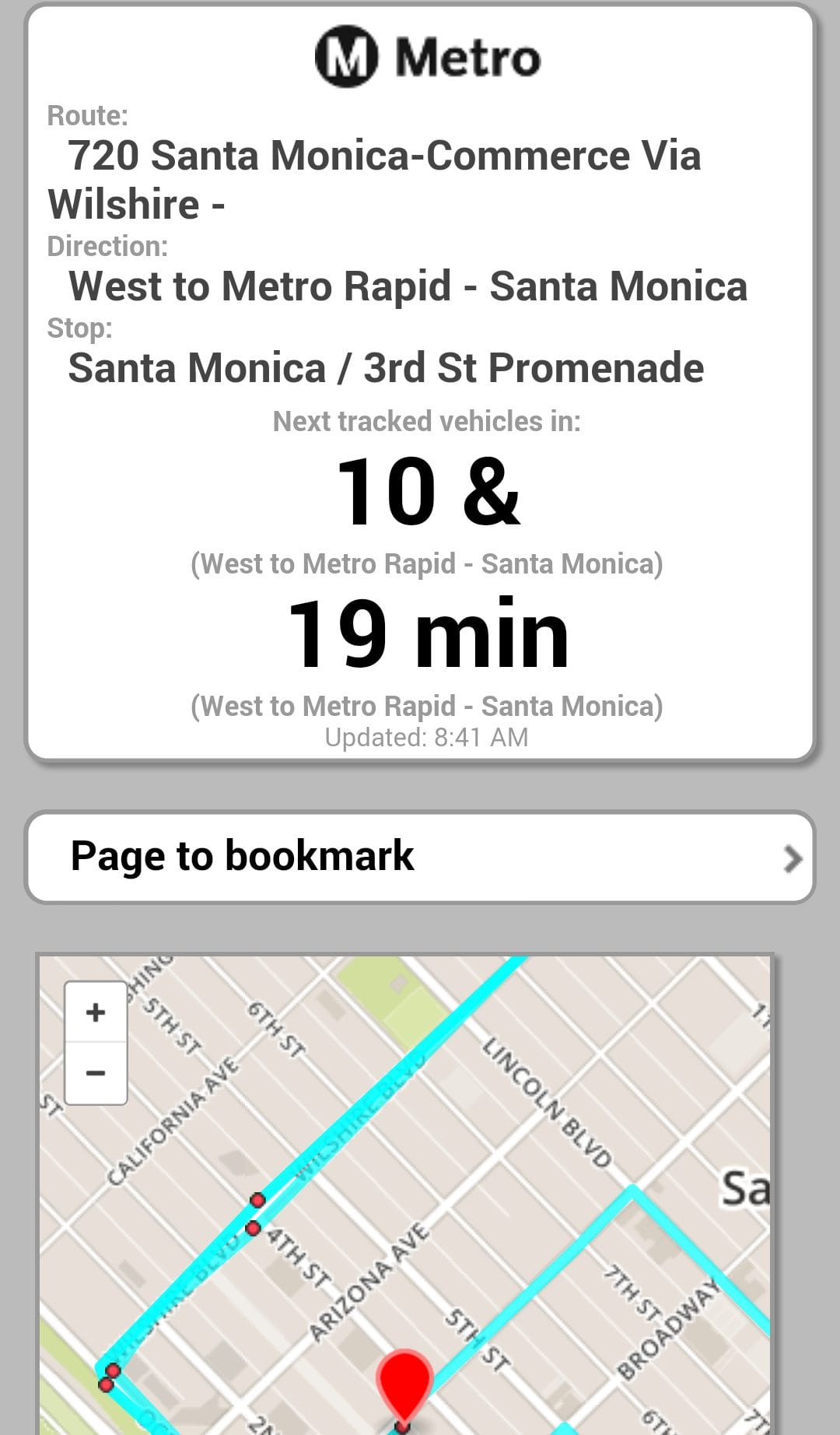 Riders will finally be able to track real-time arrival information for Santa Monica's Big Blue Bus on their phones or computers by this summer, according to the municipal bus service's director, Ed King.
Speaking at Tuesday's City Council meeting about BBB's ambitious realignment of service, designed to integrate bus service with the coming Expo Light Rail phase II, King told the Council members that Big Blue Bus could have a contract with NextBus, the web-based transit real-time arrival app, by summer 2015.
"We are going to get under contract very soon with the folks at NextBus," King said, "We anticipate we'll be up and operable by late next summer."
Real-Time Info and Longer Waits
King was responding to a question by Councilmember Gleam Davis, who noted that the proposed service changes increased the headway on a number of routes.
"Some of these frequencies have been decreased to 20 or 30 minutes and having a real time app that tells you when that 30 minutes is going to be is going to be key so someone can go grab a cup of coffee or leave their house at the right moment," she said.
Councilmember Pam O'Connor agreed.
"I think it's important to have a real-time app," O'Connor said.
"I totally understand we have limited resources. [Big Blue Bus] can't run everywhere all the time… but the more information a user can have about when a bus is coming, the more they can make decisions about what they do, when they get there," she said. "I can't wait for the real-time information."
In August, the Big Blue Bus opened the first of its new bus stops that includes real time signage last August. However, due to the high cost of installing real-time signage at stops, only 30 stops out of the system's 1,100 have been selected to include real-time signage.
NextBus will give people the ability to track buses from multiple systems at any stop in the Big Blue Bus' service area on their mobile devices or computers. It would also allow people to check arrival times based on Global Position System (GPS) data before heading to their stop.
Realignment Plan Should Attract More Riders
"If we want to encourage our sustainability goals, if we want to reduce VMT [Vehicle Miles Traveled], this has to not just be about Expo integration and how we connect to the regional system, but also making sure people have options for moving around Santa Monica," O'Connor said.
Specifically, she was concerned about the proposal for the new north-south line, Route 18, which, as proposed, wouldn't have weekend service and would stop running at 7 p.m. on weekdays. As proposed, Route 18, would run between Venice and UCLA via 4th Street and Montana Avenue.
While Metro connects Venice Boulevard to Downtown Santa Monica 24 hours a day with routes 33 and 733, other than the BBB proposed Route 18, there would be no weekend or late evening service north of Wilshire Boulevard, west of 14th Street.
"You have a big swath there where people will say, 'There's no reasonable way to use transit,'" she said. "So, you'll have folks not using Big Blue Bus to get around because frankly, there's nothing serving them in their neck of the woods."
Adding New Routes
There are some gaps in service and longer headways on existing routes, but that is the other corridors in the service area will be getting new routes. The proposed integration plan includes several new north-south routes and adding Rapid 7 service on weekends.
"We're adding a huge amount of service to our service area," said Councilmember Ted Winterer. "If it works, we are reducing car trips both in our city and in our region, and that's going to be better for everybody…. We're taking a bold leap forward and I'm really excited about it."
Staff has added a new peak-only line, Route 43, which will connect San Vicente Boulevard to the Expo Line Bergamot station via 26th Street.
Route 17 will connect the Veterans Affairs (VA) medical center to the Westwood/Pico and Culver City Expo Light Rail stations. Route 16 will connect Wilshire and Bundy to Glencoe and Mindanao via Bergamot Station, Santa Monica College, 23rd Street, Walgrove Avenue, Venice High, Costco on Venice Blvd., and Marina del Rey. Route 15, will connect Brentwood Village (Sunset and Barrington) to the Bundy Expo Light Rail station.
Public-Private Circulators
Several Council members called for studying the possibility of including public-private partnerships to fund or operate circulator shuttles that would connect major employment centers to the Expo stations.
Councilmember Sue Himmelrich said that this could be a "fantastic opportunity for the private sector to step in," echoing comments made by Davis earlier in the evening. Himmelrich noted that, as the City steps up its traffic demand management requirements on commercial areas, employers would be incentivized to help fund transit circulators.
King pointed out that, in the past, the Big Blue Bus had tried operating shuttles, but that low ridership led to those routes being cancelled. "For BBB to operate [a circulator], it's not efficient," he said, adding that the agency is open to working with private partners.
O'Connor said that a future public-private partnership could also integrate new technology for possible on-demand service for circulators or shuttle within Santa Monica's borders.