The Santa Monica City Council took a historic step Tuesday and greenlit what could be Los Angeles County's very first public bike share system. With the Council's approval, CycleHop, LLC is on track to launch the bike share system by summer 2015, a few months ahead of the anticipated opening of Expo Light Rail Phase II to the public.
We all know what that means, though. Soon, a new, unsavory element will begin arriving in Santa Monica. They come borne on public transit and upon the seats of bikes, wearing novelty, old-timey clothes. If history is any indicator, the new modes of "active" and "public" transit will bring the much-maligned hipster to Santa Monica's shores.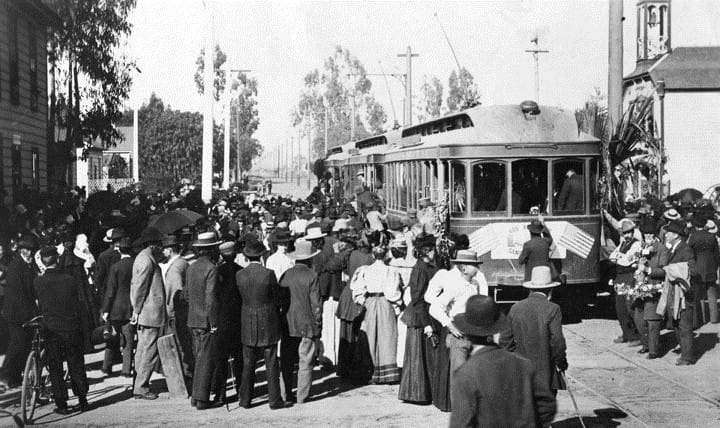 Just take a look at all these hipsters, in their vintage outfits — hand-sewn no doubt — and unnecessarily foppish hats, gathering around the new train to Santa Monica.
Directly to the right of the train, you can see one gentleman who appears particularly cross to see the new-fangled electric car coming to Santa Monica.
One can imagine that, as he crosses his arms, furrows his brow, and twists his ( rather dapper but totally unironic) mustache into a scowl, he is thinking:
"I been saying electricity is a bad idea. Now it's gwine a be the end of this li'l town. Before long, they'll be building with concrete, paving the streets, and enforcing public drinking laws. And another thing, why'd they haffta go an' build this train at grade? How's a cowboy supposed to cross with his horse?"
He certainly doesn't look happy. And, history tells us, he was right. Two years later, his beach town, where a cowboy once could ride out and escape the dudes and dandies in the city of Los Angeles, was overrun by the likes of these: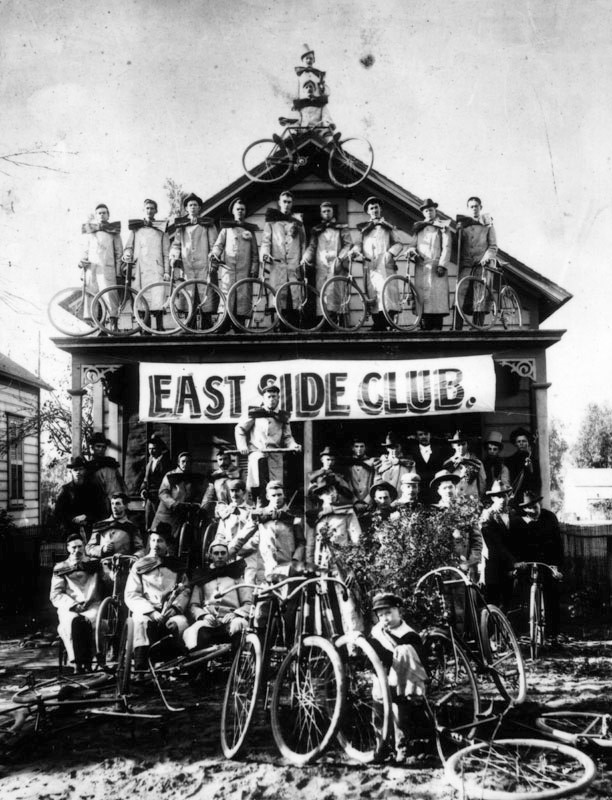 The oversized bowties worn by this gang of toughs and ne're-do-wells on bicycles are a sure sign that Santa Monica was ruined in 1896. Electricity — and its accompanying Frankenstein's monster: the Pacific Electric Red Car — had ushered in an age of debauched, deliberately oversized clothing and flagrant public bicycle riding.
Over the years, the decline became increasingly visible as hip new industries, like airplane manufacturing, moved in, causing widespread gentrification. Before long, where once stood the famous empty lots that made the beach town famous, Santa Monica saw a scourge of homes, built by developers for the new, young workforce.
One can only imagine what horrors await Santa Monica 120 years later, when, in early 2016, Expo Light Rail begins bringing the masses to Santa Monica's shores once again.