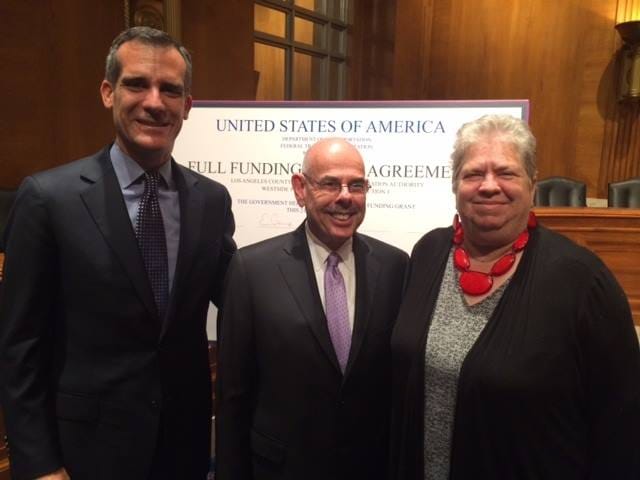 Santa Monica Mayor Pam O'Connor will join her fellow Metro Boardmembers, including County Supervisor Zev Yaroslavsky, and other officials Friday to break ground on the Subway to the Sea.
On November 7, Metro officials will gather to Los Angeles County Museum of Art to officially kick off construction on the Purple Line extension project, which will connect the subway from Downtown Los Angeles to La Cienega and Wilshire in Beverly Hills.
"No transit corridor in our region is in greater need of mass rapid transit than Wilshire Blvd. The area to be served is one of the most dense employment centers in the county and is plagued by some of the worst traffic congestion in the country," said Yaroslavsky. "This groundbreaking is long overdue and will be well received by people who work and live in the Westside."
O'Connor said, "The groundbreaking for the Purple Line Extension subway represents one more step towards a connected, convenient and sustainable County."
She added, "With the Expo Line starting service in our own town in 2016, it's no wonder that I'm proud to be on the Metro Board, helping the agency realize a transportation renaissance for Santa Monica and our region."
O'Connor has represented Santa Monica and the Southbay on the Metro Board of Directors since 2001. She also chairs the Expo Construction Authority Board.
In May, O'Connor, who is up for reelection in tomorrow's general election, was joined by Garcetti, Congressman Henry Waxman, Metro CEO Art Leahy, and a handful of other officials to officially sign a $1.25 billion federal grant for the project.
O'Connor and the other officials also accepted a $856 million low-interest loan to help fund the $2.8 billion project that will extend the subway from its current terminus at Wilshire Boulevard and Western Avenue to La Cienega by 2023. Additional funding, about $823 million, comes from Measure R money.
Friday marks the beginning of phase one of the three-phase extension project that will eventually bring the subway to the Veterans Affairs (VA) hospital in Westwood. And, O'Connor hopes, eventually to Santa Monica. (Note: an earlier version of this article reported that the Purple Extension is a two-phase project. It is actually a three-phase project.)
"This is taking the subway westward to Santa Monica," she told Next in May. "The closer it gets, the sooner we can bring it all the way to Santa Monica."