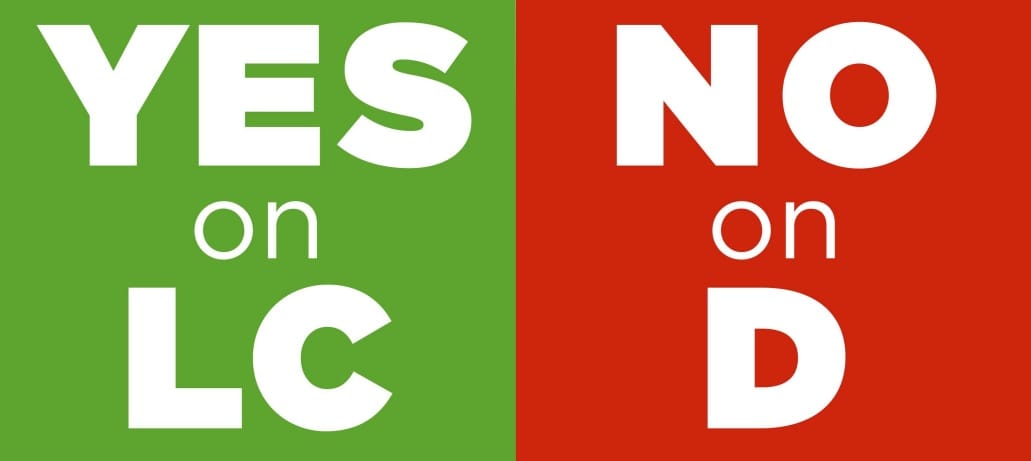 You're going to hear a lot of arguments for and against ballot Measures D and LC in the coming weeks. Santa Monica Next urges you to vote Yes on Measure LC, No on Measure D this election.
The campaign for Measure D, the ballot initiative that is favored by national aviation interests and local airport users that would curtail the City's ability to make even the smallest modification to land uses — including prohibiting leaded fuel sales — of the City-owned airport without voter approval is well-funded. Measure LC, which requires voter approval for any major changes but keeps the management power in the hands of the City Council, has a large volunteer army and a real, albeit smaller, war chest of its own.
As a non-profit that concerns itself with the livability of cities in Southern California, we find it hard to rationalize the existence of Santa Monica Airport in its current form of jet-port for the super-rich. The pollution, both air and noise, and allocation of publicly owned land for private use is more than enough reason to support backing efforts to re-imagine the space.
Measure D makes it harder for the City to do what it needs to do to change this use.
If you want to wade into the legalese, news coverage, the fog of social media and devour everything you can about the two measures, be our guest. However, we're going to try and keep it simple for you by just asking two simple questions.
First, do you think that closing all, or part, of Santa Monica Airport is worth the battle the City will doubtlessly have to wage against the FAA? Is the steady flow of jets and the air and noise pollution they bring with them so onerous that you think the City should continue to fight the federal government and aviation interests to try and turn an airfield for a few into a park or some other more public use?
If you answered "yes," vote No on D and Yes on LC. Your editorial is over. Thanks for reading. You can donate, here.
If you answered "no," continue reading.
Question 2: Do you want a debate about the airport in every Santa Monica election for the foreseeable future?
Because of the amount of restrictions Measure D places on the City Council, almost every decision concerning the airport will be up for a public vote. Want to raise the below-market-rate rents private flight schools currently pay? It goes to the voters. Want to buy some expensive safety equipment? Let's check with the voters.
So if you just don't care about the airport and the debate surrounding it, you still want to vote Yes on LC and No on D. That's the option that's going to keep you from having to hear about the airport in every election for the next couple of decades.
As we mentioned, the pro-D crowd have been using their substantial war chest to inundate the Internet and residents' mailboxes with literature full of half-truths and outright falsehoods.
They have played on fears about development, making unsubstantiated claims that the City hopes to build "Century City West" on the 227-acre plot of public land.
In the ongoing debate, people have raised the specter of a regional disaster, again to manipulate people by fear into believing that closing the airport would undermine any rescue or emergency supply delivery operations.
If you want to parse through all of that again, be our guest. But remember, the real debate here is simply this: do you want the city to continue to pursue a partial closure of the airport on 227-acres of City-owned land as (it believes) it can begin to do next July even if it means going back to court? And do you believe the existing city government can manage the airport more efficiently than a slew of voter initiatives every two years?
If you answered yes to either of them, as we do, then you want to vote Yes on LC and No on D.
(As a publication of the 501c(3) public charity Southern California Streets Initiative, Santa Monica Next cannot make candidate endorsements. However, we can endorse or oppose ballot initiatives provided we do not spend too much time or money on political issues.- DN)