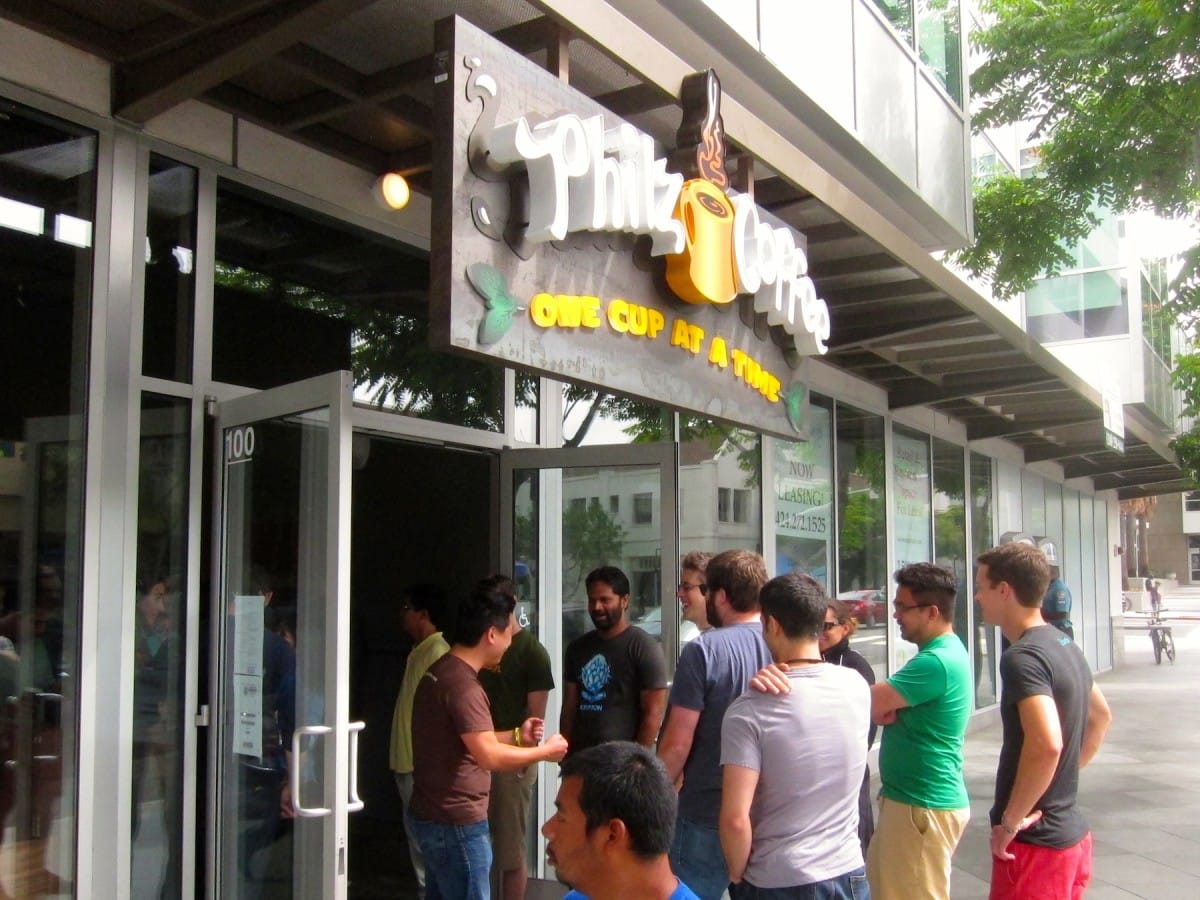 A new coffee house opened in Santa Monica on Thursday with the lofty goal of not only selling a good cup of joe but revolutionizing the way we envision caffeine beverages.
Philz Coffee, the fast-growing coffee shop enterprise, chose Santa Monica for its first location outside of the San Francisco Bay Area. Or, as founder Phil Jaber points out, it was a message from above that led to the selected site, at 525 Santa Monica Boulevard.
"When I saw this corner, I looked up, and I saw God look up to me," Jaber said. "And I felt it. You know when you get tingling and numb, like when you see a beautiful woman? That's what I saw in here."
These types of spiritual declarations related to a business that makes coffee drinks is nothing new to those already familiar with Jaber and Philz Coffee. They are Jaber trademarks, along with his black Fedora and gravely voice.
When answering questions, Jaber takes his time, and his responses sound authentic, even though he often speaks in phrases that sound like company slogans.
"We don't have any employees. We have a team," he says, grabbing your arm and looking intently in your eyes. "We don't have baristas. We are artists."
The company's main mantra, "One cup at a time," is central to its mission. Jaber says he spent 25 years mixing coffee beans before coming up with his selection of custom blends. He opened his first shop in San Francisco's Mission District by converting a liquor store there he already owned. There are now 14 Philz shops in the Bay Area, including an outlet at Facebook headquarters.
Phil Jaber's son, Jacob, the company's CEO, says there were many things that attracted the company to Santa Monica.
"There is a start-up culture and scene here that is quite similar to the Bay Area," he said during a phone interview before the opening. "There is a good amount of people in the area, with residents, employees and tourists."
[pullquote align=right]
"There is a start-up culture and scene [in Santa Monica] that is quite similar to the Bay Area. There is a good amount of people in the area, with residents, employees and tourists." – Jacob Jaber, CEO of Philz Coffee
[/pullquote]There are no lattes or cappuccinos on the menu, which presents a challenge to Philz's further expansion plans. Espresso-based beverages are increasing in popularity, according to a recent study by the National Coffee Association, so convincing coffee drinkers in Santa Monica to think beyond the cappuccino might take some doing.
At Philz, each cup is an individual pour-over made to suit a customer's tastes, whether it's a touch of some spice or varying amounts of added sugar and cream. There are about two dozen coffee blends offered, from light to dark, and they have exotic names like Dancing Water, Ambrosia, or Canopy of Heaven. The company's classic, Tesora, means "treasure" in Italian, Jaber says, and it took him seven years of experimenting before he was satisfied with the results.
Thursday's soft opening crowd, alerted through social media, created quite a caffeine-infused buzz. Many there were those who had already tasted Philz and had lobbied the company to open up in Santa Monica.
Brooke Hauge was introduced to Philz when she spent time in Sausalito. She planned her Thursday morning commute from Venice to work in mid-city Los Angeles around a stop at Philz, picking up drinks for her office mates.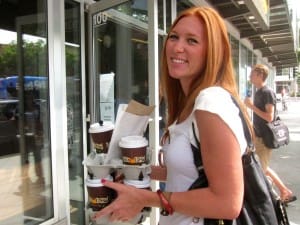 "They have me addicted to this one coffee, Jacob's, and it's really high maintenance at this point," she said, pointing out that Philz baristas brew her a cup with added cinnamon and cardamom, so it's a very unique order.
Jacob Jaber referred more than once to the "coffee experience," which means creating a space that invites people to visit. The Santa Monica store has an open industrial look favored by tech companies, with exposed overhead pipes and ducts and a textured concrete floor. There is a communal table, couches and padded bench seating to encourage people to stick around and enjoy their drinks.
"Treat this as your home. Feel comfortable," Jacob told customers at the opening Thursday. His father, Phil, moved through the crowd as well. He's a celebrity with the Philz faithful, and many asked to pose with him and take pictures.
"I could open a coffee shop in the mountains. People will still come to me," he said, a glint in his eyes.
That said, his immediate goal for expansion in Southern California is more at sea level.
"I have a lot to conquer in L.A. I like Venice. Maybe Main Street, Culver City, Melrose, Pasadena," he said. "The road is big. It's open."