With Expo Phase II expected to begin carrying passengers between Downtown L.A. and Downtown Santa Monica in the first quarter of 2016, Santa Monica's Big Blue Bus is considering some major changes to its service.
Later this month, BBB will hold several community meetings to discuss the upcoming changes, which include the addition of new lines connecting Expo stations to nearby neighborhoods, Santa Monica College (SMC), and the Veterans' hospital in Westwood.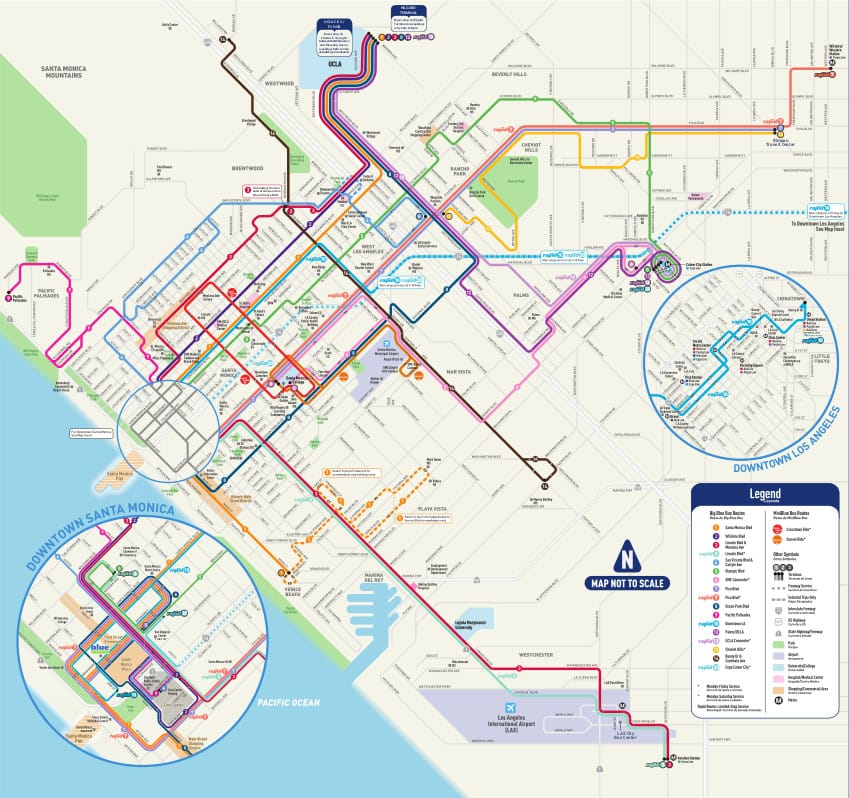 The changes, which riders and officials will discuss at community meetings on July 22, 23, and 24, would also include shortening the agency's longest – and most frequently delayed – line and eliminating other, low-service lines. Officials are also asking for customers to fill out a survey to help them better understand riders' needs.
"A total of seven Metro Rail stations are now under construction within the Big Blue Bus service area," according to BBB's website.
When Expo Phase finishes construction, there will be three stops in Santa Monica: one in Downtown, another at 17th Street and Colorado Avenue near SMC, and another at Olympic Boulevard and 26th Street.
There will also be stations at Palms, Westwood/Rancho Park, Exposition/Sepulveda, and another at Exposition/Bundy.
"The Expo Line is projected to carry 64,000 riders per day by the year 2030, but this can only take place if bus connections to its stations are made as useful and convenient as possible," the site says.
The agency's proposed changes put a heavy emphasis on north-south connectivity, according to a map showing the agency's proposed new routes.
According to the map, BBB hopes to add an "S" line that would connect the VA hospital to the two Expo stations at Sepulveda and at Palms.
A new "T" line would connect the 26th Street Expo station to San Vincente in the north and the Marina Del Rey hospital in the south. There would also be a "B" line that runs from Washington Boulevard and McLaughlin to Brentwood Village on Sunset Boulevard and Barrington Avenue, via the Bundy Expo station.
Lines 4, 6, and 13 would be eliminated, as would the Rapid 20 line, which currently serves the Expo Culver City station via the I-10 freeway.
Some have expressed concern that the proposed changes could make it harder to get to UCLA, which is currently served by BBB lines, 1,2, 3, Rapid 3, 8, 12, Rapid 12.
Under the new service proposal, UCLA's Hilgard terminal will be accessible only by lines 1, which would see its route extended to run from Marina del Rey through Downtown Santa Monica, and Rapid 12, which would start at Sony Studios near Overland and Venice and connect with the Expo line at the Westwood/Rancho Park station.
Line 2 would still go to Westwood via Wilshire, but would stop at the Wilshire/Westwood intersection. Line 8 would run from 4th Street and San Vincente to the Culver City Expo station via Ocean Park Boulevard.
Lines 3 and Rapid 3 – the system's longest route – would be merged and would only run between LAX and Downtown Santa Monica.
The length of the route, which currently runs from LAX to UCLA through Downtown Santa Monica, and the fact that it serves some of the area's most congested corridors have often cause significant delays, according to BBB officials.
The BBB is considering creating a separate line that would start in Downtown Santa Monica and connect to UCLA via Montana Avenue.
Other changes being considered include: extending line 14's route to Playa Vista and Loyola Marymount University via Bundy/Centinela, rerouting line 5 to connect 26th and Olympic Expo station to pass through Century City and Cheviot hills before connecting with Expo at Palms station.
Line 44 will be extended to connect the 17th and Colorado Expo station to SMC's Bundy campus via the school's main campus on Pico and Line 41, the "crosstown" bus, will begin running in two directions and also serve the 17th Street station, connecting it to Saint John's Medical Center, the Santa Monica-UCLA Medical Center, Santa Monica College's main campus, Lincoln Middle School, and Montana Avenue.
Here is a list of the upcoming meetings:
Tuesday, July 22, 6 p.m.- 8 p.m.
Felicia Mahood Senior Citizen Center
11338 Santa Monica Blvd.
Los Angeles, CA 90025
Accessible via BBB Routes 1 and 4
Wednesday, July 23, 6 p.m.- 8 p.m.
Santa Monica Civic Auditorium East Wing
1855 Main St.
Santa Monica, CA 90401
Accessible via BBB Routes 1, 2, 3, 4, 5, 7, 8, 9, Rapid 3, Rapid 7 and Rapid 10
Thursday, July, 24 1 p.m.- 3 p.m.
Santa Monica Main Library – Multipurpose Room
601 Santa Monica Blvd
Santa Monica CA 90401
Accessible via BBB Routes 1, 2, 3, 4, 5, 7, 8, 9, Rapid 3, Rapid 7 and Rapid 10
And here is some glorious footage of the Expo Phase II tracks being welded to Expo Phase I tracks, just in case you still didn't believe Expo was coming.
https://www.youtube.com/watch?v=X2Js5WwH9Mo