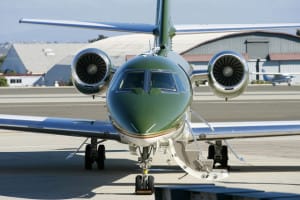 The war over the future of Santa Monica's airport continued this week when the City Council at its Tuesday meeting unanimously directed staff to draft a counter ballot initiative that, if approved by voters, would trump a measure sponsored by the Aircraft Owners and Pilots Association (AOPA).
As reported in The Lookout News, "Council members unanimously supported a proposal from their colleague Kevin McKeown on Tuesday night calling for City staff to find 'a sweet spot' with a measure that would compete with the aviation interests' proposal, give the council the ability for partial airport closure and address limiting future development on the site."
The AOPA initiative would require a popular vote if the Council wanted to make any changes to the land use on the 227-acre parcel of City-owned land, including prohibiting fuel sales or deciding not to renew leases for aviation-related businesses.
It didn't take long for the AOPA crowd to fire back. In an email Wednesday from a group called Santa Monica Voters Decide Initiative, led by Santa Monicans for Open and Honest Development Decisions and funded primarily by the AOPA, said the Council's move was a "scheme… designed to mislead voters."
The aviation interests have managed to gather more than 15,000 signatures with paid signature gatherers to place their measure on the ballot in November.
While AOPA has been running its campaign as an anti-development one, local anti-airport activists point out that there is little risk of the airport land being developed.
The City's initiative, if approved by voters, would likely still require a vote – or public process – to decide the future use on the land, but would maintain the City Council's authority to shut down the airport.
In a press release put out Thursday, Airport2Park, a local coalition dedicated to converting the airport land into a park, said, "The City Council already is on record to keep the city-owned land in low-density use, but at their Tuesday evening meeting council members explored ways to give voters the right to approve future plans for the airport land."
The release also points out that the AOPA's initiative is just designed to maintain the status quo and has no protections against development on the land.
"The AOPA initiative only allows for a vote on closing the airport; once the airport is closed, the measure provides no controls on future development," the release reads.
City staff will bring a draft ballot measure before the City Council in July in order for the Council to decide whether to put it on the ballot this November.