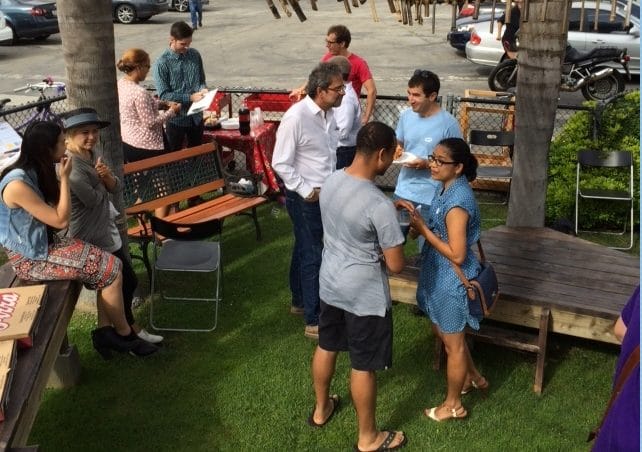 Assemblymember Richard Bloom sat down with Streetsblog's Melanie Curry last week for an interview about budgeting and the state's cap-and-trade funding schemes. As is often the case with Bloom, the discussion strayed into local issues, and Santa Monica Next picks up the interview where the discussion moves off state funding issues. To read the entire interview, click here.
Bloom: Certainly it would provide some funding for affordable housing that's missing now because of the absence of redevelopment. The good news for transit advocates is that, in order for new housing to perform highly on the carbon reduction scale—and to qualify for cap-and-trade funds—it needs to be part of transit oriented development. So it will be near transit.
I think that's helpful because it will work symbiotically with other pots of money. There is an impetus for combining the money for rail with affordable housing money to build up within a systems approach. At least in theory you wouldn't allocate money for housing, for example, unless you knew a project was going to be built near a transit stop.
My best experience is in Santa Monica, where there's a lot of tension over transit oriented development now, and the disconnect between the light rail project and some of the housing and mixed-use projects that have been proposed along the way are really problematic.
Santa Monica, as you know, has done a good deal of planning around transit issues and traffic reduction strategies, and yet some of the things that we've planned are meeting with resistance. I think that's an unfortunate development, but the more we tie funds to the kinds of planning Santa Monica has done, the better job we're going to do in getting people to use transit and in lowering our carbon footprint.
Unfortunately there's always been a significant amount of resistance to development, even when it's responsible development. That's just something we have to deal with.
My interest is looking more closely at subregional needs. In Los Angeles, because the transit system has been broken for so long, we necessarily focused on large-scale regional projects like the subway and various light rail projects, and we spent very little time looking at subregional projects.
There are numerous communities that have problems connecting with one another. We are missing that subregional piece completely.
An example: the subway is going to stop in Westwood, but many of the congestion problems we have are west of there. So what do you do to move people around once they get to Westwood? I think we should be looking at something like a trolley system–streetcars–that start in Westwood, come out to Santa Monica, perhaps on Wilshire Blvd, maybe come back on Pico…
Streetsblog: Didn't they used to have that?
Bloom: Yes, it would look something like the Redcar system. Other than buses, and now bicycling, that local piece has largely been missing. So we have a lot of work to do there. It could be funded using different funding sources, but I think that we need to start doing some of the planning now.
Streetsblog: Santa Monica would be a good place to do that, with its high density, its traffic congestion….
Bloom: But I think it would be easy to quickly identify other areas. For example, the corridor from the Robertson Expo stop, up Robertson Blvd, across Pico–all the way from Robertson to the Cedar Sinai area—is highly, highly congested. I think the area could benefit tremendously from a streetcar line.
Just imagine connecting Beverly Hills, Cedar Sinai, West Hollywood, and Hollywood with a streetcar line. There's an enormous amount of traffic congestion there, and a public that would be very warm to the idea.
The interesting thing about streetcar lines is they can be financed using local increment money, you can form districts that can pool together their money to finance the capital and operational costs for these projects.
Streetsblog: So it's a question of getting the different jurisdictions to work together….
Bloom: Yes. We don't get around to that conversation in Los Angeles because—this is not a criticism, but most of our transit planning is done at Metro, or SCAG is thinking about it, but we never get down to the finer level, where things are happening in our communities. And yet that is where the greatest push-back comes, from residents who are tired of not being able to get around.
We need to be looking at that those alternatives; we haven't really had the opportunity to do that.
Streetsblog: What about the Big Blue Bus?
Bloom: It's great. And it will continue to exist, but it's only one piece of the puzzle.