Santa Monica has a regional reputation for working diligently to create a modern, world-class menu of transportation options. While so much of the transportation debate online and in newspapers revolves around car traffic congestion and parking, this smallish city offers many transportation options for the car-free or car-lite: a compressed natural gas bus fleet, an adequate and growing bicycle network, and it will soon have a regionally connected light-rail.
This Monday, construction started on modern bus stops. Over the next two years, the Big Blue Bus will improve 300 stops along its routes in batches of 6-10 stops at a time. The $7 million project is completely federally funded.
The first "wave" includes the two stops at Lincoln Boulevard and Ashland Avenue, Main Street and Hollister and Main Street and Marine. Construction will take three to four weeks. While Santa Monica waits for shelters that provide share, better seating and real-time travel information; it also has the opportunity to get a first hand-look at what goes in to creating a modern transit system…as if we're not getting enough of that from the Expo Line.
Granted, right now it's not the most exciting looking construction in the world.
In fact, from the street level it looks more like a regular stop with wooden boxes sticking out of the ground.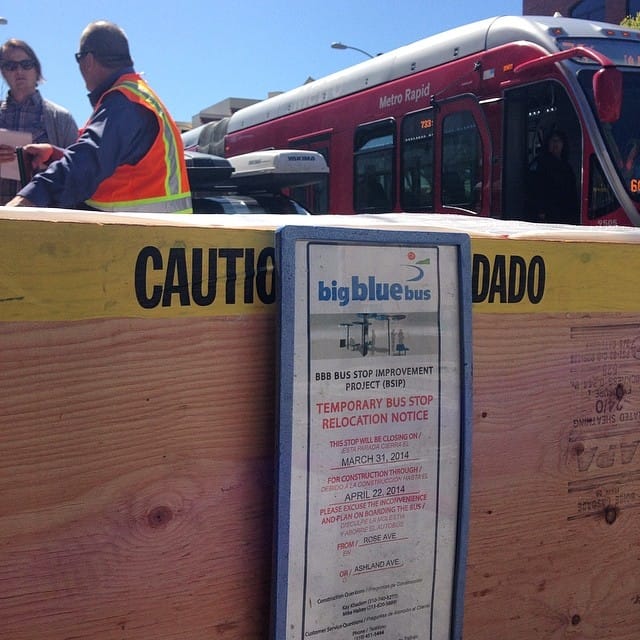 The most interesting part of the construction is what's going on below ground. Connecting utilities to existing pipe and wire networks is the most complex and important part of the project given the importance of providing power to the travel data screens.
Between the box and the fact that this work is happening out of eye level, the new shelters aren't providing the eye candy that other projects have.
At least so far.
Expo watchers have taken literally thousands of shots of the Expo Line from the start of construction in DTLA years ago to the current construction on Santa Monica's and West Los Angeles' streets today. But we want the bus to get its due. If you see something interesting happening during construction at these 6 or any of the remaining 294 stops, take a picture and let us know. We'll ask staff at the BBB to tell us what's going on. Email your pictures to damien@streetsblog.org.
For more on the BBB's plans to improve bus stops, check out Jason Islas' article in the Lookout News or visit the BBB's project page.