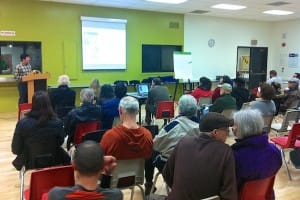 At this week's Virginia Park meeting for the Michigan Ave. Neighborhood Greenway proposal, a slightly clearer picture of what we might see for the project emerged. There was particular controversy in the neighborhood over the proposal for a diverter at 11th St. & Michigan, proposed there because the blocks from Lincoln to 11th have the highest number of car trips in the study corridor. The trips are created by the school and cut throughs for the freeway ramp on Lincoln just north of Michigan.
The Pico Neighborhood Association created their own survey (supplementing feedback the city solicited at it's meetings and events) conducted by volunteers (apparently having sought but were denied funding from the city to hire a professional polling firm) and found the strongest opposition to diversion, nearing on unanimous. This information was presented at the meeting alongside the presentation by city staff and consultants from the planning firm Meléndrez. Barbara Fillet conducted her own survey as well, information from which she presented, and found different results, and more support for diversion (disclosure: Fillet is on the advisory panel for Santa Monica Next).
I don't doubt these surveys were conducted with earnest effort, but skepticism is warranted with this kind of polling for a variety of reasons. Question phrasing, and whether or not recipients are informed of what a feature looks like, how it works, and what the trade offs are, effects outcomes. Going door to door preferences home owners over rental apartments, as many apartment units are behind gated entry. Locked gated entry to the apartment building was the case where I lived right off of Michigan on 9th St. in the area diversion would most greatly potentially benefit.
I don't want to get wrapped up in comparing validity of various input methods, which created a few slightly heated moments of it's own, but I can speak for myself in saying I believe even just one diversion would greatly benefit the comfort and safety for the entire Michigan corridor, and most especially reduce the morning rush headaches for residents who live directly adjacent the high school and Lincoln Blvd. The greenway treatments I have experienced elsewhere that have been very successful, in Portland Oregon and most recently visiting Berkley, featured both low traffic speeds, and low traffic volumes, with diverters employed at infrequent but key areas to facilitate the calmed atmosphere.
Michigan Ave. is fairly low traffic during much of the day and especially later evening on it own, however that morning and afternoon rush typically involves volumes of traffic well beyond "greenway's" (or similar corridors that go by different names) in other cities. Responding to the particularly sharp criticism, of diversion, city staff appeared to be taking it off the table, but with potential for a comprise of sign based turn restrictions from 11th limited to rush hours.
I'm disappointed to see a concrete planter diverter fading from an early possibility for the project, but hopefully we can get the proposed turn restrictions (though I'm skeptical those signs with hours actually work, and don't have much trust for effective enforcement). With the other treatments like roundabouts and "slow intersections" (raising intersections slightly to encourage slowing and bringing the street at grade with the sidewalk), there has been a lot more clear broad support for, we'll at least see enough cut through reduction for most of the calmed effect. Money for implementation is not yet secured, only money for planning and design. The project will probably be implemented in phases, so I don't entirely want to give up on diversion just yet, but I do agree with moving ahead where the community support is strongest.
Also quietly removed from the cards has been the cycle track idea floated in earlier presentations. I know even some bike advocates were not into it for various reasons. While I had my own reservations about the plan, I still feel the idea wasn't given a fair shot and was set up to fail by paring it with what would have required substantial on-street parking reductions and migrations. There is enough street width in at least the central study area, Michigan from Lincoln to 20th, that I think just maybe protected lanes could be squeezed in if we really put the rest of the roadway on a diet, closer to the driving width found on Virgina elsewhere in the study area. In any case, the cycle tracks idea appears firmly out now.
The next step is going to be presenting an updated plan on the latest feed back and iterations to the City Council in a meeting tentatively scheduled for February. The pursuit of additional grants or funding sources to supplement city resources will hinge on council support of the plan, presumably with the planning commission weighing in again sometime before that.
I don't know how realistic it is, but it would be great if part of the project, including the path easement to tie up the split of Michigan Ave. at 20th, could be in place when the Expo Line opens public service in (fingers crossed) early 2016, and to connect with the adjacent bike path under development. With rails in the ground in Santa Monica now across the 11th St. intersection, and the project more than 50% built, the Expo Line is becoming more real every day.