The Winter 2013/2014 edition of Seascape and Recscape (Santa Monica's newsletter and programming guide respectively) has arrived in homes (download here) and there's lots of programming I am excited about. I encourage you to check it out:
Santa Monica Winter 2013 Recscape
All of programs, camps and classes in Recscape are open to everyone, although Santa Monica residents get priority registration and a slight discount on some classes, sports leagues and youth camps.
I'm most excited about the classes at 1450 Ocean, the iconic Camera Obscura building just north of the Santa Monica Pier on Ocean Avenue.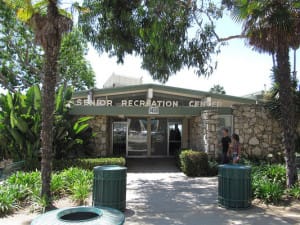 Formerly known as the Senior Recreation Center, 1450 Ocean is evolving into a multi-purpose facility for the city to offer classes in yoga, arts, crafts, and culture for all adults.
It seems like 1450 Ocean is really picking up after a slow start! It's great to see that the city is continuing to test out what kinds of activities and programs would appeal to all adults.
I hope you may get some joy out of reading through the class offerings, as published in RecScape, at 1450 Ocean like I did, in part because they sound like something straight out of an episode of Portlandia or the kinds of classes that Leslie Knope would offer with great zest and enthusiasm:
Basic fused glass jewelry (11/13, 7-9PM)
Punched paper gift tags & holiday cards (11/16, 2-4PM)
Fused glass jewelry: Working with metal wire & decal inclusions. With a focus on the curious interplay between glass and foreign bodies. (11/20, 7-9PM)
More fused jewelry, using frit, rods and stringers (12/7, 2-4PM; Note: I don't even know what frits are)
Fused glass slumping (no, I am not making this up)
Fascinators and headpieces – Santa Monica is bringing millinery! It's the art of manipulating synthetic horsehairs into shapes and sculpted forms. You then decorate the results. You know it is going to be awesome. (12/13, 7-9PM)
Sewing a vintage paperboy bag with a handcranked sewing machine said to be "most eco-friendly urban homesteading machine imaginable". 1/11, 1-4PM
Make a yoga mat bag with a handcranked sewing machine, 1/23 from 7-9PM
The craziest part to me is, I'm really excited. I think these courses will be wonderful. I had been looking to take classes in arts and crafts for a few years, but the options previously available to me weren't very good, affordable or longer open, so the city's foray into expanding its arts and crafts classes, and partnering with artisans and crafters from around the region to come offer these classes, is intriguing.  I think it is forward thinking. Hopefully it'll attract and engage a segment of adult Santa Monicans and Westsiders who weren't served by the city's cultural arts and programming previously.
I'm leaning toward trying at least one of the glass fused jewelry courses; a day on making soap; and, of course, a class that would allow me to use the handcranked sewing machine because the city says that's the ultimate in urban homesteading. Tell us in the comments which of the offerings you might be interested in taking.
You can sign up for classes here.