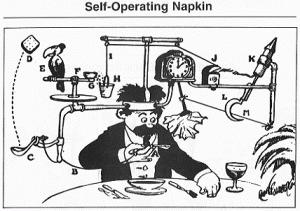 From music videos to car commercials, Rube Goldberg machines have been twisting, turning, rolling, and dropping their way through popular culture for several decades. Named after an American cartoonist and inventor, Rube Goldberg machines are based around the premise of performing a simple task in an exceedingly complicated manner, usually through a chain reaction. In doing so, these machines bridge the gap between art and technology by making the performance of a simple task visually pleasing while also demonstrating the ingenuity of their designers.
This Saturday, you can experience this ingenuity first hand at the inaugural S.T.E.A.M event, presented by Heal the Bay and Time Warner Cable's Connect a Million Minds initiative. Described by its organizers as "a celebration of Science, Technology, Engineering and Math – with an infusion of ART throughout," this event will include "a kaleidoscope of innovative exhibitors." Specifics are provided below.
Who: This event is hosted by the Santa Monica-based Heal the Bay and is partially funded by Time Warner Cable's Connect a Million Minds Initiative.
What: There will be a wide variety of exhibitors including:
–Peddler's Creamery: artisan quality ice cream and non-dairy frozen delights churned by bicycle power.
-The Los Angeles regions inaugural Rube Goldberg machine contest: teams of high school and college students will have their elaborate contraptions on display.
–Trash for Teaching will stage a make-your-own recycling machine station.
–Two Bit Circus and Marbles the Brain Store will present "games galore."
-Pacific Park will present a "thrilling" physics lesson involving "roller coasters and the Pacific Wheel.
-The Santa Monica Pier Aquarium will host a showing of Whale Fall, a video that illustrates what happens to a whale after it dies through paper puppetry.

When: Saturday, November 9th, from 11:30 AM to 5:00 PM
Where: Santa Monica Pier (200 Santa Monica Pier, Santa Monica, CA 90401)