The following story first appeared in Streetsblog Los Angeles.
If you're someone impacted by the 10 Freeway closure, below are some tips that might help you get around while the freeway is closed. Included are some basics for taking trains and buses, and some possible ways to cover what is called the first/last mile.
If new tips/tricks/alternatives emerge, SBLA will update this post as needed. For the latest official information, see city and state 10 Freeway websites.
L.A.'s transit system may surprise you. Of course, it's not for every one for every trip, but it might surprise you at how extensive and how convenient it is.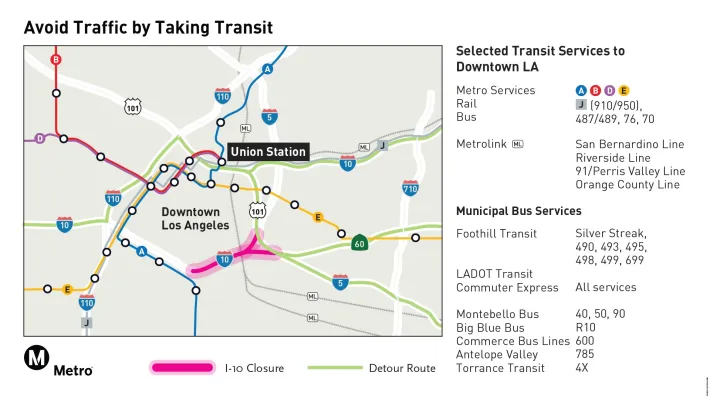 1 – Transit basics
Below are some helpful websites for planning your trip, but in general Google Maps is very worthwhile. It includes all of the various Southern California bus and rail options, as well as very good walking and bicycling directions. The Google Maps app includes real-time bus and rail arrival information.
Notes for Metro newbies: find basic ride instructions at Metro webpage. For schedules, use Metro's trip planner or use Google Maps, etc. Metro fare is $1.75 per trip, and transfers are free. Buses take cash, but to ride Metro trains, you need a $2 reusable TAP card, which you buy at a station vending machine – or alternatively use a TAP app on bus or train.
Bring your bike on the train or bus for free. Read tips for bring bikes on Metro.
A note on security/safety: Right now, neither transit nor bicycling will work for everyone out there. Yes, there is some crime that takes place on trains, buses, and at stations. Yes, some riders are unhoused, sheltering on board or getting from A to B.
Especially in the past year, Metro has done a lot of work to make the system safer, including providing services to unhoused individuals and connecting many of them to housing. Metro has been and continues to be safe overall.
Please observe common sense precautions: keep your valuables, including cell phones, close by or out of sight. Keep an eye out for your safety, your belongings, and your fellow riders.
2 – Consider the E Line, which parallels the 10 Freeway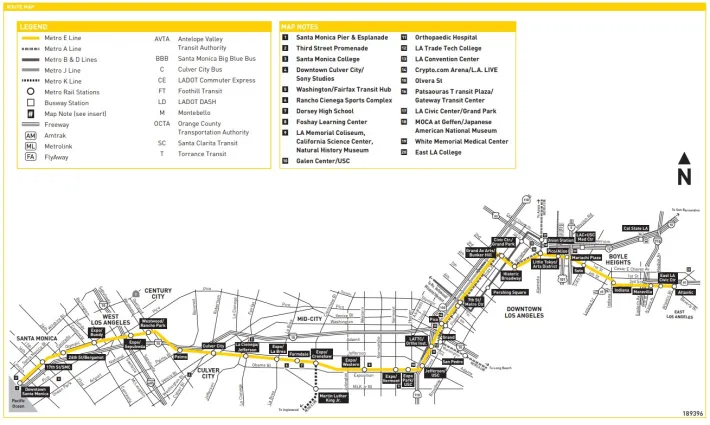 The E Line operates every day from around 4 a.m until midnight. During peak commuting hours, the E Line runs every 10 minutes. See more details at full Metro E Line schedule.
3 – Rail lines that parallel other freeways
Some Metro and Metrolink lines roughly parallel other freeways that may be impacted by the closure of the 10 (none of these are exact parallels, and it's a partial list – use Google Maps transit directions for more):
A general rule of thumb: for most trips from inside L.A. County, Metro rail (or bus) generally will serve you best. It runs all day every day. For trips from outside of L.A. County (and for parts of L.A. County farthest from downtown L.A. – like Claremont and Santa Clarita), Metrolink generally will serve you best. It runs less frequently, mostly during peak commuting times.
4 – Bus lines
There are a hundred-plus bus lines that serve downtown Los Angeles, and they're all on Google maps. Some bus lines that might make sense for replacing 10 Freeway trips: (check agency websites for alerts – some of these routes may be impacted by the freeway closures)
The Metro E Line (formerly the Expo Line and the Eastside Gold Line) runs from East Los Angeles through downtown L.A. to Santa Monica, largely paralleling the 10 Freeway.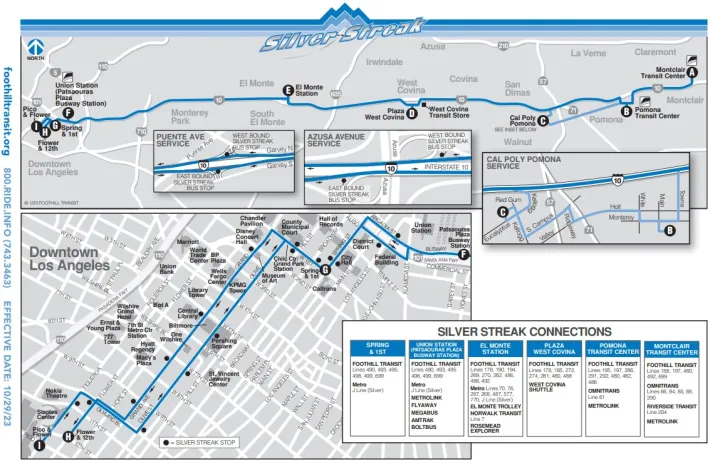 Foothill Transit Silver Streak – East of downtown, Foothill Transit Silver Streak freeway express bus service runs on and along the 10 Freeway between Montclair and DTLA. Between El Monte and DTLA, riders can take either the Silver Streak or the overlapping Metro J (Silver) Line.
LADOT Commuter Express buses operate only in peak directions at peak hours. Paralleling the 10 are the 534 (Westwood to DTLA via Olympic) and 437 lines (Culver City​/​Marina Del Rey​/​Venice to DTLA via 10 Freeway)
5 – Park and Ride
Nearly all Metrolink stations have plenty of parking. Most Metrolink parking is free; very few stations charge. For Metrolink parking details, search for the specific station at the Metrolink parking webpage.
Most Metro rail stations outside of central Los Angeles have parking. A few Metro stations have free parking, but most Metro station park-and-ride is paid parking, typically $2 or $3 per day (free on weekends/holidays).
Some tips for 10 Freeway closure park-and-ride Metro Stations:
West of downtown L.A. there is no free parking at Metro E Line stations. There are lots of $3/day spaces at various stations between Crenshaw and Bundy.
East of downtown L.A. there is no free parking at Metro E Line stations. There are $2/day spaces at Atlantic Blvd. (a block south of the 60 Freeway, at 3rd/Beverly/Atlantic) and Indiana St. (a block north of the 60 Freeway at 3rd/Indiana) stations, both in East L.A.
6 – First/Last Mile
One of the tricky things about taking trains and buses is the "first/last mile." For example, your Metrolink train gets you to Union Station, but then you have to get to your office located twelve blocks away. Again, Google Maps can help (honestly, they're not sponsoring this post), but here are a couple other tips:
6.1 Especially in downtown L.A., take a DASH shuttle
The L.A. City Transportation Department (LADOT) operates DASH shuttles designed to make a long walk into a short air-conditioned ride. Right now all DASH lines are free. DASH operate in lots of neighborhoods, but they really blanket DTLA, including Chinatown, USC, and MacArthur Park.
6.2 Ride Metro Bike Share
Metro Bike Share is an easy-to-use bike rental service available in certain areas [full map], including central Los Angeles (greater DTLA) and the Westside. It's mainly designed for short hops, like a 10-20 minute ride between your rail station and your work.
Check out a bike (mostly human-power, some electric) at a docking station, and drop it off at a dock near your destination. Pay by the ride ($1.75) or get a day/month/week pass. There's an app for it.
It's not perfect, but Downtown L.A. has a significant bikeway network, with many protected bike lanes. Get biking directions on, you guessed it, Google Maps.
6.3 Ride your own bike, combine bike with transit
If you have a bike, consider combining bike and transit trips. (Unfortunately, this combined option isn't on Google – so you have to ask for transit directions and bike directions separately.)
It's easy and free to bring your bike on trains, both Metro [instructions] and Metrolink [instructions].
Metro and nearly all other buses have bike racks in front that hold 2-3 bikes. These are great, easy to use, but they're first come, first served, and they do fill up sometimes, especially on popular lines.
Though there is bike parking at nearly all Metro stations, bike theft is a significant issue, so unless you have a cheap bike you won't miss, and a top-notch lock, Streetsblog doesn't recommend parking your bike at a station. (For longer term bike parking solutions, many stations have secure bike lockers and a few have attended bike hubs. Those programs require signing up in advance, and some stations have a wait list.)
Streetsblog Wants to hear from you!
If you're someone who drove to work, and the 10 Freeway closure got you to try something new, please let us know in the comments below. If you have questions, please use the comments, or email them to joe@streetsblog.org. SBLA will continue to update this article based on questions received and success (or failure) stories shared.