This story first appeared at Streetsblog Los Angeles.
Angelenos are adjusting to the impacts of the downtown Los Angeles 10 Freeway closure, currently in its sixth day and expected to last three to five weeks. (Note, after the story was originally published, the Los Angeles Mayor Karen Bass announced it will reopen next Tuesday night. – DN) There has been a lot of attention on how drivers are faring. But what about L.A.'s million daily transit riders?
Up front, note that transit details have been hard to come by this week. The situation is dynamic as Angelenos figure out the new landscape. Reporters are trying to get information from agencies working hard to respond to issues.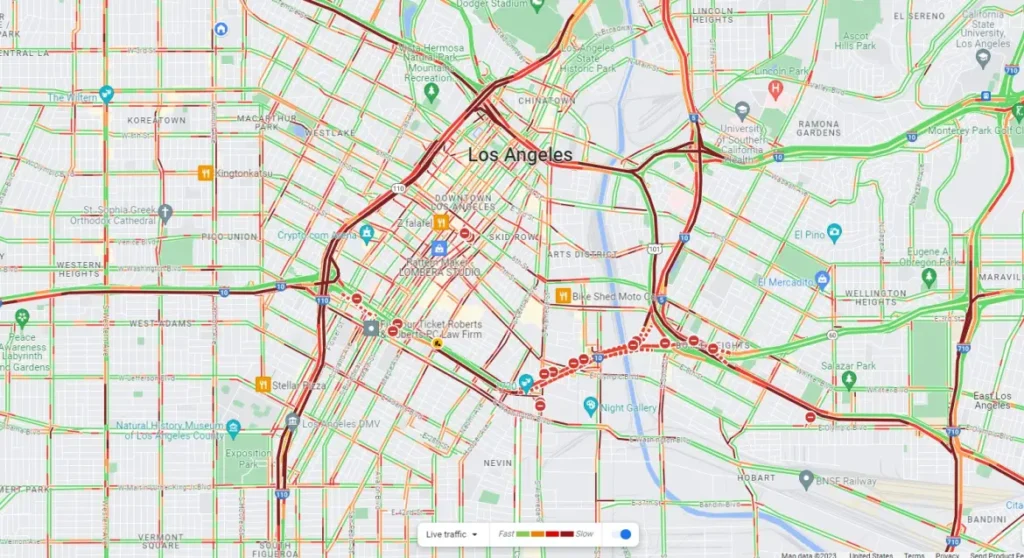 Broadly (and this is hardly news to Angelenos), central L.A. freeways are crowded, but then again, they pretty much always are, at peak commute times. Downtown surface street traffic is impacted. Central neighborhoods, including Boyle Heights, are seeing heavy traffic.
Metro Rail
Yesterday, Mayor Karen Bass rode the Metro E Line light rail, tweeted out photos of her ride, and encouraged Angelenos to follow her example. The mayor's press release noted that there had been "a 10 percent increase in ridership on the E line yesterday [Tuesday]." (Streetsblog inquired to Metro and the Mayor's office if this increase was day-to-day or week-to-week, and what the actual ridership numbers were, but did not receive a response.)
Bass's press statement noted that the city Transportation Department (LADOT) was assisting Metro in making the E line "go faster." DOT has, for a few years, provided Metro E Line trains fairly weak signal prioritization so trains wait at fewer red lights. But the department has been reluctant to do more than modest tweaks, lest train priority hamper driver throughput.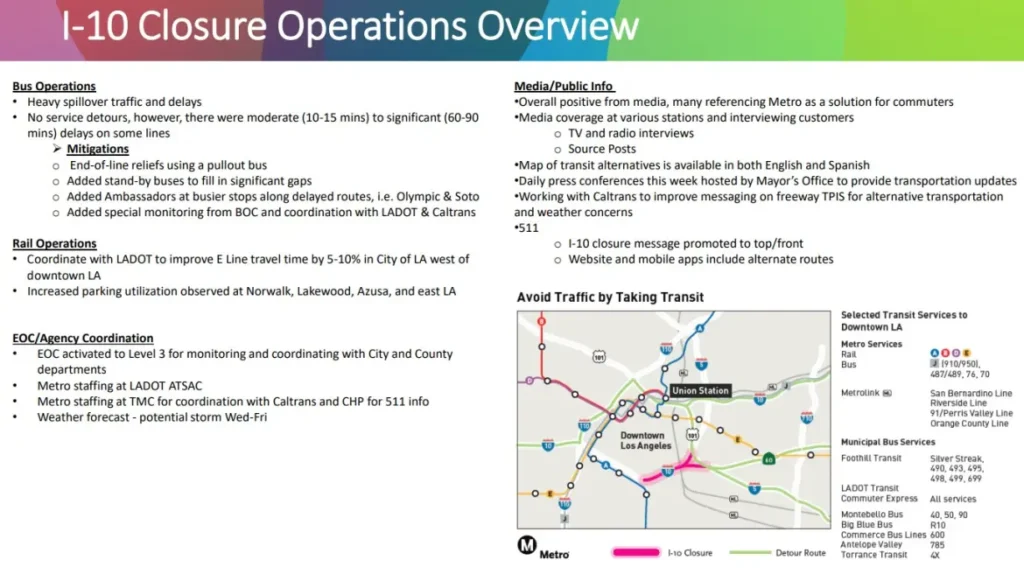 A Metro presentation today noted that Metro is coordinating "with LADOT to improve E Line travel time by 5-10 percent in City of L.A. west of downtown L.A." Metro Chief Operations officer Conan Cheung explained that Metro E Line trains had been been running about 20 seconds behind schedule; with the current prioritization efforts trains are running about 50 seconds ahead of schedule.
Realtime swiftly GPS data reported on the TransSee website do not appear to validate Metro's claim of 5-10 percent travel time improvements. For the street-running portion of the A Line from Crenshaw Station to Pico Station, TransSee showed median trip times essentially unchanged. Westbound trips (scheduled to last 16 minutes) clocked in from 19:11-19:40 last week, and at 18:49-19:52 so far this week. Eastbound trips (scheduled at 17 minutes) took 16:23-17:13 last week, and 16:20-17:05 this week. Perhaps LADOT and Metro efforts prevented what might have been a slowdown?
Responding to LADOTs tweet that it had adjusted signal times along the A and E Lines (which doesn't match Metro's statement only noting the E Line), many transit advocates were critical that DOT waited until this week to do something it could have done a decade ago. Either way, the shift begs the question of why transit – which carries far more people far more efficiently than single occupancy private vehicles – ever had to wait at signals. Perhaps this is the opportunity L.A. has been waiting for to move beyond tepid half measures and into full-fledged signal preemption.
One other indicator (with little detail) of increased rail ridership is Metro noting that it's seeing "Increased parking utilization at Norwalk, Lakewood, Azusa, and East L.A." station park-and-ride lots.
Metro Bus
Metro reports, vaguely, that the 10 closure resulted in "moderate (10-15 mins) to significant (60-90mins) delays on some lines."
In today's presentation, Cheung noted that early major delays on the line 251 (Soto Street) bus have largely resolved themselves.
Cheung noted that Metro's biggest bus delays have been on line 66, which runs on Olympic Boulevard, in the shadow of the closed portion of the 10. For the 66, Metro has rearranged some driver logistics, and added four additional floating bus runs to avoid long gaps in service.
Municipal Buses
Streetsblog checked with few of the "munis" that serve downtown Los Angeles: Foothill Transit, Santa Monica Big Blue Bus, and LADOT Transit. These agencies all run buses on the freeways, all are monitoring the situation closely, and all report essentially unchanged operations. None report seeing significant upticks in ridership.
East of downtown, Foothill Transit's Silver Streak express bus runs on the 10 Freeway's busway, which doubles as a tolled ExpressLane for drivers. Foothill has not seen congestion on the El Monte busway, but has seen slowdowns getting through downtown. Foothill is making minor adjustments to get buses from their layover location to their route.
Both LADOT Commuter Express and Santa Monica Big Blue Bus operate express buses on the 10 Freeway west of downtown. LADOT reports "minimal delays caused by increased traffic surrounding the closure." BBB similarly notes that "current impacts to BBB service delivery have been minimal."