Ahead of the July 25, 2023 city council meeting, Santa Monica city councilmembers Phil Brock and Oscar de la Torre placed a councilmember discussion item on the agenda "to assign unspent funds from the FY 2022-23 individual Councilmember travel budgets allocated to former Mayor Himmelrich and former Mayor Pro Tem McCowan to the FY 2022-23 travel budget for any Councilmembers whose expenditures exceeded the amount that each was allocated for the year." Unsurprisingly, at the meeting we learned that it was Brock and de la Torre who had exceeded their travel budgets.
Public Records Act requests reveal that Brock in particular, with the support of his conservative Change Slate allies on council, lied repeatedly during the meeting about when staff issued warnings about his impending travel budget overruns in relation to when the cost overruns occurred. This article recounts the portion of this council meeting spent discussing this agenda item in light of the facts uncovered by the PRA requests.
At 6:38:04 in this city council meeting, Brock states "I was told at the end of March, after attending the CivilWell Conference in Monterey, that I had exceeded my year's travel budget. I had not been aware of that in the past because we were in COVID, because we had a change of staff, we had a new staff member who was diligent about–the new administrative assistant in City Manager White's office–who let me know that we were running over. At that point there was no way to rectify that."
However, according to emails between city staff and Brock (images below and link to pdfs here) contained in the results of a Public Records Act request provided to Santa Monica Next, Brock was warned by city staff on January 17 that he was going to exceed his travel budget based on his planned travel schedule. Brock also responded to this email on the same day.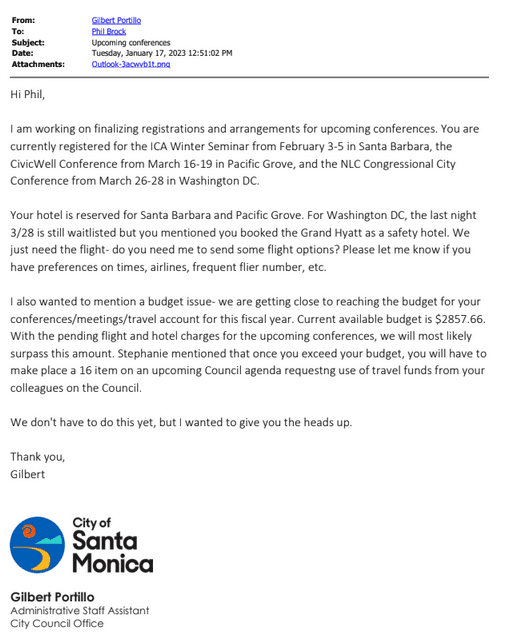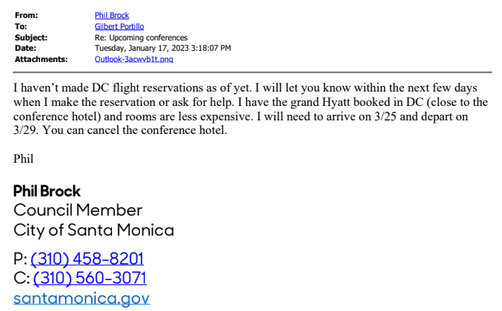 Despite getting this warning, Brock chose to exceed his travel budget to the tune of $4,448, and then to lie to the public during the July 25 city council meeting about when he was warned.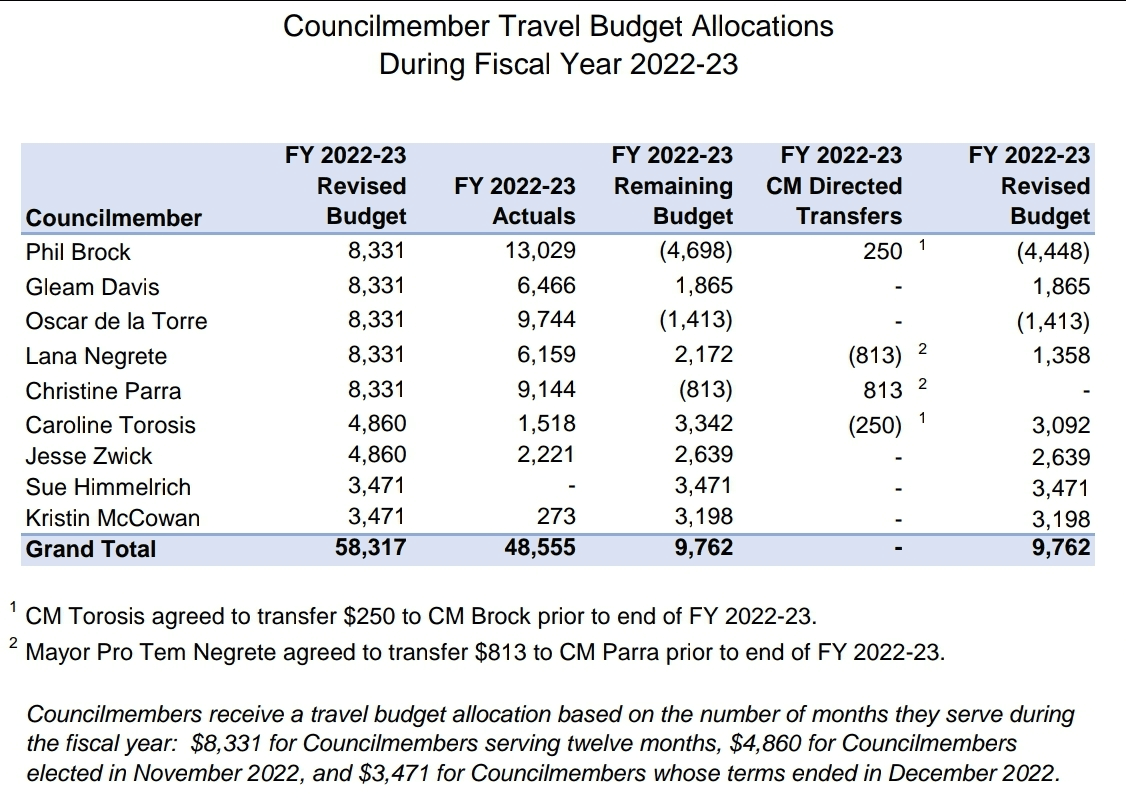 Travel budget summary presented during July 25 city council meeting.
Brock again lies about when he was notified that he was going to go over at (6:44:40) "I was notified on March 20 that I was already over…and I don't make a decision to go to a conference without talking to the city manager's office. I don't, none of us, make any just, snap our fingers and say we're gonna go to a conference on our own."
He then again wrongly blames staff for not warning him about this travel budget situation. "They flagged me after the CivicWell Conference in Monterey." (6:45:44)
"I went over, and really what someone should have said is before we booked that conference, hey you would go over if you went to this. So, they didn't." (6:45:52)
But as the January 17 emails shows, staff did in fact warn Brock of this. And City Manager David White warned Brock on March 22 that at that time that he was looking at a $2,233 travel budget deficit. But a separate PRA request for Brock's travel expense forms reveals that he still chose to go on additional trips that ultimately generated over twice the travel budget deficit he'd been warned about in March. You can read Brock's expense reports here (PDF).
Back to the July 27 meeting, at 6:46:39, Brock says "I just didn't know what I was assigned" and again blames staff, as well as saying that he was unfamiliar with the travel policies because COVID meant nobody was traveling during his first year in office in 2021.
Yet at the January 26, 2021 city council meeting, Brock motioned to move a travel rules resolution (item 8b4, "Adopt a Resolution regarding Travel by Council Members and City-Issued Technology (Attachment D)") which states "Travel expenditures by each Councilmember are limited to the amount of funds in his or her individual 'trips and meetings' account." A PRA request for all current councilmembers' onboarding materials revealed that a version of this document (the aforementioned Attachment D), which contains the same language about travel expenditure limitations, is provided to all new councilmembers. De la Torre (who also went over and claimed he didn't know any better) and Christine Parra joined in voting to pass the resolution at this council meeting.
At the July 27 meeting, councilmembers Caroline Torosis and Jesse Zwick expressed concerns about the agenda item before them. Torosis's concerns included that this money had already been reprogrammed by a council vote at a previous meeting for discretionary funds that benefit the community to fund things like school graduations and that now Brock and de la Torre were "suggesting that instead those dollars should go back to us effectively". (6:50:34)
Zwick's comments included that he'd been contacted by a number of residents who were concerned about council's ability to be good stewards of their tax dollars. (6:52:25)
At this point, Brock was joined by his fellow conservative Change Slate councilmembers in lying to the public about what transpired with his travel budget overruns. De la Torre chimed in to repeat the lie that "nobody was given a report to say hey you're going over" (6:57:01)
De la Torre also said that it's okay that he and Brock went over for reasons including that he thinks it's guaranteed that previous councilmembers spent more on travel than they did (without stating whether or not he thinks they went over their allotted budgets); because former Councilmember Kevin McKeown had his internet connection paid for by council; because he feels that their city council salary is too low for the benefit he thinks they're providing to the community by being on council; and because it's not a lot of money relative to the city's budget (6:54:10)
After de la Torre speaks, Brock angrily tells Torosis that it can't be personal enrichment because of the hundreds of thousands of dollars he claimed he's losing by being a councilmember, and claims that she's trying to get political gain and make it a campaign issue "and that's BS" by asking about the travel overruns which at this point in the meeting he's repeatedly lied to everyone about. And Brock went off on Torosis about this even though she had agreed to give him a small portion of her travel budget, which as a new councilmember was already $3,500 less than this (6:59:09)
Then Christine Parra, after seemingly not paying attention at any other point during the July 25 meeting, went on a tirade against Torosis and Zwick. (7:04:32) First she insinuates that she was not properly onboarded by staff because of COVID. She claims that "I read everything, I'm very familiar with how this process works"–did she not read, or perhaps not understand, the travel policy which she was onboarded with and voted yes on in January 2021? It's entirely possible, given her admission during a different council meeting that she had no idea what she'd been voting on with our housing element for over a year.
Parra also joins in on attacking staff by lying that they weren't warning councilmembers ahead of overruns: "Nobody was letting us know, hey by the way, heads up, you're a thousand dollars away." And she piles on with accusing Torosis and Zwick making personal attacks and of trying to politicize a topic which in hindsight she was likely just unhappy they were asking uncomfortable questions about.
And finally, Lana Negrete also defends Brock and de la Torre by trying to lay the blame for their overruns on staff with "this is just a circumstance where there was poorer systems in place before that weren't alerting councilmembers to what was left". (7:14:35)
So now we have definitive proof that Brock and his fellow Change Slate councilmembers lied to the residents from the dais about what they've been doing with the residents' money. One might wonder, what else have they been lying to us about?