The following article first appeared at Streetsblog Los Angeles.
This morning, Southern California livability advocates gathered to urge the state legislature to approve A.B. 645, Assemblymember Laura Friedman's bill to enable use of speed cameras to make streets safer. A.B. 645 would allow the limited use of speed cameras in school zones, on high injury networks, and on roads with known street racing, as a pilot in six cities including San Francisco, Los Angeles, Long Beach, Oakland, and San Jose.
The rally took place in front of Assembly Speaker Anthony Rendon's Lakewood office. Rendon has been notoriously hostile to low-emission transportation, and it's not clear whether someone so cozy with fossil fuel interests would facilitate the passage of safer streets legislation.
Speakers today included representatives from Streets Are For Everyone (SAFE), Street Racing Kills, Streets for All, Faith for SAFEr Streets, SoCal Families for Safe Streets, and family members whose relatives were killed in traffic violence.
As Los Angeles reels from an April 25 crash where a driver took the life a mother and severely injured her six-year-old while they were walking to school in mid-city, SAFE released a new report entitled Speeding is Killing Our Children. The report enumerates the outsized role that driver speed is playing in the current spate of collisions that have taken the lives of students throughout California.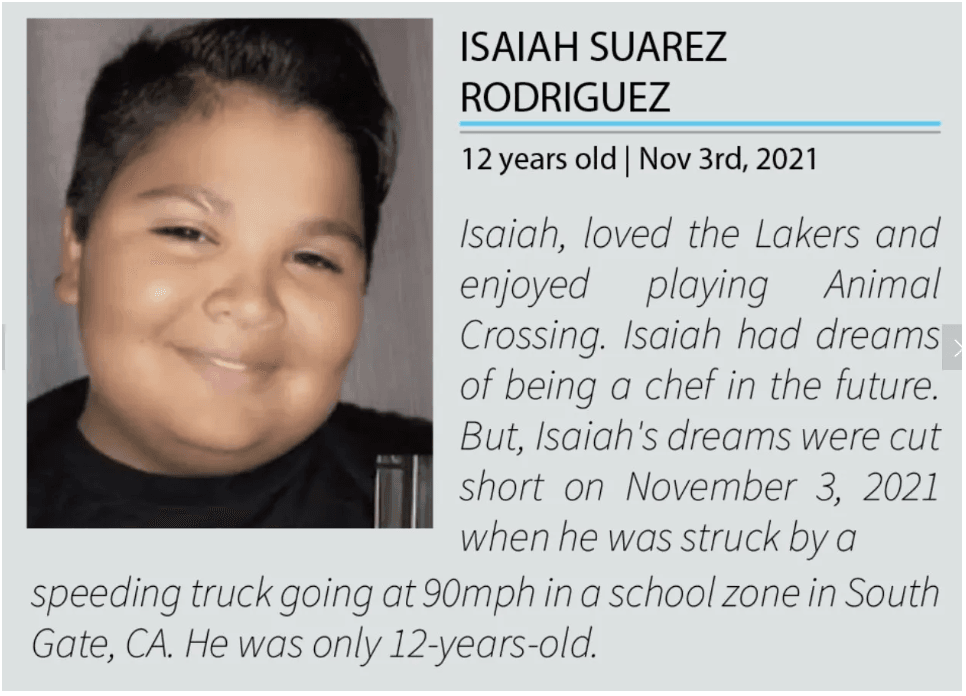 The Speeding is Killing Our Children report highlights stories of several children who drivers killed in school zones – including 12-year-old Isaiah Suarez Rodriguez of South Gate, killed by a speeding driver
According to the report, CA traffic fatalities are 25 percent higher than the national average. Calendar year 2021 saw 4,133 CA traffic deaths, plus 157,737 moderate-to-severe injuries from crashes. The largest factor in these CA injuries and fatalities is unsafe speed, which was a primary cause of 29.4 percent of all those crash injuries and fatalities.
Among those tragedies, SAFE Executive Director noted, "if one could try to say one fatality is more tragic than another, it's when our kids – the future of our society – are mowed down by careless and speeding drivers, especially near schools." The report's authors surveyed driver speeds at multiple schools in several California cities, finding that 65 percent of drivers sped through school zones at more than five mph over the posted speed limit.
The report includes eleven recommended solutions, many of which involve reconfiguring streets in school zones for slower speeds. It also recommends installing speed cameras in school zones, as would be permitted under A.B. 645.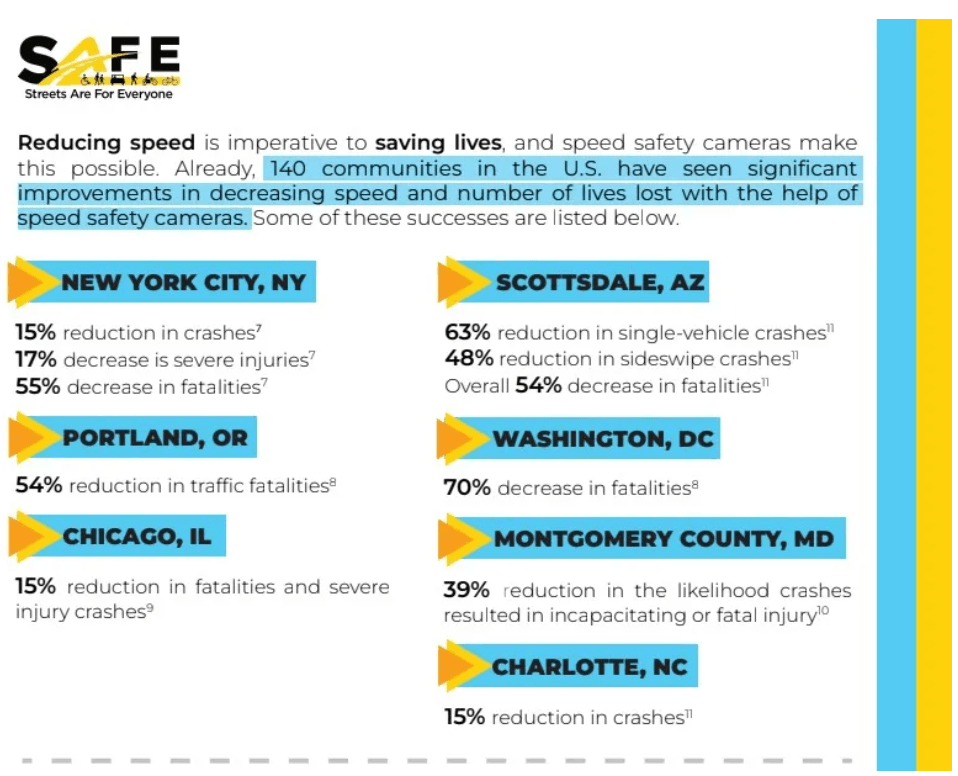 Speed camera programs have shown success in other states – via SAFE fact sheet
Streets for All Executive Director Michael Schneider noted that
If any serial killer, disease, or natural disaster were killing this many people, it would be treated as an emergency and we'd dedicate serious resources to fixing it. Yet when this many Americans are killed by drivers each year, it is treated as a cost of doing business in a car-dominated country.
Schneider praised A.B. 645 for building on successful speed camera programs in New York City and Chicago while adding equity provisions, while calling attention to the bill's provisions requiring that cities spend money generated on traffic calming measures "ensuring that the revenues go towards a long-term fix."
Though the need is clear, A.B. 645 may face an uphill battle. Previous attempts at similar bills failed in recent years. Friedman has noted that the latest version "has been very carefully crafted to remove almost all opposition." Will Rendon support safer streets or the continued worsening of the current deadly status quo? Time will tell.