It's been nearly a quarter of a century since Dan "the Man" Levi came to Los Angeles and to teach gymnastics. His California journey saw him teaching classes out of the back of a van before he moved into a gym in West Los Angeles known affectionately as "Dan the Man's Superkids." 
The gym was forced to close during the pandemic and Levi found himself back at his professional roots, teaching small classes out of the back of a van in parks and backyards as the rebranded "Flip 1st Gymnastics." The goal was to return to a full gym, and he realized that dream last week when Flip 1st opened its new space in the strip mall located on the southwest corner of Pico and Lincoln Boulevard. Just two months after Flip 1st held its last class of 2022 under the lights in Rancho Park, Levi and his team were excited to be back at what they love inside their new home.
When talking about his new space, Levi's voice radiates excitement about what a new gym can mean for him and his students.
"I have a full size Olympic gymnastics floor," he said, gesturing over his shoulder. "My last facility had maybe three quarters of the size of a floor. And now I have multiple competitive beams, and in a vaulting table as well. So we've definitely stepped it up."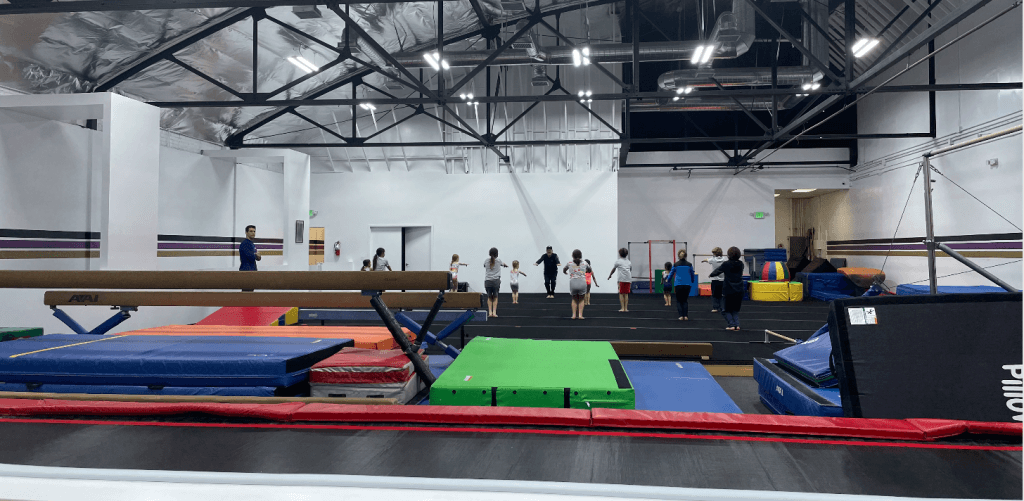 One of the things that made Levi such a popular figure on the Westside is the "full family" approach to gymnastics training. Students could join as toddlers in a parent-and-me class setting, and stay through high school. Flip 1st takes it a step farther with a program that includes not just parent-and-me and youth classes; but also traveling teams, cheer tumbling and even gymnastic classes for adults.
"It's actually quite awesome to develop a connection with a kid at such a young age, and then they totally trust you as they grow into their own skills, and then they are able to be without their parents in the gym," said Levi of the students who join the gym at the earliest age.
" I've had kids come back and work for me, even in their 20s. And they were like, 'Hey, Dan, the Man what's up? I'm back from college. Let me get some camp hours or some, you know, something like that.' I'm blessed to be a part of the community and have families grow with me."
My own son has been with Levi since kindergarten. He's in 7th grade now. Other Flip 1st veterans have started with Levi at a younger age, go through the program and then end up working for him as instructors or camp counselors. Levi's own daughter, a student at Santa Monica High School, works at Flip 1st as does the son of his real estate agent who found the new space. He started with Levi as a toddler in class.
Levi brings not just his personal experience as a gymnast, but also his life experience to the studio. At a young age, he seemed destined for gymnastics stardom, competing at the NCAA level and earning a scholarship to West Point until a broken wrist caused a change in his life plans.
In first grade my son, already a black belt in martial arts and in his third year at Superkids, competed in the gym-wide tournament with what we thought was a bruised ankle but turned out to be a chip on his growth plate. As bummed as he was at underperforming at the tournament, he was even more upset when an urgent care doctor told him he had to put both gymnastics and taekwondo on hold while he rested and rehabbed his leg.
He didn't return to the gym for half a year, and he set his sights on competing in that tournament the following year. Having fallen behind his peers in the time off, he put in some extra classes and worked closely with Levi in the runup to the event. Drawing on his own experience dealing with disappointment and injury on a larger scale, Levi encouraged him without putting undue pressure on his body or mind. In the end, he managed to finish first in the 'vault' in the spring competition, an exciting comeback after a long year. 
And it's that connections similar to the ones Levi made with my son that keeps families coming back.
"I feel like, like, I'm more than just like a coach," he concludes. "I definitely care about the whole family. I like to connect with everybody. And I love to make sure everyone is accommodated and happy and also challenged."
For information on how to sign up your family for Flip 1st Gymnastics, visit their website at Flip1st.com.