Already convinced? All donations are tax deductible and can be made at Donor Box or Patreon.
Santa Monica Next relaunched this week as a progressive non-profit news voice for a progressive city. Unlike its previous five year run between 2013 and 2018, when Santa Monica Next was supported mostly by advertisers and grants and sponsorships, the relaunched Santa Monica Next will rely on a combination of advertisers and subscribers.
Subscription-based non-profit journalism is becoming the new normal for quality local news. People have long been familiar with National Public Radio's non-profit member supported model. Over the past decade, this model has spread to online news sources such as ProPublica, public radio station's KPCC's takeover of LAist, and quality community-based journalism like The Voice of San Diego and Claremont Courier.
Santa Monica Next is published by the California Streets Initiative, a 12-year old non-profit 501(c)3 with 6 full-time employees and 13 freelancers, that operates Streetsblog sites throughout California and the hyper-local news website LongBeachize
These journalists have won dozens of awards and coverage extends from sustainable streets issues to in-depth coverage of hard-news like police-involved shootings of unarmed Black men.
I've served as board chair for the California Streets Initiative and advisor to Santa Monica Next. This time around, I'm looking forward to my new role as a columnist, contributing several pieces a month on Santa Monica news, events, lifestyle, and, of course, policy and politics.
Professional non-profit journalism is sorely needed in this city. Our existing for-profit local media landscape has created many gaps that Santa Monica Next intends to fill.
The Santa Monica Daily Press, the city's free print daily, is owned by the for-profit firm Newlon Rouge LLC, which is controlled by publishers Todd James and Ross Furukawa. As of November, Newlon Rouge LLC was listed as suspended by the California Franchise Tax Board. Daily Press Publisher Ross Furukawa stated that the tax suspension was due to a dispute about an overpayment of less than $1.00 and it is now resolved.
Though a for-profit entity that exists to enrich its shareholders, in November the Daily Press was soliciting donations at the bottom of each article (see screenshot below). Furukawa stated that he would seek guidance on industry best practices regarding the solicitation of donations and the Daily Press has since changed the wording to solicit a "contribution" instead of a donation.The Daily Press recently announced its participation in the Google News Initiative's Accelerator program which will allow it to explore and adopt changes "developed with the help of industry leaders, major tech companies and other local news agencies across the country who are also doing the heavy lifting of reporting on their local cities." This is a promising development for Santa Monica's main daily newspaper, which has been in need of a refresh for years. Though the Daily Press will eventually need to come to terms with how opinion columns written as inaccessible screeds drive away potential readership who are accustomed to the national press's standards for opinion pieces.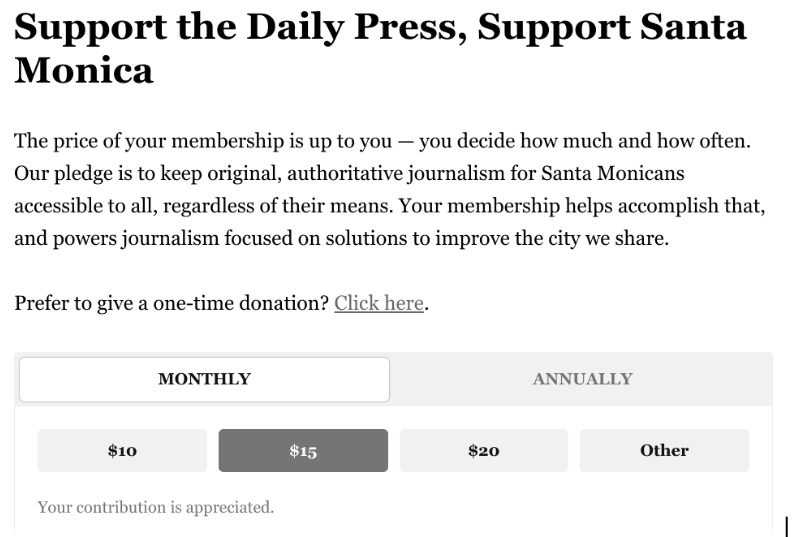 The Santa Monica Lookout, at SurfSantaMonica.com, emerged from the ashes of the Evening Outlook, Santa Monica's main newspaper from 1874 to 1998, and is owned and operated by Jorge Caruso from his home in Florida. The Lookout, once a stalwart of liberal politics in Santa Monica, is now funded in part by a sponsorship from the conservative Center on Union Facts's Eyes on Local 11 project. This group sponsors the complete statistical disaster Pulse Poll, which was way off about local election results (and most other subjects). The low-response, scientifically-invalid poll is advertised via Facebook and via emails to past respondents. The poll uses SurveyMonkey and I've personally been able to vote multiple times in the poll.
Eyes on Local 11 gives a lot of money to the Lookout, but if you read the linked article above, you'll notice they don't mention that in their coverage..
The Santa Monica Mirror is a right-leaning publication that has been home to the Santa Monica architects for a responsible tomorrow (SMa.r.t.) group since its previous publisher, the Santa Monica Daily Press, grew concerned that the column would be an in-kind political contribution when SMa.r.t. co-founder Phil Brock first ran for office. If you find your views to be largely consistent with the SMa.r.t. Group, then you'll probably disagree with many of the column and opinion submissions in Next.
The paper is owned by Mirror Media Group, Inc. which lists Thomas J. Montemer as its CEO. Montemer was part of an investment group that purchased the Tampa Tribune in 2012. The Tampa Tribune ceased publication in 2016 and was acquired by the Tampa Bay Times. The California Franchise Tax Board suspended Mirror Media Group, Inc. in 2022 for failing to file required statements of information.
Then there's the Santa Monica Observer. Calling the Observer a newspaper is a stretch, but they do publish both online and print editions in Santa Monica. Santa Monica Next has documented some of the Santa Monica Observer's lies and deliberate mistruths. This local rag is now internationally infamous after being cited by Elon Musk after making untrue allegations about Nancy Pelosi's husband Paul hours after Pelosi was assaulted in his house. The Observer is owned by a for-profit stock corporation controlled by long-time publisher David Ganezer.
Last year Housing Commissioner Todd Flora established WestSideVoiceLA, a new progressive news source for Santa Monica and the surrounding communities. It's fine, but it's just Todd. What happens when he goes on vacation?
Finally, there's the Santa Monica Star, published by Diane Margolin. Published monthly, the Star emphasizes community building and lifestyle-related content. They're good about publishing an extensive community events calendar, profiling local residents, and featuring advice-type content submitted by local residents. It's Santa Monica's society page. But it does not cover local politics or planning nor does it do any hard news reporting.
In short, we think Santa Monica is in need of a strong local, independent news source. Even with a half-dozen publications serving a city of 90,000 residents, there are still large gaps in the coverage.
If you agree with me I hope you'll join me as a subscriber. All donations are tax deductible and can be made at Donor Box or Patreon.