The Governor's proposals to shift money from transit and the Active Transportation Program are "reasonable," given budget constraints, says the LAO. But the legislature could do something different. Like make cuts to highways instead??
This story first appeared at Streetsblog California.
Last year, California's General Fund was flush with tax revenue, and as a result several transportation programs got some one-time boosts in funding. This year, though, tax revenue is down and the budget is tighter, and Governor Newsom, in his January budget proposal, floated some "solutions" – that is, cuts, delays, and funding shifts. These proposed cuts would mostly affect transit and the Active Transportation Program – and would leave much larger highway funding intact.
The Legislative Analyst's Office has issued a report in which it doesn't a hundred percent disagree with Newsom's proposed "solutions." But it recommends that the legislature do some soul-searching to identify its top priorities, rather than follow Governor Newsom's recommendations to cut here, delay there, and restore money if "triggered" by unexpectedly high revenue.
In fact, the LAO recommends rejecting that "trigger" suggestion altogether because, for one, it "is unlikely to occur." And, "given the distinct possibility of worse fiscal conditions, we also recommend the Legislature begin to prepare now for the likely need to solve for a deeper revenue shortfall when it adopts its final budget this summer."
While overall general fund revenues are down, the report is specific to transportation because that's where much of last year's extra funding went, or was promised. And it was specifically promised to the Transit and Intercity Rail Capital Program (TIRCP) – both to its competitive grant program and a new, population-based formula program that goes directly to transit agencies – and to the Active Transportation Program. See the lead image: Those two programs are subject to Newsom's proposed (future) cuts. Oh, sorry: "solutions."
The report also contains another a chart that tells a story the LAO doesn't dwell on. The chart below shows federal funding that California expects to receive – this is apart from the state budget issue, but not unrelated. The Federal Infrastructure Investment and Jobs Act (IIJA) is expected to bring more money to state transportation programs, and the LAO points out that even with the "solutions" proposed by the governor, transit will be getting more money than it has in previous years.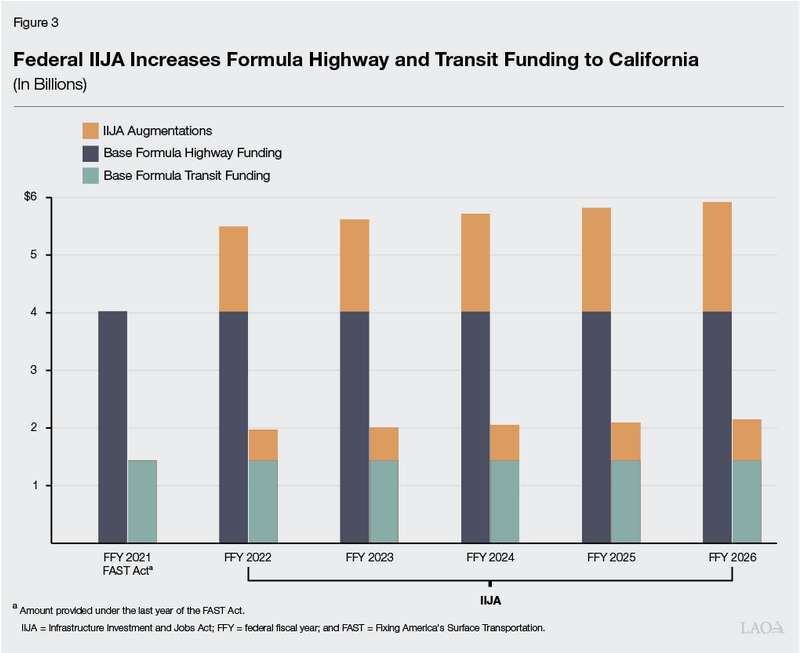 But that's not what stands out in this chart. What people with eyes can see is the dramatic difference in the amount California, and the IIJA, is spending on highways vs. transit. Increased funding. Plenty of funding. More funding than expected – on highways.
The LAO recommends that, in considering Newsom's budget "solutions," the legislature should figure out its priorities, and ask questions such as "how important are these programs to reaching state goals?" and "how much demand is there for these programs?" and "how likely would delay or cuts lead to negative consequences?"
This should apply across the board, to all transportation funding programs, including those that are funding highway expansions. Taking away the relatively small amount of funding going towards projects that encourage alternatives to driving – including transit, walking, and biking – is not consistent with state goals on climate, safety, and equity, especially when highway funding, which impedes those goals, continues to receive massive full funding.
The LAO does point out that the TIRCP funding, according to current law, can only be used for capital improvements, and so wouldn't help agencies with the operational funding that they desperately need. But "the Legislature could look at options for providing additional flexibility around program requirements to allow transit agencies to use the population-based TIRCP funding for some operational expenses." However, "this would require statutory changes and a reprioritization of the program."
Regardless, that needs to happen, one way or the other.
For more details, and thoughts from the LAO, see the report here.