The Santa Monica Big Blue Bus has proposed new on-demand service to replace fixed-routes with very low ridership. Big Blue Bus isn't the first transit agency in California to make this switch, but it would be one of the largest ridership agencies to implement the changes.
About BBB's proposed on-demand service
The new on-demand service would be provided by a combination of shared Lyft rides and wheelchair-accessible vans. The initial, proposed pilot  calls for making this on-demand service available between 7am and 7pm on weekends along three existing routes. Requested trips would need to both begin and end within 100 feet of a single, existing route. More information is available on the Big Blue Bus's website.
The price for the Lyft service will be $2 or $1 for those who are both eligible for senior, disabled, or medicare discounts and have pre-registered with Big Blue Bus. This is higher than the $1.25 cash fare, $1.10 TAP card fare, and $0.50 senior/disabled/medicare fare. The passengers will pay all costs over $10.00.  
Lyft customers will need to enter a code into the Lyft app to access the discount.  Wheelchair accessible van customers will need to make advanced reservations during the Big Blue Bus's customer service hours weekdays 7:30 AM – 5:30 PM and Saturday 12 PM – 6 PM.
What's the catch?
There are several segments of customers for whom the existing fixed-route service works, but the proposed on-demand service using shared Lyfts will not:
Customers who require a wheelchair-accessible van

who didn't anticipate the trip and make an advanced reservation. Right now, these customers can go to the curb and take a bus when they decide do so,  and a professionally-trained driver will secure their wheelchair.

Customers with children as old as 12 who require car seats

will need to bring car seats and install them into a Lyft.

Under California state law

, children still need a booster seat until they are at least 4'9" tall and between 8 and 12 years old. As of September 2018, Lyft only offers

vehicles with pre-installed car seats

in New York City.  Since parents of children who require car seats are already deterred from the ridehailing market, they have a higher propensity to use transit.

Customers traveling in groups larger than 2.

The discount is available for Lyft's shared ride service, which can be requested for 1 or 2 passengers.  Public buses are a great way to provide mobility for groups of people traveling together. And as the program is presently proposed, a family of three cannot technically travel together.

Unaccompanied customers who are under the age of 18

.  Lyft's

terms of service

prohibits use by children under 18 years of age. Big Blue Bus has no minimum age requirement for customers not accompanied by an adult, and public buses are a great way to provide mobility to tweens and teens.

Customers who don't feel comfortable riding in a Lyft

. There may be some set of customers who feel comfortable riding in a bus with a professional, trained driver, security cameras, and other passengers who wouldn't feel comfortable jumping into a car with a stranger.

Customers who have been banned from the Lyft platform.

In the most recent season of

Curb Your Enthusiasm

, the misanthropic Larry David was banned

banned from Uber and started using the Big Blue Bus

. He was later thrown off a Big Blue Bus, which feels a bit like what the Big Blue Bus would be doing with the passengers in the categories above.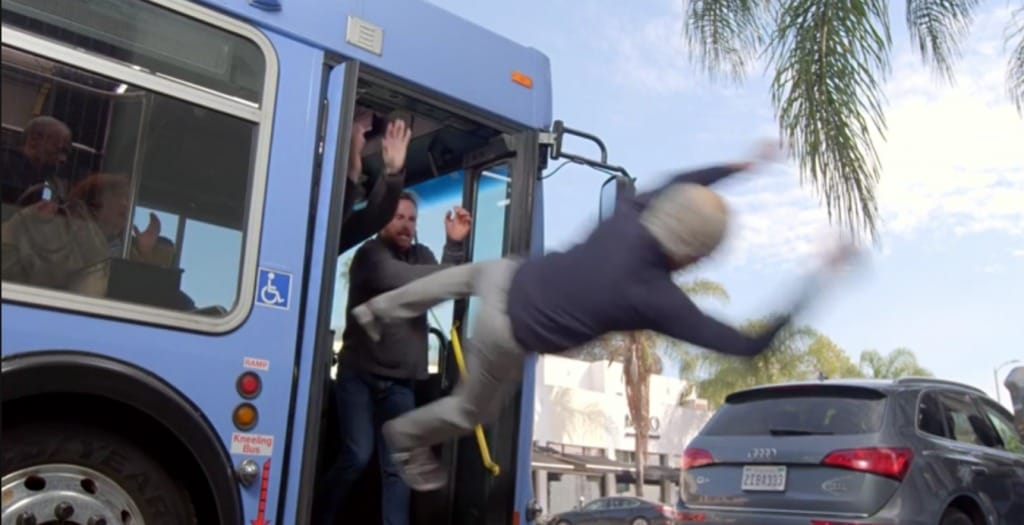 When switching between fixed-route service and an alternate means of providing public mobility, I believe it's important to acknowledge the deficiencies and either state that they can't be overcome or work to mitigate them.
Can you think of other scenarios for which the new on-demand service wouldn't work?  Leave them in the comments.