Carter Rubin is a Santa Monica resident and serves as an advisory board member of Santa Monica Next. Carter has served as an appointed member on the Santa Monica Housing, Planning and Pier Commissions. Carter earned a B.A. in political studies from Pitzer College and a Master of Urban and Regional Planning degree from UCLA. His views here are his alone.
The Santa Monica City Council tonight will consider two big investments in safe and healthy mobility: a $5 million package of upgrades to existing bike lanes and approval of the city's first parking protected bike lanes on 17th Street.
Like the Expo Line, Colorado Esplanade and Breeze Bikeshare, these public investments will give residents, visitors and workers more ways to get around without getting in their cars. And both will help the City accomplish its goal of eliminating traffic fatalities, aka Vision Zero, and cutting carbon emission, of which transportation is its largest source.
The City Council should approve both measures and ensure staff has the resources to expediently implement these programs.
As ever, you can register your feelings about these issue by emailing clerk@smgov.net and council@smgov.net. Here's my take on what to like and what to keep an eye on:
$5 million in Bike Lane Upgrades
In responses to rising bike ridership, and the advent of dockless mobility devices, City staff are looking to accelerate improvements to existing infrastructure.
Council approval of a $5 million contract would mean:
Green paint upgrades to 19 miles of existing bike lanes

New bike signal detectors at 39 intersections

1,250 new bike racks for easy parking
What to like:
The additional green paint will increase visibility for people biking especially at locations where bikes and cars mix, like at intersections. The new signal detectors mean the anyone on a bike can roll up to the intersection and be assured that the signal will detect their presence and give a green light at the right time. Many existing signals lack this feature and that leaves people biking waiting until a car pulls up to trigger the signal to change. A thousand new bike racks will mean that people biking to local businesses, parks and other destinations have just as easy and secure parking if they had chosen to drive.
What's missing:
Let's get creative about how we deploy those 1,250 racks. More and more trips are taking place on dockless scooters and bicycles. Let's use this opportunity to create more dedicated parking areas that help ensure riders can park them safely out of the pedestrian walkway. We could even paint some of them green to match Breeze Bikes and set up more smaller bike share parking zones parking areas to complement the official docks.

Protection from loading cars: the rise of Uber and Lyft, plus daily deluge of Amazon Prime deliveries, have put

curb access for loading at a premium

. They've also put Santa Monica's unprotected curbside bike lanes in the crosshairs.
Photo: Carter Rubin
Santa Monica should take a page from neighboring Los Angeles and use vertical bollards to block vehicles from accessing the curb where it will endanger people on bike, skateboard and scooter.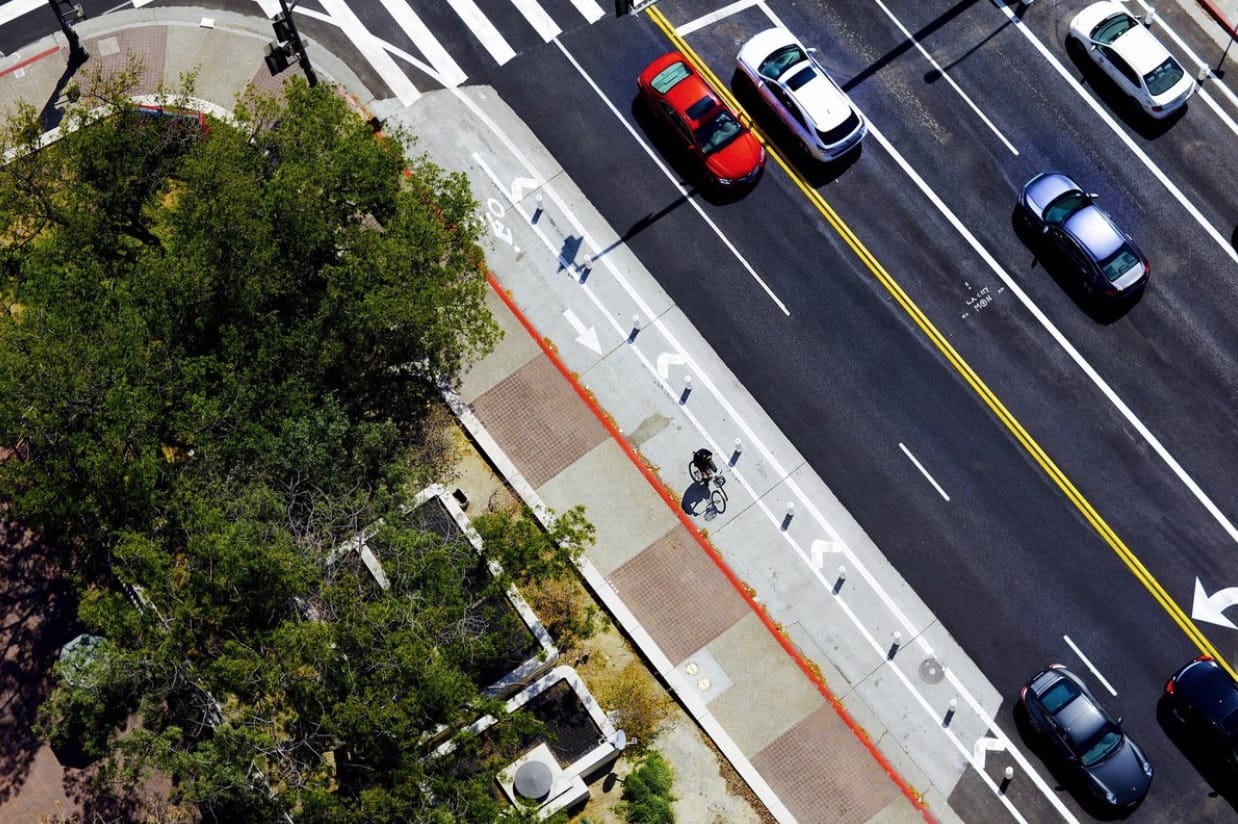 Photo credits: L.A. City Council Member Jose Huizar, Streetsblog LA, and LADOT
The rub often is how to ensure those bike lanes remain clean and free of debris: LA's got answers there too, where the Bureau of Street Services has rolled out a fleet of dedicated bike lane sweepers.
f
Photo credits LA Bureau of Street Services
Santa Monica's Public Works Department can show they're on board with progressive transportation solutions and help solve this problem.
And that brings us to…
17th Street Protected Bike Lanes
Often high-quality bike infrastructure is the first step in encouraging more people to roll on two wheels. A sage analogy holds that you can't measure interest for a bridge by how many people swim across a river, and you can't measure how many people will bike based on how many are brave enough to ride in today's substandard bike infrastructure. But that's hardly the case of 17th Street where biking is taking off even in advance of these upgrades. Thanks to the new Expo Line station at 17th and Colorado, biking and walking is surging as residents and Santa Monica College students use it as a key linkage to the rest of the community.
What to Like: This project will provide a north-south linkage that's friendly to all ages through the communities of Wilmont, Mid-City, Pico and Sunset Park to the Expo Line, the Expo bike path, and neighborhood destinations like SMC, Memorial Park, hospitals and schools.
What to keep an eye on: These lanes can't come soon enough, but there will be logistical challenges to overcome. Key will be coordinating with Caltrans on crossing the 10 Freeway and the California Public Utilities Commission on the Expo Line. City leadership should reach out proactively to those agencies' leaders to ensure smooth sailing for this project.
Once we get close to the project completion (estimated in 2020) staff will need to ramp up community engagement and outreach — even more than in the planning phase. Protected bike lanes, especially those with floating parking spaces, are still fairly new to Southern California. There should be a major PR blitz, personal engagement with stakeholders, and coordination with traffic enforcement to ensure everyone can get comfortable and up to speed quickly on the new street design.
The Takeaway
It's exciting to see significant investment in safer and healthier streets. Delivering these projects with a careful eye to the details and in a timely manner will ensure Santa Monica continues to offer convenient ways to get around that don't add to traffic and pollute the air.