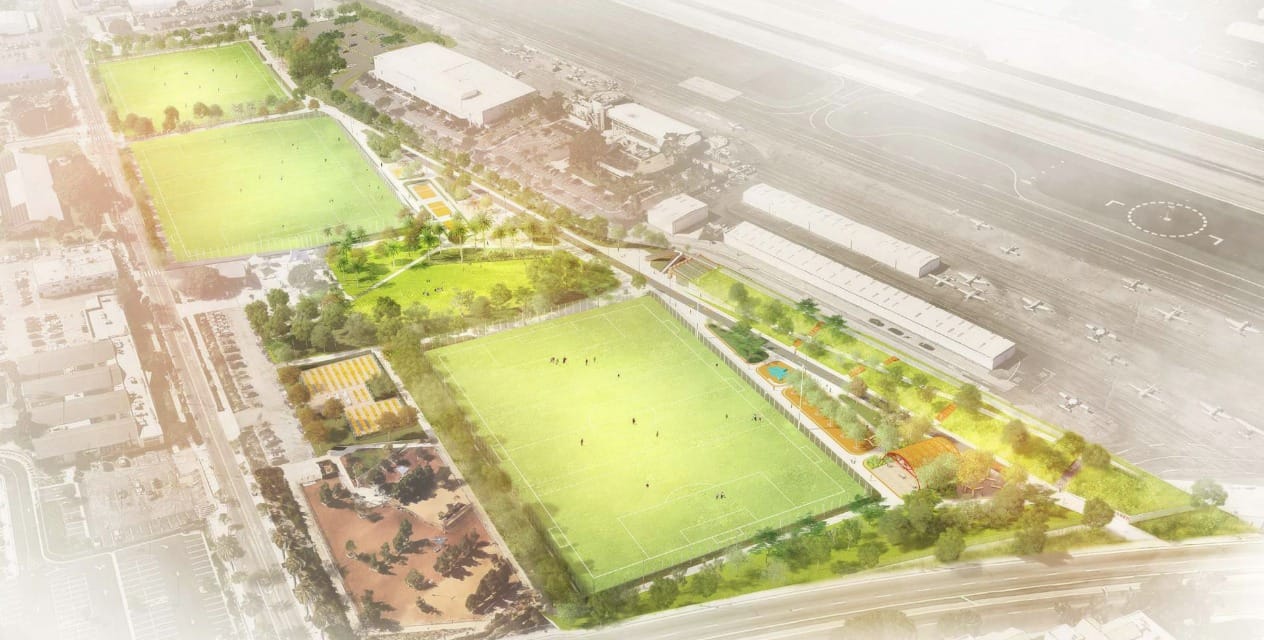 Via Urbanize comes the news that design architecture firm Rios Clemente Hale Studios have released renderings and a plan for the expanded Airport Park on unused land at Santa Monica Airport. In March of 2016, the city removed airplane parking on the southeast corner of the airport and commissioned Rios Clemente to design a new park on on that space. The six acre design is the first of a two-phase project to reclaim 12 total acres and is not part of the land reclaimed by the city as a result of the recent runway shortening.
"Santa Monica Airport Park builds on the site's rich history, converting aircraft activity and motion to human fitness and performance," writes Rios Clemente Hale on their website. "The scheme connects the two phases of park development via a pedestrian runway that invites the surrounding neighborhoods into the park."
Funding for construction for this project has not been identified as of yet, so there is no timeline for its completion. The City of Santa Monica estimates that it would cost $35 million to complete the full 12 acre project which will include "two additional multipurpose, synthetic turf fields striped for lacrosse, soccer, and rugby. A continuous walking loop will take exercisers from one end of the park to the other, with a new pedestrian entrance from Bundy Ave. and an overlook with views of the city, airport, and ocean. The park will also feature a fitness area, 3 pickleball courts, community gardens, ping pong tables, two new restroom buildings, and swings to be used by park users of all ages."
Cool. I like adult swings.
The design studio also offered a plan outline for what the park could look like in 2029, assuming the planned closure of the park, allowed by the consent decree the city signed with the Federal Aviation Administration last year, is completed as planned.
The completed park looks majestic, with large areas of open space joining the gardens, sports fields and exercise areas. Connections to two local parks, Clover and Marine, as well as the Penmar Golf Course are included as well. While there is not yet funding for this plan, it could help whet the appetite for this undertaking in the larger Santa Monica community beyond the enthusiasts with groups such as Airport2Park and anti-airport groups.
For more details, visit the project page at the Rios Clemente Hale website or the City's park expansion webpage.