The city of Santa Monica is proposing new regulations for e-scooters and e-bikes. The staff proposal (item 7B on this agenda) is scheduled for a city council decision next Tuesday night.
Santa Monica was the initial location for app-based shared electronic scooters operated by the company Bird. These appeared without advance notice in September, 2017. Today, they are ubiquitous in tourist-frequented commercial areas near the coast, and in nearby parts of the city of Los Angeles, including Venice and Westwood. Lime e-scooters and e-bikes are now appearing in the same coastal Santa Monica retail areas.
This may come as a surprise to L.A. City Councilmember Nury Martinez's largely working class San Fernando Valley district, where scooters have not arrived. But there are thousands of scooters, mostly sitting on sidewalks throughout the Westside. Plenty of people are using them to get around.
The city of Santa Monica characterizes their proposal as needed for "public safety," though their scooter program would be out of proportion compared to the public safety risks from cars. From September through today, city staff report that e-scooters have experienced no fatalities, and approximately 16 "accidents" with three that resulted in "serious head trauma." In one particularly gruesome month in 2017, Santa Monica drivers killed five pedestrians. In eleven months in 2017, drivers killed eight people.
In Santa Monica's defense, they are working toward the vision zero target of eliminating traffic deaths, and are one of the foremost cities in southern California in encouraging multi-modal transportation. Even if scooters appear to be at least an order of magnitude safer than cars, there are some public safety benefits to be made by ensuring they are operated as safely as possible. There are also other benefits to the city in regulating these devices – from trying to keep them from blocking the pedestrian/wheelchair right-of-way to getting data on transportation patterns.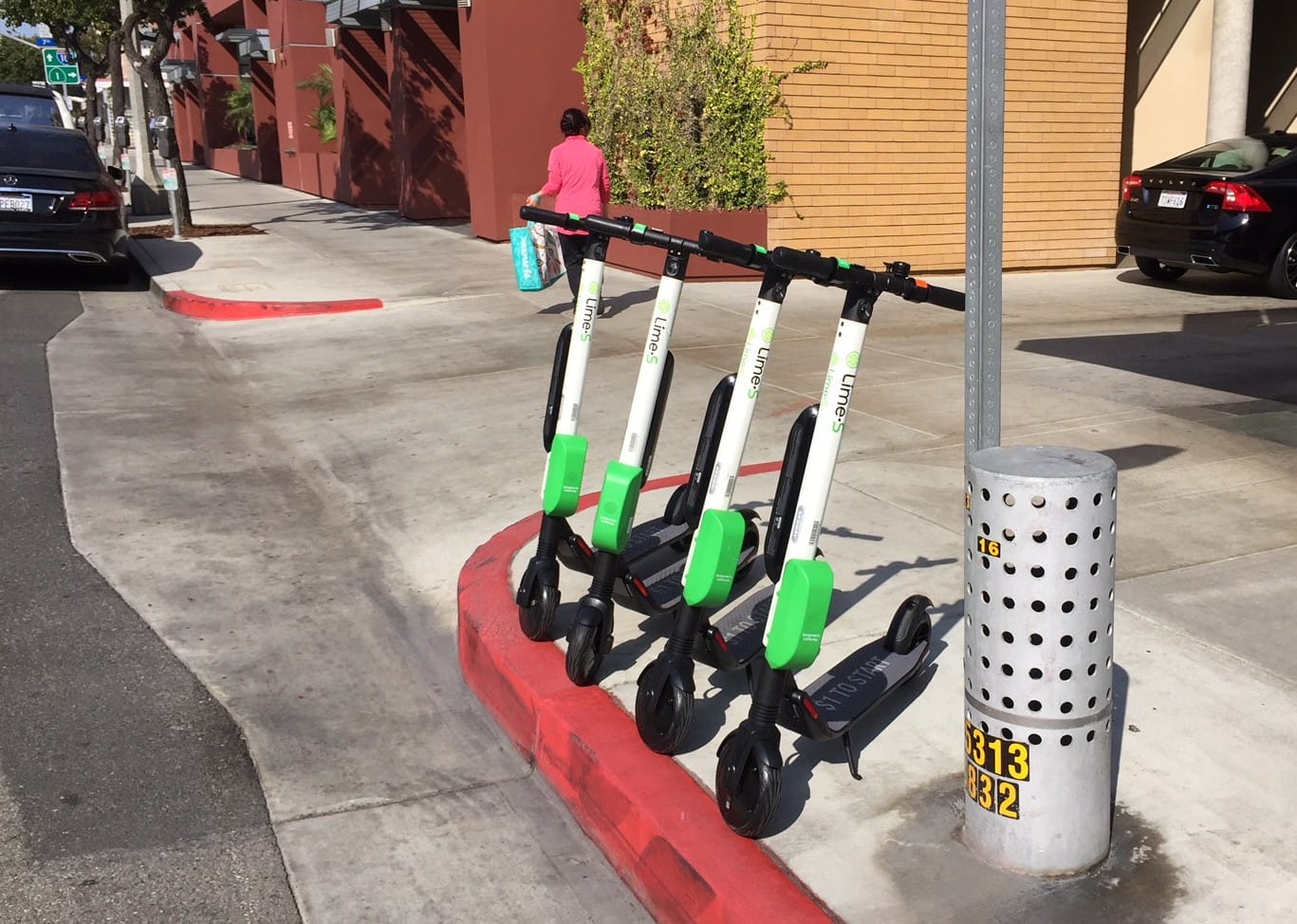 In Santa Monica, Bird and Lime are currently operate e-devices using a business license and conditional vending permit. The proposal would end these vending permits in September. In their place the city would institute a 16-month "Pilot Program for Shared Mobility Devices" that includes fees for operators, limits to the number of devices, and other restrictions.
E-scooter and e-bike operators would apply to Santa Monica to participate in the pilot. Three vendors would be selected.
Each vendor would initially be limited to 500 devices. Over time, that cap would gradually expand to 750 devices. City staff justify the initial cap based on Breeze bike-share's initial fleet size of 500 bikes. The cap would significantly rein in Bird's Santa Monica e-scooter deployment, which is estimated to number between one- and two-thousand.
Pilot operators would pay a $20,000 fee annually, plus $130 per device annually. The regulations spell out requirements for data reporting, insurance, education, etc.
The city of L.A. is considering similar pilot regulations that would apply to e-scooters and e-bikes, as well as dockless bike-share (DoBi). L.A. City's proposal would charge operators $500 annually, plus $50 per device annually. When Transportation Department (LADOT) staff proposed capping device fleets at 500, the city council's Transportation Committee responded by directing LADOT to increase the fleet size.
Note that, somewhat similar to L.A.'s proposed boundaries to protect its municipal bike-share from DoBi competition, Santa Monica's proposed pilot only includes e-bike and e-scooter, and no human-power dockless bike-share. Santa Monica does not allow DoBi, and has not seen any significant DoBi operations within city borders.
The shared mobility pilot staff report has an interesting brief section on Breeze, the city's smart-bike bike-share system. Since September 2017 (when Bird e-scooters began operating), Breeze bike-share has experienced an "average 10 percent decline in monthly ridership over the previous year." The report attributes this decline to two factors: competition with Bird e-scooters, and an aging bike-share fleet showing "considerable wear and tear."
Numerous cities – including San Francisco, Denver, and many others – are grappling with the upsides and downsides of app-based e-scooter mobility.  They are probably neither as beneficial as their promoters claim, nor are they as despicable and disruptive as their detractors claim. Will e-devices get people out of their cars? Or do they compete with walking, bicycling, and transit? Does it make good sense to limit dockless shared-mobility devices? How about limits on dockless not-even-shared internal-combustion devices: cars?
What role these devices will play in Santa Monica's multi-modal mobility future will be shaped by the council's decision next week.
This article is syndicated from Next's sister site Streetsblog L.A.