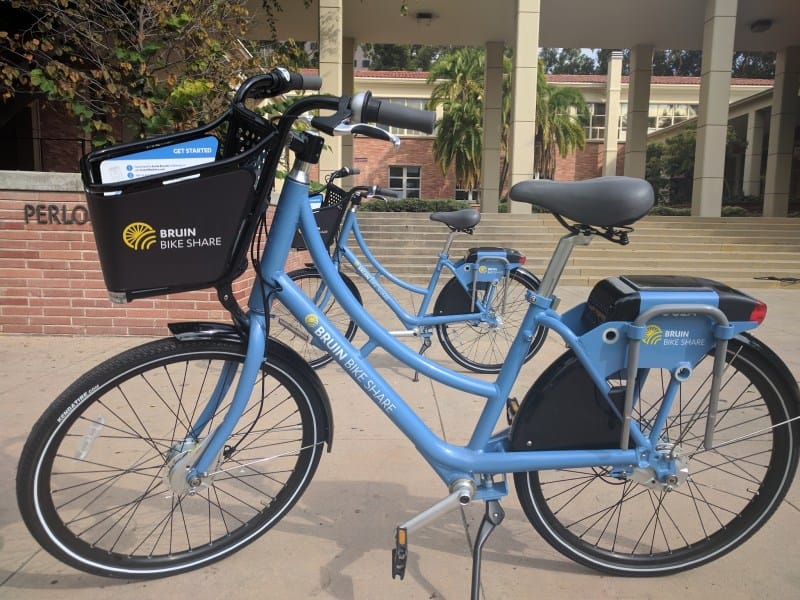 Yesterday, UCLA launched the newest bike-share system in L.A. County: Bruin Bike Share. UCLA's powder blue bike-share bikes have eight speeds, a built-in lock, front and rear lights, a bell, and a front basket.
UCLA's bike-share system features 130 bikes and 18 hubs. For a smart-bike system, the hubs are a bit less critical than a smart-dock system, such as the current Metro Bike Share system. UCLA smart-bikes are generally returned to hubs, but can be locked up more or less anywhere within the designated service area. Leaving the bike at a non-hub site incurs a $2 service charge. Bruin Bike Share's service area includes the UCLA campus, nearby satellite UCLA sites, and much of the adjacent Westwood Village commercial area – extending three blocks south of Wilshire Boulevard.
Bruin Bike Share uses the same CycleHop smart-bike system as Santa Monica, Beverly Hills and West Hollywood. Though, today the UCLA systems is independent from those nearby systems, according to a press release, "UCLA is coordinating with those cities to create a seamless regional bike-share system by early 2018."
The system pricing is similar to Santa Monica's Breeze, but includes discounts to people affiliated with UCLA:
Annual membership – public $69 / UCLA affiliate $60 – includes 90 minutes daily
Monthly membership – public $25 / UCLA affiliate $7 – includes 90 minutes daily
Hourly – $7 per hour
For more details or to sign-up, go to the Bruin Bike Share website.