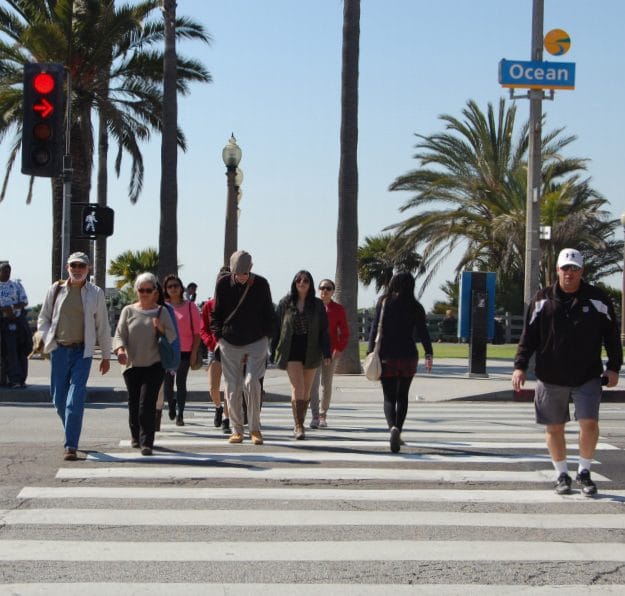 The Santa Monica City Council Tuesday night unanimously supported a motion calling for staff to bring back some options for a dedicated Vision Zero staff person and program-specific funding for safer streets in the city's upcoming budget.
The motion, which was a direction to staff to come up with some potential actions to be decided on at a later date, included looking at revisiting the city's bike action plan and updating it, creating a dedicated staff person — or "Vision Zero Czar," as Councilmember Gleam Davis put it — in charge of taking a holistic view of Vision Zero implementation, addressing excessive speeding, and investing in infrastructure improvements and pilot projects aimed at street safety.
"I have a feeling that we're at a moment in our city where things may have become possible that weren't politically until now," said Councilmember Kevin McKeown.
McKeown's comments came after more than a dozen community members spoke, all in favor of the Council taking bold action to improve street safety in Santa Monica.
City Manager Rick Cole warned that achieving Vision Zero, which the Council approved as policy when it adopted the Pedestrian Action Plan last year, won't be easy.
"There are no quick, simple, easy, or popular ways to make our streets safe. Our streets were designed to speed automobiles for 50 years. And we've made tremendous progress over the last 10 to improve at the margins the access for bikes and pedestrians," he said.
"We spent a lot of money, done a lot of politically unpopular things to get there. But to retrofit all of our city's streets, to launch the kind of aggressive programming that's been referenced so far, would be a major undertaking," Cole said.
McKeown agreed that improvements had been made at the margins with policies like the Bike Action Plan but that it was time to "start working in the middle of the page."
"To implement Vision Zero is going to take some numbers with some zeros at the end and I hope that over time, at least, we can make that commitment," McKeown said, noting that the City Council is preparing to hear the city's biennial budget update later this month.
McKeown, along with Councilmember Pam O'Connor brought an item before the City Council in March 2015 calling for Santa Monica to join the US Department of Transportation "Mayors' Challenge" to create safer streets.
"This is a really serious matter. You'd be hard-pressed to find many other examples of a category in which the city has more responsibility than providing for the management of our streets," said Councilmember Terry O'Day.
O'Day called for staff to look at the Bike Action Plan and update it to better coordinate it with the Pedestrian Action Plan, noting that finding the gaps in the networks and working to create better connectivity can help increase ridership.
O'Day, along with Mayor Ted Winterer and O'Connor asked staff to place this item on the agenda back in February.
Shortly after, a series of fatal traffic crashes stunned the city and underscored the need for real movement on safer streets.
On Tuesday, McKeown noted that he was on vacation in Amsterdam when he received news of one of the fatal crashes. He looked around and saw that pedestrians, bikes, cars, and trolleys were all sharing the streets in relative safety and noted that the main difference was the speed at which everyone was traveling.
"We have lived in a Southern California built for the convenience of the motorist and it's about time to be thinking about the safety of people outside of the cars, which is most of us most of the time," he said, referring to the need for vehicle speeds to be a part of the Vision Zero discussion.
"This is a really serious matter. You'd be hard-pressed to find many other examples of a category in which the city has more responsibility than providing for the management of our streets," O'Day said, adding that it is a burden that the city must shoulder every time someone is hurt or injured in a traffic incident.
Davis reminded the Council that "mobility" was one of the city's top five strategic priorities and that creating safer streets is about making them accessible to people who aren't currently biking or walking.
"In five years, we've made tremendous strides," she said. "It's really important to keep pushing that forward… Someone like me is never going out into Lincoln traffic unless there is a barrier."
O'Connor and O'Day both referenced Los Angeles' ambitious plans to dedicate the lion's share of their $66 million of Measure M local return money to fund Vision Zero projects, including sidewalk improvements.
Cole also noted that with the passage of SB 1, the recent transportation funding package passed by the state legislatures and signed by Governor Brown, there may be additional funding available.
The conversation will continue as the Council takes up its biennial budget later at the end of May and beginning of June when they will have to make concrete decisions about where to allocate resources.