Via Big Blue Bus press release.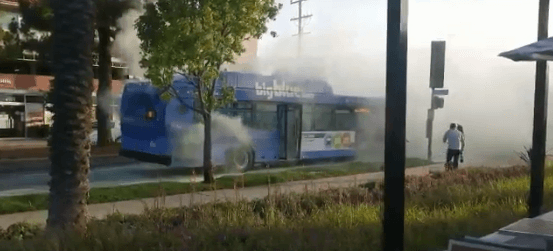 This morning a fire suppression system went off on Bus 1710 on Route 8 as the bus was traveling eastbound on Ocean Park at 31st Street. Just before the system went off, the engine shut down. This is what it's designed to do. All of the customers were evacuated from the bus safely. An alternate bus was deployed and all passengers, though inconvenienced, were soon back on their route to their destinations.
https://twitter.com/ramboscruff/status/857596937905750016
The smart fire suppression system on every Big Blue Bus is engineered to engage when the sensors detect a fire—or even pre-fire conditions—in the engine compartment. When the system goes off as it did this morning, it sends a flume of white powder out of the engine compartment and the back end of the bus, which aids in extinguishing the fire. The powder is similar to the residue on vehicle airbags and it is released preventatively. This is what you see in the video footage posted on Twitter. We can confirm that there was no fire this morning on this bus. At this time, we are not clear what triggered the system to engage and we are conducting an investigation into the cause.