Santa Monica will soon be on the list of cities that are home to a Whole Foods 365, the high-end grocer's more affordable chain.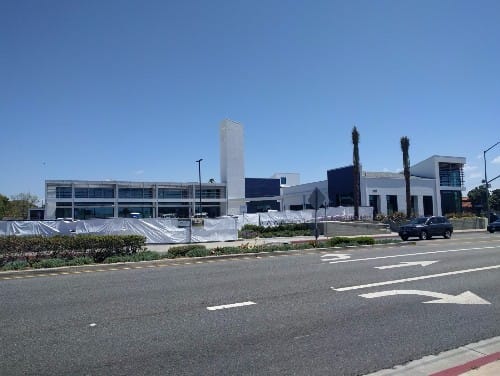 A former office park on the northeast corner of Pico Boulevard and Cloverfield is currently getting a face lift to accommodate the new grocery store, which is on track to open this summer, according to Whole Foods Senior Marketing Director Kate Neu.
"We have not released opening date information for our Santa Monica store just yet, but we are currently slated for Summer of 2017," she told Santa Monica Next via email, emphasizing that the new Whole Foods 365 is a more affordable version of the Whole Foods brand.
"Our 365 stores are bringing a fresh new format to help make healthy living easy, fun and affordable for more people," she wrote. "365 is providing the platform to bring simple, cost effective and convenient everyday shopping options to customers without sacrificing the standards that Whole Foods Market pioneered."
Santa Monica will be Whole Foods 365's second location in Southern California after the Silver Lake location.
"We're extremely excited to open more 365 stores across the country and looking at a great series of announced locations that can be found on our website here (including the incredibly vibrant, active and health-minded Santa Monica community)," Neu wrote.
An affordable, health-oriented grocery store will be a welcome addition to the neighborhood. According to data gathered as part of Santa Monica's Wellbeing survey, the neighborhood where the store is located reported an average annual household income of about $50,000, below the national average and the lowest of the neighborhoods in Santa Monica. And city-wide, only about 25 percent of Santa Monica residents eat five or more servings of fruits and vegetables, according to the Wellbeing Index findings.
Whole Foods 365 ought to supplement the Virginia Avenue Park Farmers Market, increasing the neighborhood's access to affordable healthy foods.
Because this is Santa Monica, the property the store is opening on is a storied one. In 2012, plans for a new apartment building that would have added more than 150 new units to the neighborhood, a certain percentage of which would have rented to lower-income households at reduced rents, were filed.
However, opposition by some members of the community over what they said were concerns about gentrification killed the project. The developer withdrew the project and sold the land.
Since the store is simply reoccupying the existing commercial building there, it is a much easier process than redeveloping the property as an apartment building. The latter process is lengthy, expensive, and unpredictable because it requires years of public outreach, vetting by various appointed government bodies, including the Planning Commission, and ultimately approval by the City Council. The former simply requires a city official to sign off the plans after assuring they are up to code.
The site was only one of several commercial sites since 2012 where no-growth activists managed to kill new housing projects. Those unbuilt apartment buildings would have added roughly added 1,000 new homes to the city, a certain percentage of which would have been required to rent to lower-income renters and reduced rents by the city charter.
All the while, the city remains at the epicenter of a housing affordability crisis precipitated by a regional shortage.