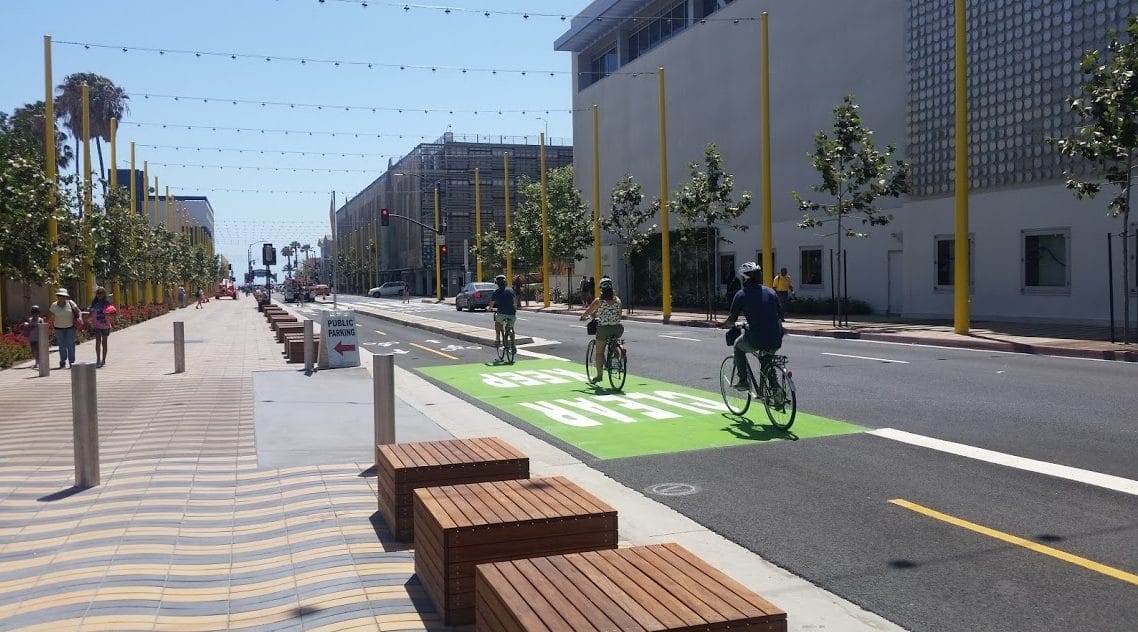 The Santa Monica Police Department will be on the lookout for traffic violations that contribute to crashes involving bicyclists, pedestrians, and drivers this Friday, March 10 and Monday, March 13.
"The Police Department periodically identifies locations where bike and pedestrian collisions are prevalent, along with the violations that led to those collisions. In an effort to lower deaths and injuries, officers will be on duty patrolling areas where bike and pedestrian traffic collisions occur," SMPD officials said in press release Thursday.
"Special enforcement efforts will be directed towards drivers speeding, making illegal turns, failing to stop for signs and signals, failing to yield to pedestrians in cross walks and similar dangerous violations," according to the release.
"Additionally, enforcement will occur for observed violations when pedestrians cross the street illegally or fail to yield to drivers who have the right of way. Bicyclists will be issued citations when they fail to follow similar traffic laws that also apply to motorists," the release said.
Collisions are unfortunately common in Santa Monica. SMPD are currently seeking information about a recent hit-and-run crash that left a pedestrian in critical condition.
The Santa Monica Police Department has carried out these operations for a couple years now. Ahead of one the first of these enforcement operations in November 2014, SMPD sent out a press release that noted the police had investigated 874 serious collisions, which resulted in death or injury and involved pedestrians and bicyclists in a three-year period.
That year, the SMPD had targeted specific poor driving behaviors, focusing on a different behavior each month. In July 2014, the SMPD focused on bicyclists, since, under the California Vehicle Code, people on bikes have to follow the same rules as people in cars, even though, "a majority of the collisions involving bicyclists have been determined that the other party was at fault," according to the SMPD.
The new enforcement operations take a more holistic approach, targeting dangerous behaviors by all road users.
Since 2014, Santa Monica has adopted a Pedestrian Action Plan that includes a "Vision Zero" commitment, meaning that the numerous strategies within the plan are aimed at bringing the number of severe injuries and fatalities caused by traffic crashes in Santa Monica down to zero.
According to the Pedestrian Action Plan, both enforcement and education are integral to achieving Vision Zero.
"To fully embrace being a Vision Zero community, the City's actions must reinforce regulations, support meaningful enforcement of traffic laws, and change the physical environment," the plan reads.
And the plan specifically calls for "Operations and enforcement actions that prioritize pedestrian safety."
At a City Council meeting earlier this month, Mayor Ted Winterer and Councilmembers Terry O'Day and Pam O'Connor placed an item on the agenda, calling for staff to return to Council with a report on the city's Bike Action Plan and how it is "harmonized" with the Vision Zero policy goal in Santa Monica's Pedestrian Action Plan.
"This is the time to take a look at how all of those plans now come together and work together. Many of the projects listed in the [Bike] Action Plan have been implemented and yet we know that there are some gaps that we didn't foresee at the time we wrote that plan," O'Day said.
"I think it's important to create a list of what those gaps are, to think about what the next steps can be for our [Bike] Action Plan, and to create a vision that incorporates our 'Vision Zero' objectives in our Pedestrian Action Plan," he said.
According to the press release, these operations are paid for by a grant from the California Office of Traffic Safety through the National Highway Traffic Safety Administration.