The Planning Commission will weigh in Wednesday on plans for the first stage of an overhaul of the southern stretch of Lincoln Boulevard in Santa Monica that will transform the former highway into a more livable street.
City staff on Wednesday will present the commission with concrete plans for the first phase of the Lincoln Neighborhood Corridor (LiNC) project, which will add and improve existing crosswalks, create landscaped medians for people crossing the street, and add a dedicated bus lane for rush hour, among other projects designed to make the street safer.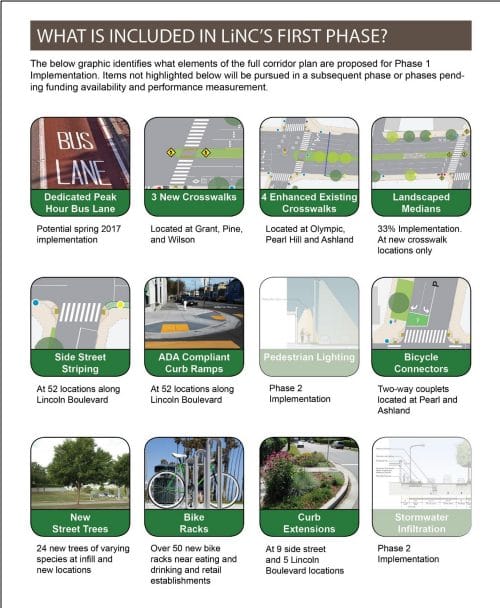 Among other elements in Phase One are included:
Crosswalk striping at 20 locations on side streets facing Lincoln Boulevard

ADA compliant curb ramps at 52 locations

24 new street trees this year

Curb extensions at nine side street locations and four along Lincoln

Banner poles at each end of the street

Bicycle connector improvements at Pearl and Ashland
The recommendations come after a two-year process of community input. As noted by former Planning Commissioner Frank Gruber, Lincoln Boulevard, which had been under the jurisdiction of the state agency that manages California's highways, Caltrans, until 2012 when the city took over control, is a prime example of auto-oriented sprawl planning.
The goals of the LiNC plan are stated on the website and include reducing barriers to pedestrian access and comfort, reducing or eliminating conflicts between vehicles, bicycles, and pedestrians, increasing the number of crossings to promote pedestrian and bicycle movements across the boulevard and into the neighborhoods, improving sidewalks with amenities that would encourage more walking, improving wayfinding and legibility to key destinations like Santa Monica High School, the Beach and Downtown, and improving and diversifying landscaping and tree canopy.
In the long term, LiNC also proposes design standards for rehabbing old car-oriented strip malls in order to make them more accessible by walking, biking, and other modes, but the staff report notes these standards would be adopted in the next phase.
According to planning officials, the second phase will occur in the future as city planners seek funding to construct the rest of the medians, add 125 new LED pedestrian lights, and insert stormwater infiltration devices.
The Planning Commission Wednesday will determine whether to recommend the proposal for phase one improvements to the City Council. The full staff report is available here. To comment on the proposal, you can find the emails for the Planning Commissioners here or email Peter James at Peter.James@smgov.net.