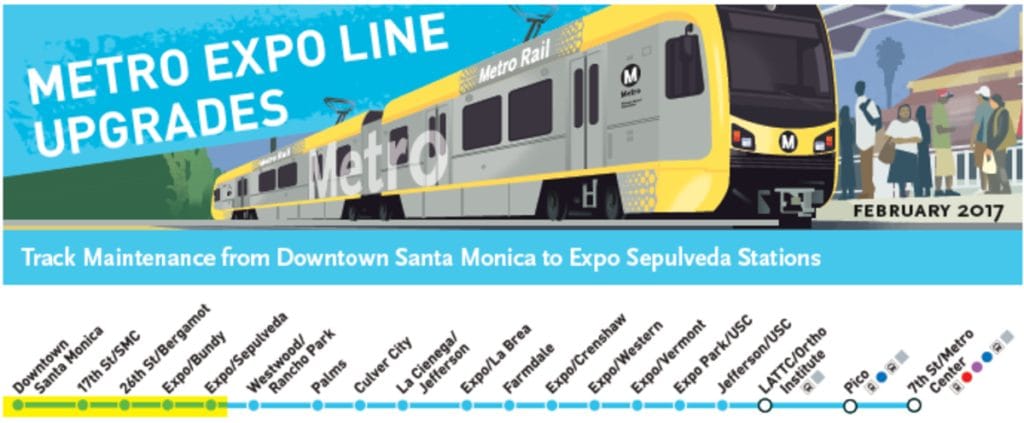 The stretch of the Expo line between Downtown Santa Monica and Sepulveda Boulevard will close this weekend for maintenance, according to Metro officials.
Starting on Friday, February 24 at 9 p.m. through Sunday, February 26 until close of service, the Expo line won't operate west of Sepulveda Boulevard. Normal service will resume on the morning of Monday, February 27, according to Metro.
Stops affected by the closure are:
Downtown Santa Monica

17th St/SMC

26th St/Bergamont

Expo/Bundy

Expo/Sepulveda
This coming weekend's closure is a continuation of the work that was started earlier this month that is part of the Metro's scheduled "one-year warranty repairs and upgrades" to the second phase of the Expo line, which opened last May.
Local and express Metro Bus shuttles will replace train service between Downtown Santa Monica and Expo/Sepulveda Station, according to Santa Monica's Big Blue Bus:
All westbound trains will stop at Expo/Sepulveda and turn back towards downtown Los Angeles. Metro shuttles will be available at Expo/Sepulveda for continued westbound service.

All customers heading eastbound may board shuttles at Downtown Santa Monica station for service to Expo/Sepulveda Station. From there they can continue on the Expo Line towards Downtown Los Angeles. 

Shuttle service is free if transferring from the Expo Line.
Riders can also consider riding Big Blue Bus lines 7 and Rapid 7, which both stop at Sepulveda/Pico and travel down Pico to Downtown Santa Monica.
During the closure earlier this month, Metro warned that commuters using the Expo line should expect delays of about 20 minutes.
For additional bus service information, please visit BigBlueBus.com.