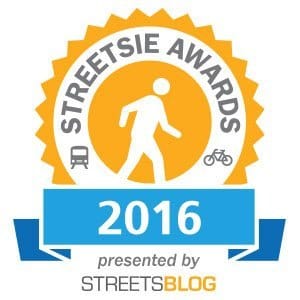 The campaign that soundly defeated the no-growth Measure LV this past November has been given the "Honorable Mention" nod in the 2016 Streetsie Awards category of "Advocacy Organization of the Year."
The Streetsie Awards are meted out by Santa Monica Next's sister site, Los Angeles Streetsblog, every year to people and organizations who have worked to make the Los Angeles area more sustainable, safer, and livable.
"Santa Monica's No on LV campaign won against heavy NIMBY [not-in-my-backyard] sentiment," the post at Streetsblog LA reads.
There were actually two campaigns opposing Measure LV, which would have required virtually all projects taller than 32 feet to be approved by a city-wide vote, but the primary campaign was run by Santa Monica Forward, a grassroots organization that launched shortly after the 2014 election.
Measure LV, which was designed to even further restrict Santa Monica's ability to create new homes, would have had an overall negative impact on diversity and affordability in a city already experiencing skyrocketing housing costs, in part due to decades of slow-growth policies. Measure LV would have also tied the city's hands when it came to allowing new housing near transit, which is essential for reducing greenhouse gas emissions and other pollutants related to over-dependence of single-occupancy vehicles.
It has been noted that while Santa Monica is excelling in sustainable policies in many ways, it's lack of housing growth has really made the city inaccessible to all but an increasingly wealthy population, undermining many of the gains made in sustainability. Measure LV would have undoubtedly exacerbated that trend.
More information about the five organizations jockeying for the 2016 Advocacy Organization of the Year can be found here. The groups still competing include Bike San Gabriel Valley, the campaign to include bicycle/pedestrian funding in County Measure M, the L.A. Street Vendor Campaign, Move L.A. and a coalition of organizations working to get out the vote in disadvantaged communities of color.
The No on LV shares the "Honorable Mention" nod with notable organizations like The American Association of Retired Persons (AARP), which "stepped up efforts for complete streets, including endorsing and campaigning for Measure M," according to Streetsblog LA.
Also earning the "Honorable Mention" distinction was local advocacy group Bike the Vote, which weighed in for livability and safe streets in a number of local elections, and the TRUST South L.A. Riders. According to Streetsblog LA, this group of South L.A. residents "took on both the city and Councilmember Curren Price in lobbying for the implementation of bike lanes on Central Avenue; they lost that fight this year, but gave lower-income cyclists of color a prominent voice in planning discussions."
Now through January 5, Streetsblog LA readers are voting on who deserves the Streetisie Awards in several categories: "Liveable Streets-Friendly Businesses," "Advocacy Group of the Year," "Journalist/Writer of the Year," "Civil Servant of the Year," "Advocate of the Year," and "Elected Official of the Year." Click here to vote on any and all of the categories.