This was originally published on the Healthy City Local.
In my rant a few days ago I promised (threatened?) to come back with substantive analysis of the Downtown Community Plan (DCP), which the Planning Commission will review at its meeting Wednesday night. Which I'll do, but give me a few more paragraphs about euphemisms.
The news on the euphemism front is not all bad. The DCP has eliminated a least one: "opportunity site."
In the early days of researching for the downtown plan planners identified eight sites downtown that were big enough for large and/or complex developments, and called them "opportunity sites." Thankfully, that's gone, replaced by the honest descriptor, "large sites."
Opportunity site is the kind of euphemism that inflames the suspicious natures of anti-development folks, while driving up the wall anyone who values straightforwardness. It's a smiley face phrase that is more provocative of questions ("What opportunities?" or "Whose opportunities?") than it is descriptive. So farewell, opportunity sites.
But the euphemism news is not all good. The DCP is not euphemism-free. My favorite is calling a seven-block area in the heart of downtown Santa Monica (DTSM) the "Neighborhood Village" district. (In earlier versions of the plan the area went by the plain and useful name "Wilshire Transition.")
Village? Sure, there's Greenwich Village. But otherwise, could we agree not to use the word "village" to describe any place that doesn't have thatched roofs? There's never going to be a village south of Wilshire Boulevard, between Fifth and Seventh Streets, and to imply that people living in apartment blocks, or working in offices, are living and working in a village is simultaneously a misuse of a good word and an insult to urban living.
Why am I going on about euphemisms? Because they are symptomatic of planning that won't come to grips with the making of plans. Planning documents that from fear of reactions hedge every decision with layers of overly prescriptive details and, ultimately, further review. That are filled with desultory pages of community self-congratulation. Planning that lauds creativity (page after page extolling everything "creative" in DTSM from the banners on the Promenade to the "fresh local produce and seafood" in the farmers markets), but finds every way to shackle creativity when it comes to what the plan should be about, namely guiding positively the physical evolution of the city.
(By the way, is food that's trucked in from, say, the hinterlands of San Diego or Kern County, local? Family-farm raised, seasonal, wholesome and delicious, yes, but local? This idea that Santa Monica has local farms is all apiece with denial that Santa Monica is in the middle of a metropolis. We're on an ocean's edge; so is Brooklyn.)
But enough about euphemisms. Let's talk substance. Let's talk building height.
I'm a big fan of, and I've written in favor of, the European, pre-elevator five-story city. As this picture of the Sixth Street block where my father lives shows, this kind of development can look and feel good in DTSM.
I opposed the towers Macerich originally wanted to build at Santa Monica Place, and I never supported the tall towers proposed at the Miramar. I also expressed skepticism about the other hotel towers proposed for downtown, without their ever getting to a point in the development process where I had to, or could, form a conclusive opinion.
So I'm not crazy for height for height's sake.
But the limits on height in the DCP—for practical purposes 60 feet (five or six stories, depending on the height of the first floor)—go too far. (While in some places, in a "Tier 3" project, the DCP would permit heights as high as 84 feet (eight stories), and the plan is vague on what might happen on the four remaining "large sites," realistically the default height limit is going to be 60 feet, because in most of downtown developers will rarely if ever attempt a Tier 3 project, which would require a development agreement.)
This 60-foot limit epitomizes nothing more than resignation, lack of imagination, and catering to irrational fears about losing downtown's "charm and character," as if DTSM's character is based on the mostly nondescript buildings there rather than the people on the streets.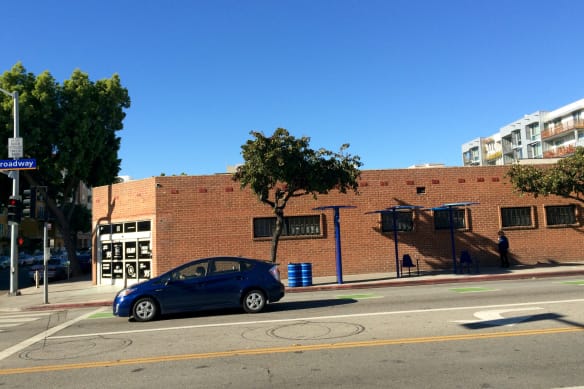 As I said, there's nothing wrong with streets lined with five- and six-story buildings, and I certainly don't like the modernist "tower in a park" alternative. But there is a middle range, territory in which creativity can mean a lot, and the DCP should allow or even encourage development in that range.
We've seen this recently with the development approved for 500 Broadway, which puts towers reaching 84 feet high on a low-rise pedestrian-oriented base. This project, designed by local architects Koning Eizenberg, shows that you can put the same amount of development in a somewhat taller building, and create better apartments, with more light and air for the tenants, at the same time that you bring more light and air to the streets below, and create excellent connections to the street.
There's no reason not to have a base maximum height of 84 feet for all of downtown. (By the way, having a 84-foot limit doesn't mean property owners and developers will take advantage of it. The Promenade has had an 84-foot limit for decades and nothing has been built to that height.)
And there's also no reason not to allow even taller buildings, within reason, on appropriate sites. What's "within reason?" It varies by site. A site like the Miramar, abutting a residential district, wouldn't accommodate a building as tall as might be appropriate next to the freeway (such as the Wyndham Hotel site, or near the Expo terminus), but I don't see any reason why the Miramar shouldn't be able to replace its existing 12-story tower, and then build to 84 feet elsewhere (with the understanding that the floor-area-ratio isn't going to be more than 3.0, so that any high-rise structures are going to be skinny, leaving more open space or more space for other buildings that are considerably shorter.
And who is really going to be bothered if the City allows a taller building at Fourth and Arizona? There are already tall buildings nearby. Or to replace the Wyndham Hotel hard by the freeway, or the parking lot at Second and Santa Monica?
Planning should be inspirational. The DCP isn't.
Thanks for reading.