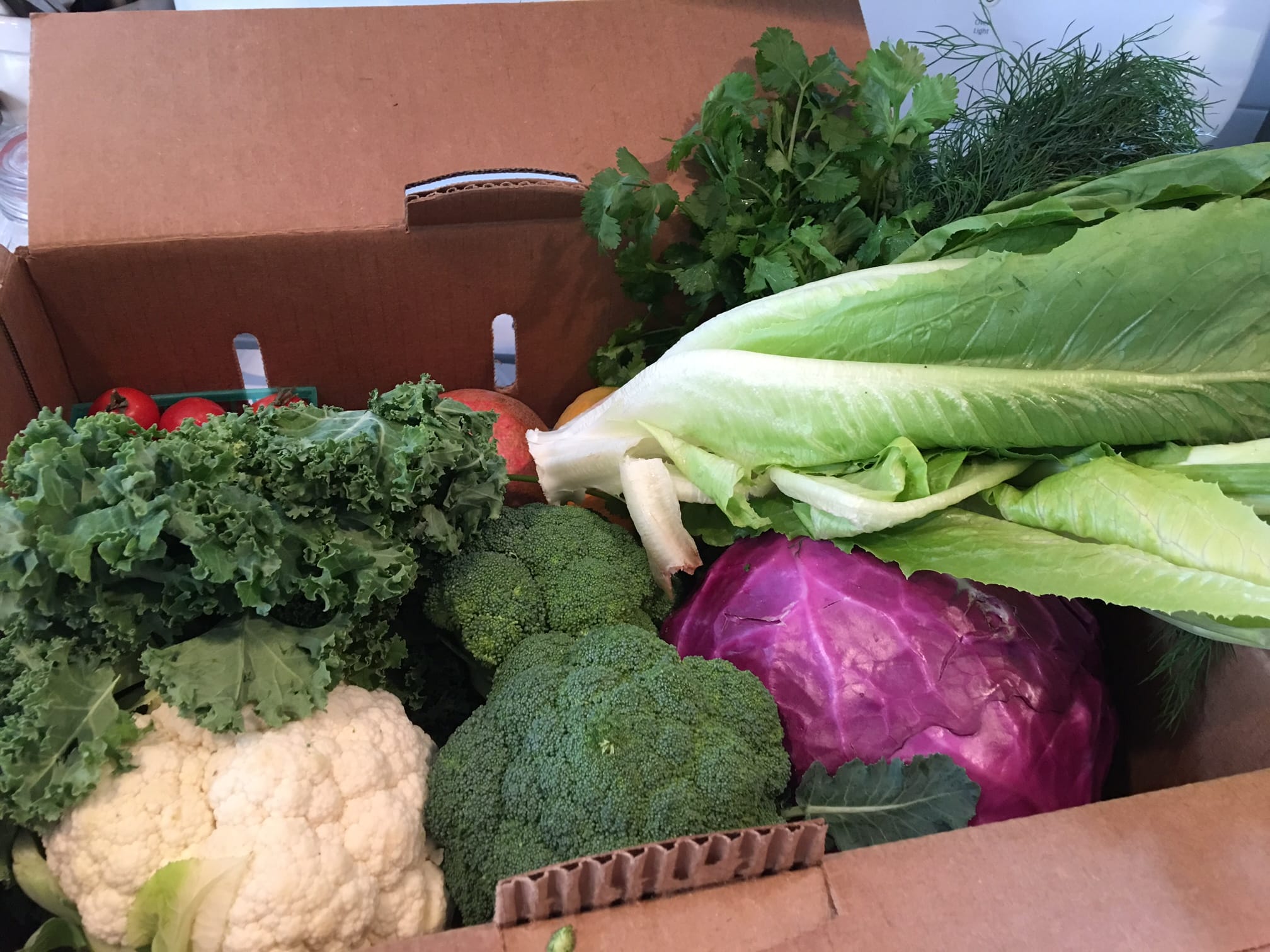 One of Santa Monica's four weekly farmers markets, or the ones in nearby Mar Vista, Venice, and Brentwood, offers fresh, locally grown, in-season fruit and vegetable options. Typical or not, a trip to the farmers market costs me about $40, a limit I set by only putting that much cash in my pocket.
I've discovered a delicious and exciting alternative to shopping at a farmers market. The South Central Farmers Cooperative delivers a weekly produce box to an easy pickup site in Santa Monica each Saturday.
The fresh, organic produce is grown by a cooperative of farmers who from 1992 to 2006 built a farm on a piece of vacant land at 41st and Alameda in South Los Angeles that had been slated for a solid waste incinerator. Michael Feinstein provides a detailed political history of South Central Farm at this link: http://www.southcentralfarmers.com/index.php. A documentary film called "The Garden" can be rented to watch instantly on Amazon, and is available on DVD from Netflix.
After losing the property in South Los Angeles, the farmers we able to purchase a farm in Buttonwillow, CA, where they grow produce that feeds households throughout Los Angeles, including their former neighbors in South Los Angeles. The South Central Farmers Health and Education Fund has grown to include additional land, a greenhouse, a certified cannery, and a distribution network. They are now fighting in opposition to a proposed factory at 41st and Alameda, with the hope that they can return food production to the neighborhood where it is needed most.
Buying a Community-Supported Agriculture (CSA) box from SCF allows me to support this important food justice work, but it also gives me a weekly (or bi-weekly) surprise and challenge that has become an interesting exercise. I pick up my box and find a selection of seasonal vegetables and fruit, and create a meal plan based on what I receive. If I shopped at the farmers market, I would buy the items I know I like. With the CSA box, I am challenged to work these items into my meal plan. It is an adventure!
There's a picture of what came in this week's box at the top of this story.
The box included romaine lettuce, broccoli, cauliflower, cilantro, dill, pomegranate, kale, green onions, cherry tomatoes, red cabbage, and oranges. In recent weeks I've received celery, cucumbers, butternut squash, tangerines, parsley, pears, fennel, brown onions, potatoes, carrots, and persimmons. The selection changes weekly as crops mature.
When I unpack the box, I start planning my meals for the week. What can be roasted, steamed, or stir-fried? What will be good in salads? Will something work best in a tart, pie, or quiche? I consult my cookbooks and my favorite food blogs. I am not a fan of kale, so I braise it and incorporate it into a dish with sweet roasted squash. I love cauliflower, stir-fried with cashew sauce. At least once a week, I make soup with whatever hasn't been assigned to another meal. Saute some onions and garlic, add in your vegetables along with water or broth, and cook until done, pureeing if you want a smooth, creamy soup.
You can try a small or large CSA box from South Central Farmers on a week by week basis. Order your box at the South Central Farmers website.
Choose your pickup day and location, and pay via Paypal. The Santa Monica and Culver City pickups are on Saturday, so you need to order no later than Thursday. A full box is $22, and a small box is $17, with discounts for a weekly commitment.