Last month, Santa Monica Next reached out to all 10 candidates for City Council with an 11 question questionnaire. Some questions were written to give voters an idea of the candidates personality, others on their positions. So far, six candidates have responded.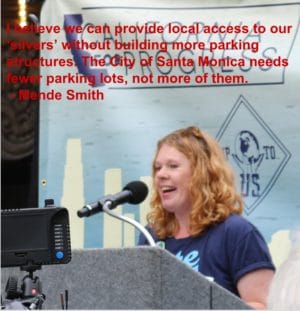 Responses will be printed in random order so that each candidate gets a chance to have their answer printed first. Each candidate will also get at least one of their own meme pictures highlighting one of their answers.
You an read about the candidates' thoughts on the SMC Bond Measure we published last week by clicking here.
We hope to hear from Mayor Tony Vazquez, Armen Melkonians, Oscar de la Torre and James Watson so we can share their answers for the remaining eight questions.
Today, candidates answer the question : Roughly 13% of Santa Monicans are over 65 years old. What should the City do to help aging Santa Monicans prosper and live socially vibrant lives?
All of these surveys were submitted either right before or right after Labor Day Weekend.
Mende Smith – 
There is little relief for those who are physically unable to bicycle or walk to local events in our city, yet our 'silvers' want to visit friends or businesses in Santa Monica. I believe we can provide local access to our 'silvers' without building more parking structures. The City of Santa Monica needs fewer parking lots, not more of them. As the population ages, the sectors for social needs and 'silver tourism' will have to go through a process of transformation to better cope with new demands in a new context. How about a city-run Uber Silver?
Terence Later – 
Our family and friends over 65 are the greatest resource that any city has. We must value those who have come before us and learn from their experiences. We can start helping these residents live more vibrant lives by fixing our sidewalks. We must be open to their voices and hear what they have to say, as we must do for all segments of our community, but especially those who have a wealth of life-experience to draw from, it is for all of our benefit.
Ted Winterer – 
The City and our partners offer an array of services to our seniors: robust public transit options; a walkable downtown residential community; WISE and Healthy Aging; Dial-A-Ride; Emeritus College; Meals on Wheels West; arts and entertainment at The Broad; etc. Having just met with seniors who live downtown I can tell you the most important thing we can do is assure our streets are safer for pedestrians. We should also create more accessible housing options downtown for those who want to downsize from larger homes and endeavor to preserve affordable shopping and dining venues.
Gleam Davis – 
All Santa Monicans, regardless of age, should be able to live with dignity and respect.  For those over 65, we should make sure that, to the greatest extent possible, they can age in place and maintain stimulating and active lives.  In Santa Monica, we are lucky to have wonderful programs such as Emeritus College and Club 1527 at Wise and Healthy Aging (which offers exercise classes, art lessons, game times, and excursions throughout the region).  But we need to make sure that everyone can safely get to them. 
To encourage senior pedestrians, traffic signals have to give seniors sufficient time to get across busy streets.  The City can do more to enforce our existing laws so that sidewalks are kept safe for people walking on them.  For longer trips, we must continue to improve and expand Big Blue Bus, Access Paratransit and Dial-A-Ride services that allow seniors and the disabled to get around without driving.  I was a champion of the Dial-A-Ride door-through-door service that helps seniors get packages or groceries inside their house and I am working to allow Dial-A-Ride to assist veterans by taking them beyond city limits to the Veterans Administration in Westwood. 
The City also should continue to support Meals-On-Wheels and the Wise Diner program that reduce isolation while making sure seniors get nutritious food.  Perhaps the best thing the City can do for seniors is offer a range of activities that appeal to all age groups so that, when seniors engage with
Jon Mann – 
As my generation dies off, (those that manage to keep their apartments from being Ellised), it will be up to following generations to undo the mistakes made by the local alliance of opportunists by getting rid of organizations like SMRR, SM Next and SM Forward, and making sure that new organizations like Residocracy aren't corrupted. The young of America have had their birthright stolen by opportunists who are using them and building up false hopes.
Terry O'Day – 
We should have lifelong learning programs such as Emeritus College with SMC and programming for all ages in our community. Seniors should be welcome at all our facilities and events and we should provide excellent transit and pedestrian options to get them out of cars.