Eight months after Santa Monica launched the first public bike-share program in L.A. County, the system is working.
According to a report delivered to the City Council Tuesday night, Breeze Bike Share is nearing 30,000 "active subscribers" and has been used for roughly 170,000 trips since the system launched in November.
"[Breeze Bike Share is a] key component of our overall mobility strategy for the city to reduce greenhouse gas emissions, reduce vehicle trips, to improve mobility options for all residents, employees, and visitors to Santa Monica and to really serve as a last mile-first mile connection to the Expo line and other transportation options here in the city," Kyle Kozar, Santa Monica's bike-share coordinator, told the Council Tuesday night.
He noted that the first year of the system's operation would help establish a baseline going forward.
Kozar noted that Santa Monica residents "ride bike-share more than any other geographic group."
Currently, Santa Monica residents make up 18 percent of the system's subscribers, but they account for almost half (44 percent) of the trips made.
Users coming from other parts of L.A. County make up a little more than a third (34 percent) of subscribers and account for 23 percent of the trips taken while visitors from outside of L.A. County make up 47 percent of the subscribers and take 33 percent of the trips.
Councilmember Kevin McKeown saw this as a sign of success since he believed it demonstrated that people in Santa Monica who may not have ridden before have begun riding bikes as a result of bike-share.
And there are plans to make the system more accessible to the city's lower-income residents.
McKeown announced that the city and Breeze will be partnering with Community Corporation of Santa Monica, the city's single largest provider of affordable housing, to offer a special $60/year membership for residents of CCSM buildings and a program that would let them seek up to 90 percent reimbursement.
Breeze Bike Share is restructuring its fee schedule starting on August 1, which will have the effect of making the system overall less expensive for those who have monthly or annual plans.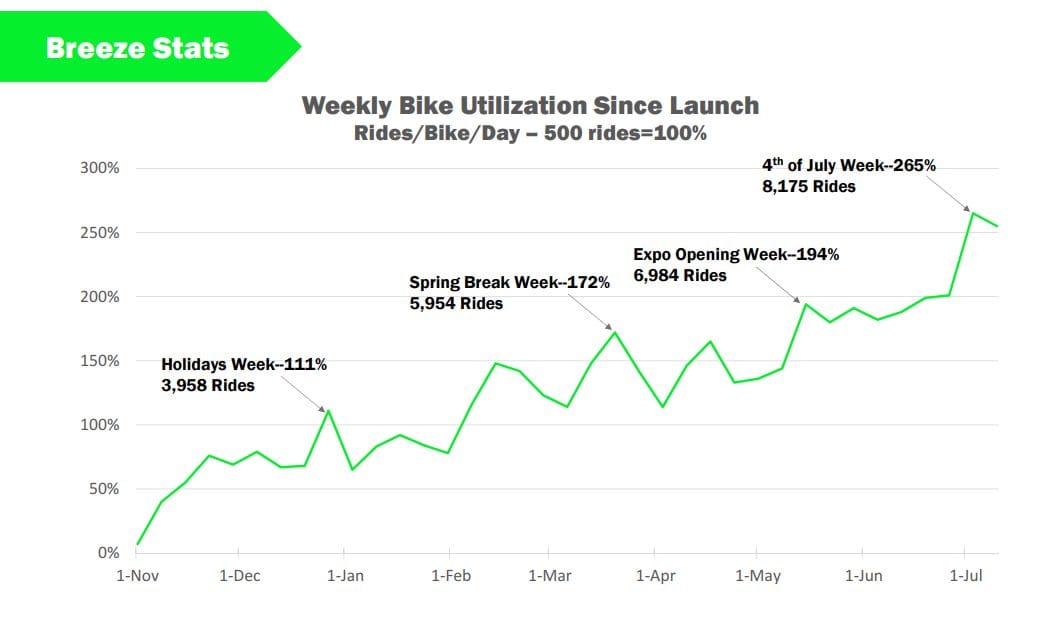 The current price menu has two tiers of plans: basic and premium. A basic plan, which costs $20 a month, $119 a year for nonresidents, or $79 a year for residents, includes 30 minutes a day of ride time. A premium plan, which costs $25 a month, $149 a year for nonresidents, and $99 a year for residents, includes 60 minutes of ride time. The student plan currently costs $47 for a sixth-month term and also includes 60 minutes of ride time. The pay-as-you-go rate is currently $6 an hour.
The new pricing structure, which was approved by the City Council on June 14, replaces those with four pricing options: $99 a year, $25 a month, $7 a month for students, or $7 an hour for pay-as-you-go users. The annual and monthly passes include 90 minutes of ride time and the student membership no longer needs to be bought for a six-month period at a time.
The changes reflect overall price reductions for all but the pay-as-you-go, which will see an increase of a $1 an hour.
According to Kozar's report, overwhelmingly users opt for the pay-as-you-go option, whether they are from out of town or locals.
He also noted that the new pricing structure simplifies things — folding eight separate payment options into four — as well as will make it easier to integrate with other bike-share programs popping up in the region.
West Hollywood, UCLA, Beverly Hills, and Long Beach have all opted to launch bike-share systems using the same operator as Santa Monica: Social Bikes. Having the same pricing structure as neighboring systems will streamline a user's experience.
In the future, there may be a subscription option that allows users to pay one price to use all of the bike-share systems in the region. As it stands today, a Breeze subscriber can unlock a bike in West Hollywood but regardless of the subscription plan they have for Breeze, would pay the pay-as-you-go rate for using the bike in West Hollywood.
Of course, the system's success has meant that some challenges. The number of bikes that have been rebalanced — taken from hubs or areas where there are an overabundance of bikes and returned to places in the system where bikes are scarcer to assure access — hit 2,700 in June.
"People love it; they are riding the bikes a lot," Kozar said. "Our operations team has had to step up… As we continue to grow in demand, it's good news, but it's definitely more work for us."
There are plans to install five more stations in Santa Monica — two in the Pico Neighborhood and three on the east side of Sunset Park — and plans are moving forward for the installation of five stations in Venice.