Santa Monica's second protected bikeway is getting the green treatment.
The five-block protected cycle track that runs along Colorado Avenue from the new Downtown Santa Monica Expo Station at 5th Street to the Santa Monica Pier is finally getting some paint to help distinguish it as a bike path.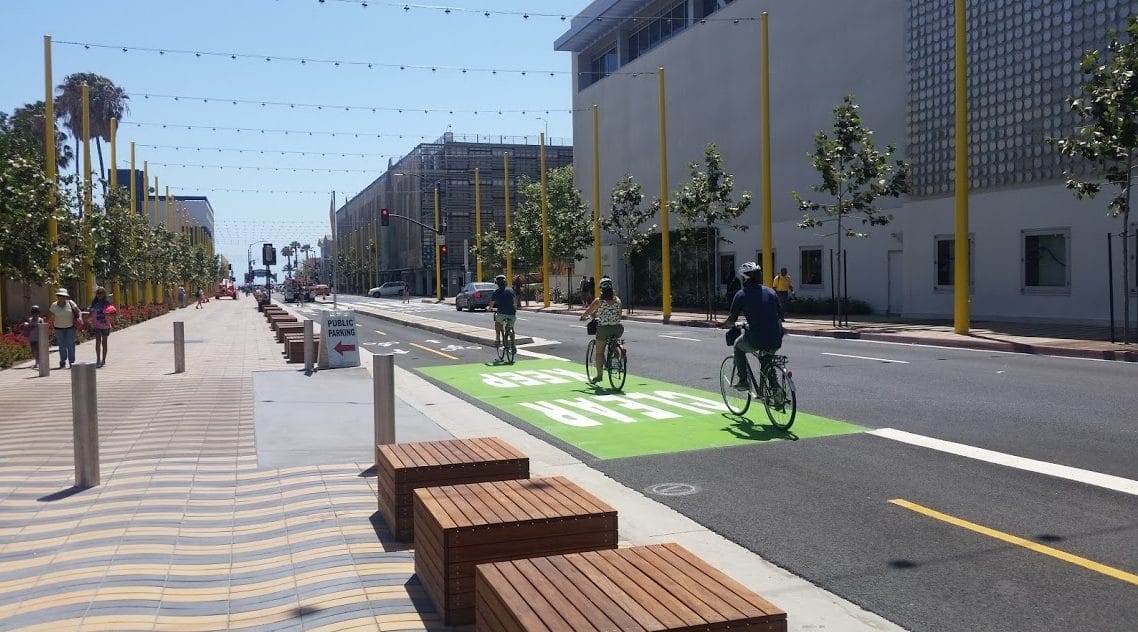 While it is relatively short — only about five blocks — it actually connects with two major north-south bike routes. At 2nd Street, riders can connect to the green bike paths on Main Street, which run to the southern border of the city. The Main Street green lanes continue north on Second Street until Wilshire Boulevard.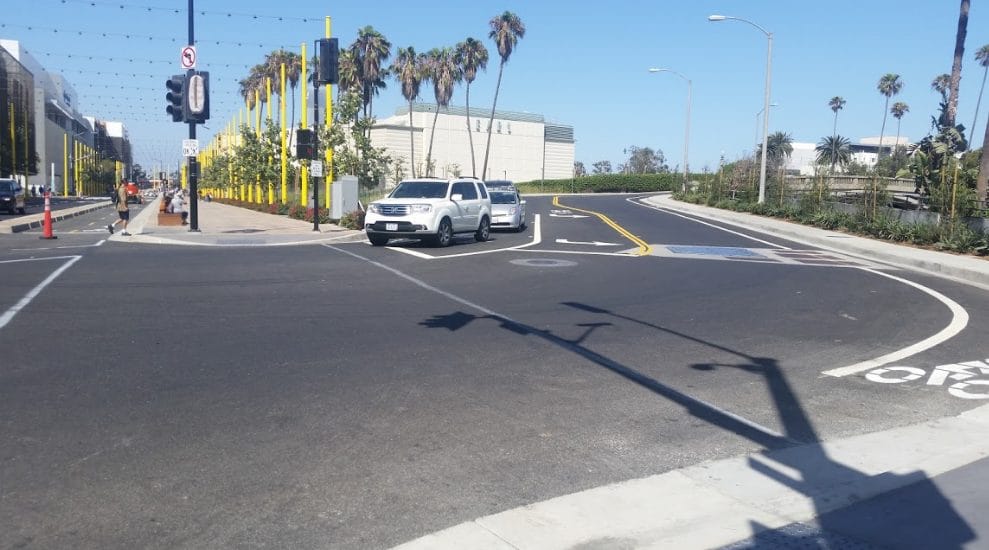 Riders can also connect to the bike paths on Ocean Avenue and even to the beach bike path via the Pier.
On the east end, the Esplanade will connect with a bike route through the alley between 4th and 5th streets where riders will be able to head north to the east-west green bike lanes on Broadway, which run to the end of the city at Centinela.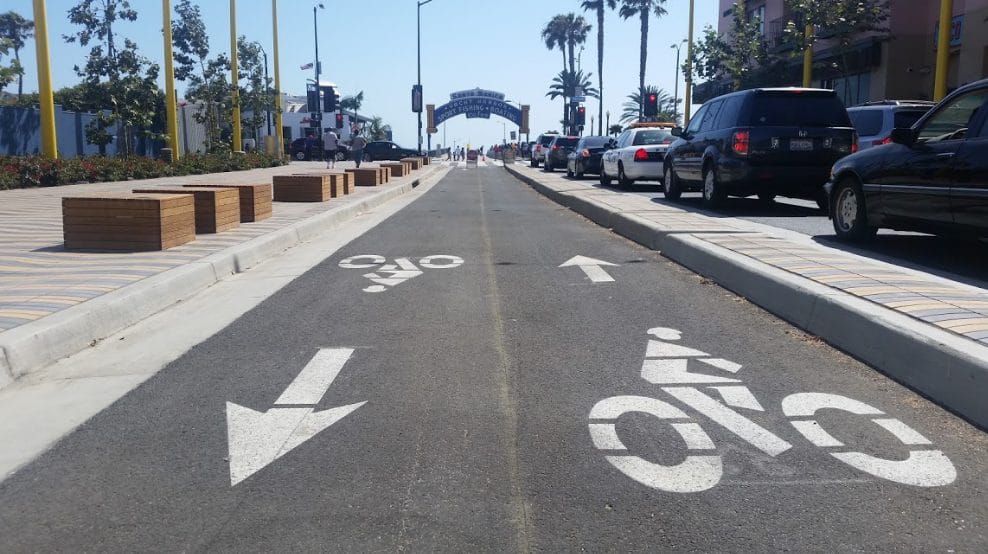 While the Esplanade has been semi-officially open since the Expo first started passenger service to the Downtown Santa Monica station on May 20 — and officially on June 5, at Santa Monica's first open streets event, Coast — construction on the western end of the Esplanade continued and striping of the cycle track is finally underway.
Though it may seem relatively small, the transformation of Colorado from a very car-centric street, with narrow sidewalks on either side and no room for bikes, into a route specifically designed to comfortably accommodate multiple modes of travel is just the latest sign of a greater shift happening in Santa Monica.
Santa Monica opened its first protected bike lane late last year on a short stretch of Pico Boulevard between 7th and 6th streets at Santa Monica High School.
The path, though short, is designed to create a safe connection from Michigan Avenue/7th Street — an entrance to Santa Monica High School — to Main Street, the beach, and the surrounding neighborhood. More than just paint on a road, the Pico two-way cycletrack is protected on both sides by curb barriers. It features bike-signal intersections at either end to facilitate cyclists crossing Pico safely.
Recently, the city included plans for a bike lane that provides cyclists a physical separation from traffic on 17th Street in grant applications for about $10 million of investments for safer streets in the city. The 17th Street protected bike lane would connect the Expo line bike path to Santa Monica College and the Michigan Avenue Greenway to the south and UCLA, Saint John's Medical Center, and Wilshire Boulevard to the north.
The 17th Street protected bike lane was just one of nine projects included in the budget that were specifically about making it safer to walk or ride a bike around town, including major pedestrian improvements at four schools, better bike and pedestrian connections to Bergamot Station, crosswalk improvements, an extension of the Michigan Avenue Greenway east of the 10 freeway, and better connections to the beach bike path from the Pier.
These projects are all part of a larger vision for a multimodal Santa Monica that begin in earnest in 2011 when Santa Monica adopted its Bike Action Plan. Since then, Santa Monica has opened a full-service bike center in Downtown Santa Monica, launched the region's first public bike-share system, and continues to expand its network of bike lanes.
The city also recently adopted a Pedestrian Action Plan, modeled after the Bike Action Plan, in order to make the streets safer and more comfortable for people who walk. In the ped plan, there is a policy statement that sets Santa Monica to strive for zero traffic-related severe injuries or fatalities. This policy statement is known as Vision Zero and is gaining increasing popularity in transportation planning around the country, so much so that it was part of the USDOT's Mayor's Challenge last year.